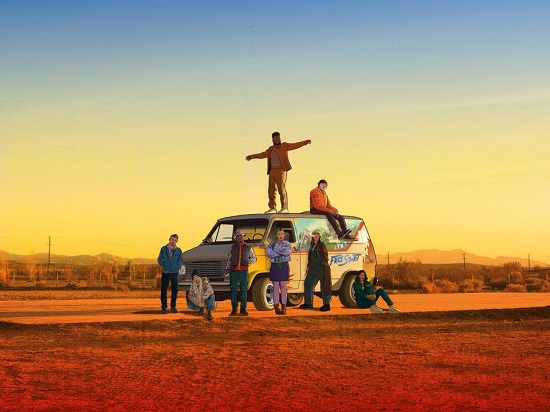 We have to talk about the man himself, Khalid, who's made for himself a space in the charts, and has made a mark with just a couple of years in the industry. This 21-year-old musician is bringing back a certain style that we haven't quite seen in the last years, many have tried but most have failed to find a spot as he did in the scene.
The musician born in Georgia and winner of multiple awards in his short career, has released his second album "Free Spirit", after the success of his debut one "American Teen". The first collection got him the MTV Europe Music Award for "Best New Artist", "Top New Artist" by the Billboards Music awards, and the album itself won "R&B Album of the Year" in the iHeartRadio Music Awards.
Now, 2 years later, he has released a new set of songs with "Free Spirit", dropping singles here and there such as "Talk", "My Bad" and "Self". These songs were the preamble to a 17 songs album, which has not been well received by the critic.
Although his collaboration with Billie Eilish in the song "Lovely" made us think that Khalid was heading in the right direction, many of the critics went all out against his album.
The Guardian, for example, titled it "star clashes into cliché". The review continues to say that although Khalid's talent is obvious, the fame caused by his first album got him a problem as well. "If you've risen to fame by documenting everyday teenage life, what are you going to write about when you're patently not an everyday teenager anymore".
The British publication that only gave the record 2 stars out of 5, had something good to say about the singles though. "Alive, which sets its examination on the author's mental health to a beautiful, swooping chorus" and about My Bad they added that "it has a sparkling guitar line and stammering rhythm".
Still, it finishes with some harsh sentences like "… If you try listening to the whole thing in one sitting, they get lost in the deluge". It finalizes by saying that "Free Spirit looks bound to be a hit, because of the momentum in Khalid's career, but it's hard to escape the feeling that something of his originality has been lost en route."
Another famous publication which didn't think Khalid lived to the expectations with his new album is Rolling Stone, that gave the record a 3 star out of 5. The magazine praises his talent but strikes at the same points as The Guardian saying that the hype caused by the producers was too much. "He's no longer the underdog", thus it was expected a lot more from an artist whose debut got him to the top 10 in streaming.
The New York Times, has gone easy, and its review, according to Metacritic, reaches an 80 out of a 100. It goes the opposite direction from The Guardian, with comments like "… 17 songs that go easy and roll along smoothly one after the other, for nearly an hour".
The critic comes from a more understanding place, saying that "Free Spirit: grapples from a more singular place, more isolated experience: coming to terms with fame, wealth, a broader horizon and lingering insecurity" adding a phrase from the homonym song of the album, "Is this Heaven or Armageddon?".
Khalid's reality has changed a lot, after "American Teen" he had "his classmates and a whole generation that shared his problems" and what he was through. All that is now gone, and "is now hanging with executives and managers". The note finishes off with: "He doesn´t conquer his demons… neither he succumbs to them…He's just a young man alone, trying to get through life with some honest grace".
And at last but not least The Independent, claims that "it's the same formula" as in "American Teen". By playing it, they felt "the tracks wafted by without leaving any lingering melody or emotion" and added that "it's perfectly pleasant. A positive ear spa".
The certainty of the singles released prior to the album almost opposes most of the other songs, where it all goes by too quickly and leaving almost nothing. The note closes with: "This leaves us with a very credible record, with no real mistakes, but no real personality either".
Having said this, and after listening to it, Free Spirit is a more than respectable production, that doesn't actually live up to the hype it makes. Of course, critics and reviews of entertainment pieces are not undisputable like horse racing results, for example. They are subjective, since everyone has their own tastes and opinions.
However, either the critics praise it or not, Khalid closed the first week after launching his album with the equivalent to 202 thousand sold copies. The disc entered directly to the top of Billboard 200, with the second place being held by Billie Eilish's "When we all fall asleep, where do we go?". The hype seems to have dropped slightly, though, and one month after the release Khalid is now in the 5th place, behind Billie, with the chart behind topped by the new album "Hurts 2B Human", from P!nk.
Author: Jorge Ramos