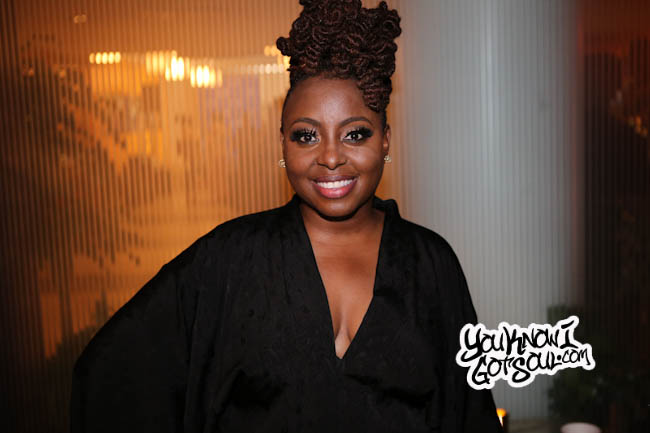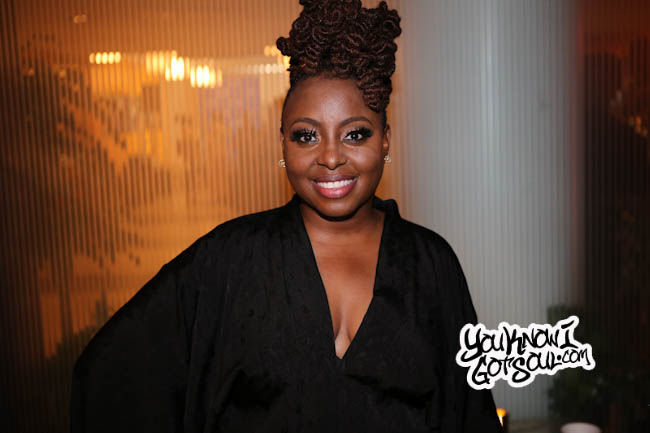 There is little argument to the fact that Ledisi has grown into one of the top r&b stars we have in the genre over the past decade. Her track record of hits and great albums, dynamic live show, and beautiful vocals, have really allowed her to become one of the elite in adult contemporary r&b music. For that reason, when she released her fresh new single "High", it was a bit unexpected. The sound isn't one we'd hard from her before, but in reality it was all part of her plan to evolve her sound while mixing in her love for multiple genres. We'll get more of that on her upcoming album "Let Love Rule", which she's carefully crafted to show her fans her evolution. We sat down with Ledisi for an interview following a recent performance introducing the new album to press in NYC, and discussed the creation of this project, reaction to "High", evolving her sound, and much more.
YouKnowIGotSoul: Talk to us about the new album "Let Love Rule" and what to expect on it.
Ledisi: The album is a combination of talking about the world, but very general. It's not as personal as my previous albums. Some of the songs are about me but not all of them. I approached it as a singer/songwriter and hoping for people to relate to it on their own. I had a wonderful time working on it. I have some features on there which is great; BJ the Chicago Kid, John Legend, Kirk Franklin. I'm really proud of this project. It's a full circle moment for me.
YouKnowIGotSoul: Talk about what inspired the creation of this album.
Ledisi: What inspired me was just wanting to feel good about the music changing r&b, and opening up for different feelings. I wrote a song "Shot Down" talking about current events. I wrote a song with Sebastian Kole called "Hello", and I heard it and I loved it and wanted to do it. They didn't think I could record it because it was so hip hop driven. But that's where it started from. R&b to me needs to become more artful. Not so posed. It needs to understand more about what's going on now and back then. See I love to give homage to my ancestors as well as think towards a forward sound. That's where "High" came about, the trap beat. But I'm singing r&b on top of it. It's a great combination, it's Ledisi. And I don't judge anybody for doing what they do, just have fun doing it but still push the music forward.
YouKnowIGotSoul: Did you have any hesitation about putting out "High"? Some weren't expecting that sound from you.
Ledisi: A lot of people weren't expecting that from me. I wasn't expecting that from me! *Laughs* It's one of the last songs I recorded. I just love mixing eras and I love mixing genres together. I'm from New Orleans, that's what we do! *Laughs* It's nothing new about it. I just feel like "High" is a new sound for Ledisi, and I'm glad we asked for that song to happen.
YouKnowIGotSoul: Is there more of that new sound from Ledisi on the album, or more of the contemporary sound we're used to?
Ledisi: Maybe a couple of songs have that vibe, but not really. I went all over the place. All different versions of r&b. From a classic soul ballad like "All the Way", to hip hop, to reggae. I mixed it up. It's still coherent and it flows. That's what I enjoy about it.
YouKnowIGotSoul: It's always exciting when you come out with a new album…
Ledisi: Really??? *Laughs*
YouKnowIGotSoul: Of course, you're one of the premier r&b artists. Many of your peers are discouraged, like Joe was talking about retiring. How do you stay focused?
Ledisi: Joe is one of the best r&b singers ever. There will never be another singer like Joe. He's one of my favorite r&b singers! Classic sound, he's gotta stay! I love you! I get discouraged all of the time, but what makes me stay, is people like my co-executive producer Rex Rideout. He really pushed me to keep going and keep singing. My family and friends and the people that love my music.
YouKnowIGotSoul: Reflect on this journey so far. This is your ninth album now. You started out as an independent artist, and worked your way up to one of the biggest names in r&b music.
Ledisi: Really? I'm so far in my lane that I don't look around. I'm enjoying my journey more now than in the beginning. I used to care what people thought. I used to care to fit in, and now I just don't care. I care, but I don't care about what others think because I can't. It's exhausting for me. What I have to do is do my music, put it out there, and then you take it from there. Let you have your own judgement about it. But I feel good about what I did and I'm holding onto that forever. Every time I evolve, I'm happy with who I've evolved into. I'm proud of every last one of my albums. I'm proud of trying different things and doing different things and mixing genres and having a fun time. I love what I do. I have to love it. If I didn't, I wouldn't be here. But I have to say this album was the hardest I've ever had to work on because I wasn't ready to work on it. I was content with taking a break, I needed a break! *Laughs* Loving art and different forms of myself, I got to express. To be able to come back to music and take my time and really create a whole project, I'm proud of "Let Love Rule". It's a great album and it's classic as well as modern. I can't wait for you to hear it! It's so dope man!