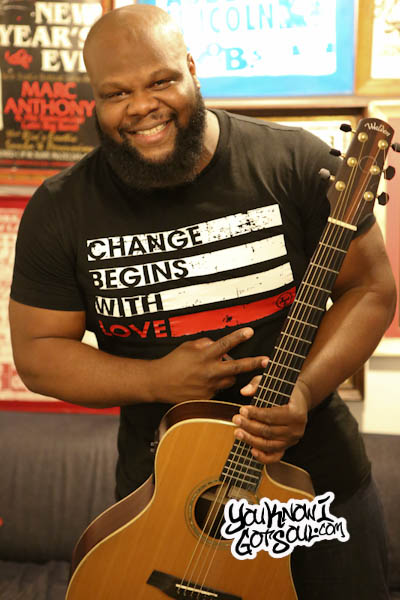 Leon Timbo is one of those raw, genuine soulful artists that seem to be a rarity in this day and age. In a generation where microwave music rules the airwaves, it's refreshing to see a true musician looking to buck that trend. His talents were validated during this journey by the likes of superstars Tyrese and Babyface, and the talent is limitless. We had a chance to sit down with Leon Timbo for an interview the night he performed at our Sol Village show in NYC earlier this month. We discussed where his sound originated, how he originally connected with Tyrese and Babyface, the role his guitar plays in his artistry, and more.
YouKnowIGotSoul: Start out in the beginning. You've been at this music thing for years. We read in your bio you got off to a late start. What originally got you into singing?
Leon Timbo: I've been a church boy all of my life. I found God. I needed something to help me, I was going crazy. That happened for me early on in life. My dad is a pastor, I was always around it. Music was somewhere in me but I couldn't articulate it. I was tone deaf. If you go back to my hometown of Jacksonville, Florida, you'll hear people say I couldn't carry a note. Some ambiguous, weird way, I asked God to do this for me and promised I'd be a good person for the rest of my life! And it worked! After I had that moment, I started hearing music differently. I know what it feels like not to sing and move. I'm always been passionate about it. I never take moments on stage or moments in front of people or the articulation of any type of creative thing for granted. I know what it feels like to have it here and not being able to express it. That's where the late start came. I'm kinda grateful for it because it's given me that plight of resistance. My strength is being in the fact it hasn't always been easy.
YouKnowIGotSoul: What influenced your unique sound?
Leon Timbo: I couldn't find a reference point for it. Jacksonville, Florida. We're so country down there that we're known by our county Duvall more than we are for our city. It came from the back porch, it came from Florida living, alligators. It's just rough down there. You tend to be really passionate and organic. You kinda take from the elements around you and build this tapestry of sound. I think that's just how I articulated that space.
YouKnowIGotSoul: During this newfound expression of music, how did you learn to bring the guitar into it?
Leon Timbo: Well I'm a singer songwriter first which means the guitar has always been my canvas. I never claimed to be a musician. It's just painted the picture, like Bob Ross. The words have always been my focus. I'm a story teller. I needed something portable, it's really functional. It's not fashionable, I didn't see a lot of blacks doing it. I'm at the beach, I can't take a piano out here, so the guitar and me kinda became boyfriend and girlfriend.
YouKnowIGotSoul: Songs like "You're My Darling" and "Don't Call" have that old school vibe to it. Describe creating those songs.
Leon Timbo: "Don't Call" was more bare bones, I need to express this idea. This idea that friendship isn't the convenience of technology. It is sacrificing your space and finding another person in their space. With everything going on, sometimes you cannot value the choice of inconveniencing yourself for somebody else's safety. I just needed a canvas to paint the picture. "You're My Darling" was a little different. I went in with a lot of veteran musicians. I had the ability to articulate a live dance track that would remind me of what courting felt like. I could be vocal because I'm a grown man, but I like telling a story and getting to the same end with a woman because it lasts longer. I just kinda enjoyed the maturity of saying "You're beautiful, that rose reminds me of you." It's the same thing but it's not. She'll never forget the rose reminding me of her. That's what that was.
YouKnowIGotSoul: You caught a break in your career when you linked up with Tyrese and he introduced you to Babyface. How did those situations come about?
Leon Timbo: Funny thing. I was actually singing in TD Jakes church in Dallas. Tyrese was in the audience, I assume they had a meeting about one of Bishop Jakes' movies. He came backstage and said "Whatever you did here, can you do at the House of Blues?" So I was like sure. Then I got scared. How do you articulate a Sunday morning, to sexy Sunday evening? It's always been in me, but I was never put on the spot like that. The same thing I prayed when I was 16, I prayed again. From that expression, I realized that the music isn't only contingent on how I feel, but on the room that I'm in. That room pulled a certain energy out of me that other rooms wouldn't have. Every step I've taken with Tyrese, Babyface, R. Kelly and Quincy Jones, they all evolved a part of me. Babyface for instance, he songwrites like a child. He sees it simply. Don't complicate this process. Be clear and concise. I didn't know that. It's been a learning process and I've always gotten something out of their artistry which has made them millions. I'll never regret those moments.
YouKnowIGotSoul: Talk about your major influences.
Leon Timbo: Bill Withers, who didn't start his career until his 30's. I'd love to meet him one day. James Taylor. Andre Crouch, the ability to crossover into different genres. Donny Hathaway, the ability to articulate your insanity. I think he was one of the smartest musicians we ever heard. Because I came late, I needed a grown man's sound.
YouKnowIGotSoul: What have you been working on?
Leon Timbo: For the past three years, I've been working on "What Love's All About". This particular project spans the idea that music is timeless. I don't want to just put my music up next to whoever is hot on the charts today. I would like to put my music next to, Luther Vandross, or The Temptations, or Marvin Gaye. It's a high order but I don't believe we've lost the spirit that those came from. I think we've just been lazy and microwaved our process, wanting the results a lot faster. Those guys were in the studio all day, doing it over and over again. We have auto tune and pro tools, we can knock a track out in three minutes. I think you lose the struggle. Some songs I've written, I waited years to finish them. Why? Because I'm not grown enough to finish that song. I haven't experienced enough. We've missed that process. It took Stevie five years to do "Songs in the Key of Life". Berry Gordy was livid! We miss that because of the demand of the industry and the demand of technology. I just took a risk and I really believe it's going to pay off.