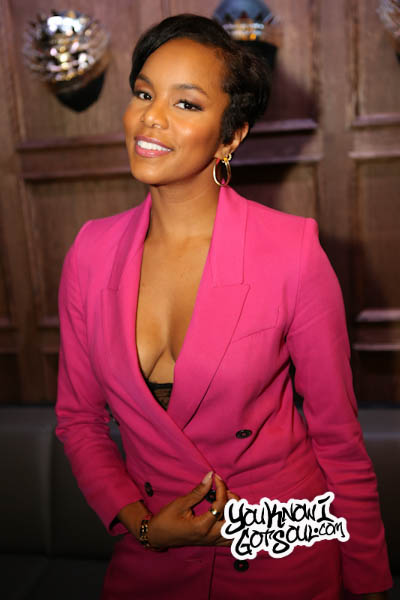 It seems like LeToya Luckett has kept her fans waiting forever for her third album. After emerging from Destiny's Child and becoming an immediate solo success with her first two albums "LeToya" and "Lady Love", it's been eight years since she's put out anything new. In her defense, she's had a lot of success as an actress over that span and was unable to dedicate the right amount of time to music. That's all about to change with the release of her new album "Back 2 Life". The first two singles and mini movies to accompany them show she's looking to make up for lost time while regaining her previous success. YouKnowIGotSoul sat down with her prior to the press listening event for the album in NYC and discussed the timing of the new album, the sound she was going for, how much music is a priority for her now, reflections of emerging as a solo artist after Destiny's Child, and much more.
YouKnowIGotSoul: We're approaching the release of your new album "Back 2 Life". It's been 8 years since your last album. What made now the right time to release a new album?
LeToya Luckett: I finally got to a place in the album where I felt it was complete. I think before I thought it could use more songs or feel a certain way. But I finally came to a stopping point where I'm satisfied. I think I've told the complete story. I'm very happy with the way things turned out.
YouKnowIGotSoul: You originally announced the album as "Until Then" a few years ago. How has the project evolved since then?
LeToya Luckett: A lot! *Laughs* It's gone in a completely different direction! Now granted there are songs I did that are still on this album, but of course I added a couple of bells and whistles here and there. I only kept songs that were relatable and I don't care how long ago I did it, I still felt it. Songs that fit into the story that I wanted to tell. I'm excited.
YouKnowIGotSoul: Talk about the sound of the album a bit. We noticed your previous two solo albums kind of took influence from the sound of the genre and where it was at during that time. Did you follow the same formula this time around?
LeToya Luckett: It's still straight r&b. It's kind of a different sound. I think I'm definitely more confident and you can hear the woman in me on this album. I'm grown, it's a grown and sexy album. But at the same time, it still has a very current vibe to it as far as production. It comes from a real place. I think that's why people have always gravitated to my music because they can relate to me and they get it and they've been through whatever situation before. On this album, I think you'll hear from track 1 that this is a different LeToya.
YouKnowIGotSoul: We heard some of that current sound you were going after on the first two singles "Back 2 Life" and "Used To". You also released extended visuals for both songs, showing off another side of your artistry. What inspired those?
LeToya Luckett: I wanted to tell a story. I think a visual was a must for that. As a matter of fact, I was very clear when I talked to my label about it. I didn't want the single to come out before the video, I wanted them to drop at the same time so people could see and feel this record and not just be something that comes on the radio. I wanted them to really get into the story and connect. I think we do that when we see things. I felt it was important and I'm so glad that they pushed me to do a three part series. I was going to drop everything all at once, but it was their idea to kind of spread it out to keep people connected to the project. Especially during the time between when I released the first single and when the album drops.
YouKnowIGotSoul: The first single is "Back 2 Life" which is also the album title. Talk about what inspired you to tap into the timeless classic to create your own flip on this one.
LeToya Luckett: I've always been a fan of that song. It just felt good. That's always been a feel good record to me. This song was about feeling. It was about those honest emotions of getting back to what feeds me and what makes me feel fulfilled. I need to get back to what's best for me. That's what I talk about in the song. I'm also having that self-reflection moment of maybe I'm not too good at saying goodbyes or maybe I need to check myself before getting into another relationship. I love this record because it's very honest.
YouKnowIGotSoul: You've had so much success as an actress since the last album. Has that caused you to put music on the back burner?
LeToya Luckett: It's not that it was on the back burner, but I'm used to a certain process when I record. That's going and locking into the studio and vibing out. In the beginning of the recording process, I had a few months to do that, but I was still trying to figure out the sound and I was still trying to figure out the direction I wanted to go in. What happened was I'd go to an audition and get casted and get pulled away from it. I didn't think it would be fair to the album if it was a half done job. It deserved my time. It's not that it was put on the back burner, I just wanted to give it the time and the love that it deserved.
YouKnowIGotSoul: This is your first independent album, it's through eOne Entertainment. Following the last album when you parted ways with Capitol Records, did you always have plans to go independent?
LeToya Luckett: I just wanted to go where I best fit. eOne wanted to give me the freedom to have my acting career and wanted to be fair, because that's something I've built on my own. I felt it was something I could do, it was good for me. I had to really step up and take the reins and do me. There wasn't an A&R in the room to find songs and have me sing them. It wasn't that. I really was given the opportunity to make this an album that came straight from my heart; my blood, sweat and tears. I invested so much into this personally. A lot of times when you're on a label there is the influence, there's the timeline. I'm so grateful to eOne that they were patient with me and allowed me to find that balance between my acting career and singing career. I think it was just meant to be. I was supposed to be on eOne for this album and I'm so grateful and appreciative of everything they've done in this process.
YouKnowIGotSoul: It's cool to look back to the "Lady Love" album and see how your fans went to bat for you, creating a petition to get Capitol to push "Regret" as a single. That was many years ago and the landscape of social media has changed a lot. How have you had to adapt?
LeToya Luckett: It's pretty easy to adapt. The fans want more of you. They have a voice. Social media has given them a voice and that's why they were able to create a petition and call Capitol out. I think that social media has created an awesome platform not only for the fans to be able to communicate directly with the artist, but for new artists to have a platform to share music. As far as me, I love it because it allows the fans to connect with me. It allows them to see me on my off day when I'm spending time with my friends and family. I'm cool with it. I put out a few singles on my Instagram just for my social media fan base, while they were patiently waiting! *Laughs* I think I kinda like transitioned into it pretty well.
YouKnowIGotSoul: I think it's so great seeing how r&b fans have embraced you as you've worked towards the release of this new album. Looking back to your solo debut album after you left Destiny's Child, did you expect he immediate success you had as a solo artist?
LeToya Luckett: Oh no no no! Well first of all, of course I didn't leave Destiny's Child, it wasn't my choice. Things just happened that way. But I know when I came out of that situation, I didn't know what I wanted to do. Being a solo artist was so far from my mind. I was terrified of the thought of being a solo artist because I was so comfortable being in a group. Even when the opportunity presented itself, I ran from it. Somehow God saw fit to surround me with a great team of people and producers and writers, like Dave Young, shout out to Dave Young. They helped me put together my first album. Did I expect "Torn" to do what it did on the charts? Heck no! I also didn't expect to become a solo artist. Hey man, I'm so glad I stepped out of my comfort zone and I'm so glad I have awesome fans who are supportive of me who followed me from Destiny's Child and who were rooting for me. I had so much support. Back then, there wasn't an Instagram or Twitter. I had fans actually creating websites for me, and I was like "What is this?" I didn't know the first thing about that. The fact that people were going out there way to keep my name alive. That just said a lot to me. I'm so grateful to my awesome fans. Cedric Lewis did one of those sites for myself and LaTavia, and then he ended up doing so much that he found me in Houston in my boutique and I was so glad to meet him. He had created this awesome fan site for me, even better than the one the label had created for me. So much that they hired him to do the site! He's still my social media guy, I just appreciate him so much.
YouKnowIGotSoul: Anything you'd like to add?
LeToya Luckett: Make sure you go and get the album. It is pretty great. This project I think you'll definitely hear my growth and hear another side of LeToya. You can get to know me a little better. Go and get that thing! Thank you for all of the love and the support, I'm really excited for you guys to hear this album. I thank you for allowing me to share my gift with you, and thank you for hearing my heart and being patient with me.