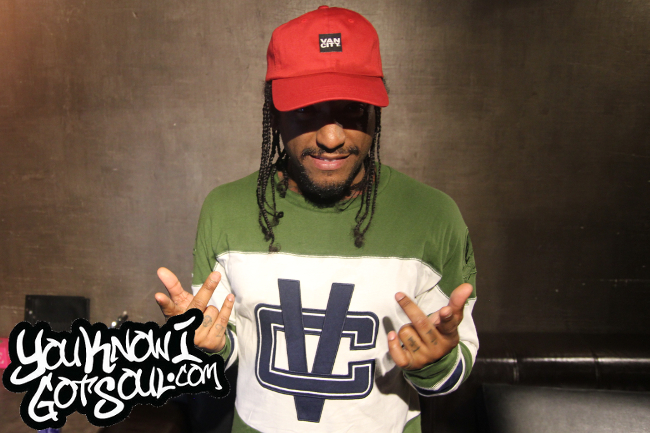 Lloyd made his return to the music industry late last year when he released his single "Tru". The song shocked pretty much everyone as Lloyd took a ballad to Urban radio and found success with it. The honesty in Lloyd's voice on the record was enough for the music world to welcome him with open arms. Recently he released his EP "Tru" which includes collaborations with Lil Wayne, Rick Ross and 2 Chainz. The project is confirmation that Lloyd is back for good as it was his first official project since his 2011 album "King Of Hearts". YouKnowIGotSoul had a chance to speak to Lloyd about the success of his record "Tru" as well as his plans as an independent artist. We also talk about his upcoming album "Out My Window" which is set to come out later this year via his own record label imprint Young Goldie.
YouKnowIGotSoul: Last time we spoke, you were on your hiatus musically. How necessary was that break for you?
Lloyd: Well I think sometimes you have to take a step backwards in order to take a step forward. Often you'll feel like you're actually moving forward, but you're going backwards. It's funny how it works. For me I'm thankful that God has blessed me with patience on behalf of my fans and just the people who matter. Those are the ones that support me, spend their hard earned money and time to be there like tonight when I came to Vancouver for the first time in a year. I'm also thankful to just have time by my side to able to figure out what I wanted to say in my music, how I wanted it to sound and how I ultimately wanted people to feel about it. I can honestly say that it has been one of the most challenging years in my life, but it's really been the most rewarding by far because I really appreciate all that I have and I also appreciate what I don't have and why that is.
YouKnowIGotSoul: A lot of people don't realize that even though your debut came out in 2004, you had been in the industry for a lot longer than that. I know during your break you went back to school and you also learned how to play the guitar. Do you think that was something you were able to accomplish with the break?
Lloyd: I think that was all parts and pieces to the puzzle. Learning an instrument takes a lot of time, or at least it does for me. That was necessary. I was also able to spend time with people who I really love. That was important to me. I've been making music since I was 10 years old. I put out my first album in 1999 and my first solo album "Southside" came out in 2004. This marks the 10 year anniversary for "Street Love". I've been pretty dedicated to making music be my life's work. When I got the opportunity to take some time off, I did. I'm thankful for that because not everyone has that opportunity to be able to take a break like that. It was never about the money to come back to make the music. It was about how it would make people feel. I think "Tru" was something necessary to take time to make. Big shout out to everyone for supporting "Tru" and requesting it.
YouKnowIGotSoul: You left Interscope and then put out "The Playboy Diaries Volume 1" on your own a few years back. What have you learned about being an independent artist that will help you moving forward?
Lloyd: As an independent artist, I learned the importance of relationships. In any industry I think relationships matter more than money. When you have good relationships, when you have value people, respect them and ultimately treat them how you would like to be treated, it goes a long way. Sometimes you have to work with less because there will be times where you have to make lemonade out of lemons. It's really nice to have those people support and I don't think "Tru" would be as successful as it is today without the relationships of people at radio, producers and songwriters. It's just about people giving me time and support which is more valuable any amount of money. I also learned that it's 2017 and the world is about being independent. I think all the people that I admire were independent at some point. We have access to our fans directly now unlike when Lloyd first came into the game in 1999 when you had to know somebody who knew somebody. You had to sign away a part of your soul just to achieve a piece of your dream. You don't have to do that anymore. You can just be self sufficient and involved. That's what I wanted to do with this. Even though I feel like a bit of a veteran, there were some things I hadn't learned and really tried and being independent fully was one of them. "Tru" was really about one's independence.
YouKnowIGotSoul: "Tru" was one of our favorite songs of the year, but it's a song that doesn't make sense in terms of mainstream success. How were you able to take a slow song and make it work at Urban radio?
Lloyd: Well I think there are different reflections of the human experience. When you exploit those experiences in Pop culture, I think there's always room for that. For me it was more about a realistic approach. It was not so much based on escapism and it was realizing that greatness doesn't always live in the club. Sometimes it lives in the little tedious things in your life. For me personally, I never really expected "Tru" to be a blockbuster smash hit and I didn't expect people to sing it at the club. What I did expect was for people to have some feeling, soul and some representation of the fact that we're perfectly imperfect and that's okay.
YouKnowIGotSoul: I've spoken to artists from your generation who feel like there's no middle ground in R&B right now. It's like you're either doing trap music right now or you're on Urban AC, so as Lloyd the person from the South as well as Lloyd the R&B singer, how do you look at the landscape of music right now?
Lloyd: Well Lloyd is Lloyd. That's the name I record and perform under. That's my real name as well. Lloyd is a representation of himself. I think all of those things can be accounted for, but not one thing in particular. The dope thing about recording under your real name is it gives you the real true opportunity to be yourself and express who you really are. You don't have to hide who you are and that's why I'll always continue to talk about all those things.
YouKnowIGotSoul: Along with the single "Tru", you also put out the EP. That project sounded like classic Lloyd especially on the song "Excited". Talk about that song a little bit.
Lloyd: "Excited" was a tribute to The S.O.S. Band who was one of my mom's favorites. They influenced my life early on as well. I think it was a throwback to the 80's music that I really love so much. IT was also about having fun and something that people could dance to. It was also about getting back to visualizing the performance. It's not just about a great studio record, it's also something I could perform on camera. "Excited" is something I just filmed a video for and I think it'll make people want to dance.
YouKnowIGotSoul: You're currently working on your upcoming album "Out My Window". Talk about the project.
Lloyd: "Out My Window" is a record I'm working on. "Tru" was one of the records I wrote in the collective of my first songs which originally I wanted to call "Out My Window", but I think "Tru" spoke for itself, so I'll let "Tru" be its own thing and now I'm going to release a full length project called "Out My Window". I don't know exactly when, but it's slated for later this year.