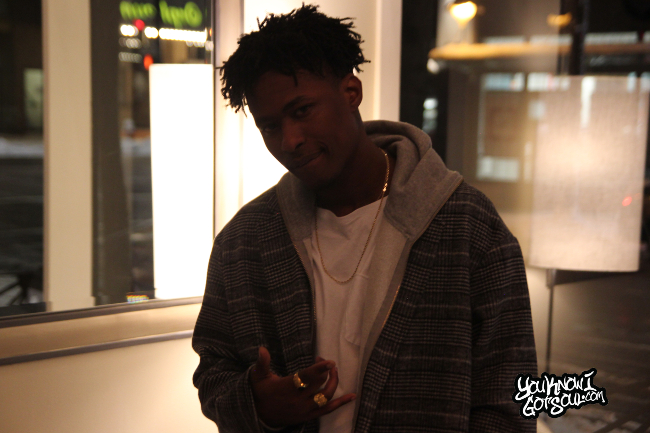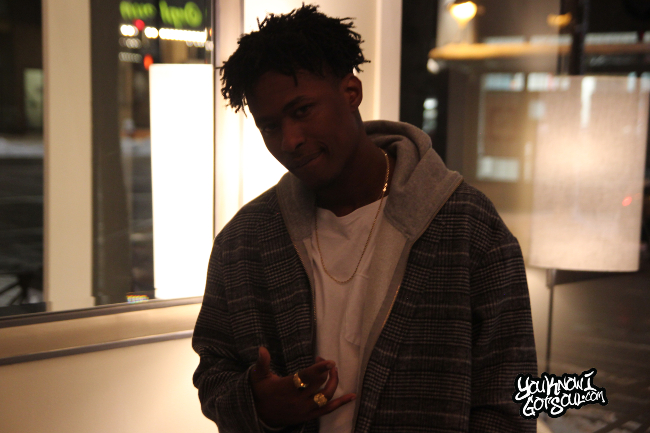 In a genre that's been oversaturated by 808 drums and trap sounds, R&B fans have basically been begging for music with live instrumentation. We were all surprised and excited when we heard Lucky Daye's debut single "Roll Some Mo" which blended musical sounds from the past that everyone has been craving along with the energy of this generation's singers. The RCA singer has started to capture people's attention with his soulful voice and will continue to do so as he hits the road with Ella Mai on her tour. We had a chance to speak to Lucky Daye about the journey that's been on, his two EPs that he's released recently as well as his love for R&B. Learn about this man in this exclusive interview right here because he will be here for a long time.
YouKnowIGotSoul: When RCA sent us your single "Roll Some Mo", we had no idea what to expect because we thought you were either a rapper or a band. Then We hit play and it was so musical, which is something R&B has been missing for awhile. Talk about the sound you created with your producer D'Mile.
Lucky Daye: The sound was basically to just do what people weren't doing. What felt natural to us wasn't what we were told was hot. It was like "Since this is my last leg and your last leg, let's just do whatever we want to do and if they don't like it, they don't like it". We wanted to get funky, musical and unorthodox lyrically. A lot of the songs came from literally my feelings in real life and that triggered a lot of post production and some epic shit.
YouKnowIGotSoul: "Roll Some Mo" is starting to climb up on the charts. What made you decide to release that one first?
Lucky Daye: I personally can't take credit for letting that one go out first, but I'm glad it did. To me that was one of the songs that felt less exciting and as it grew, it started to feel like daytime instead of nighttime. Now it feels like the right move and I have to shout out Tunji for that.
YouKnowIGotSoul: Along with the single, you have two EPs out right now. Introduce us to the projects.
Lucky Daye: There's two parts of the project right now. There's one called "I" and a second one called "II". It's definitely just an introduction of me saying "We don't care what's going on when it comes to people what think is hot". We want people to feel again. We want everyone to dance, cry and be sad. A lot of people think it's weird, but I'm really like a soft guy. I look tough and I will knock a nigga out, but it's two parts and there's more coming soon. That's the trip!
YouKnowIGotSoul: Something I noticed with your voice, you use it as an instrument in its truest form and manipulate your vocals to the track like on "Paint It". Where does that creativity come from?
Lucky Daye: That's a good question! I listen to a lot of different things from Rick James, Prince, Otis Redding, Ginuwine, Chaka Khan, Kanye West and Lil Uzi Vert. A lot of that just comes from my emotions. I didn't write it as a regular song, it was basically my feelings and however I felt like that feeling would sound, I set it in that key. I really don't know how to explain that, but that's literally how it was. I cried on half of the album like "I'm really saying this right now?". It was all real life though.
YouKnowIGotSoul: It was cool that you sampled Ginuwine's "Pony" on your song "Karma" and paid homage to one of your influences.
Lucky Daye: That's Static Major! I didn't even do it on purpose. D'Mile was like "I like how you flipped that song". I was like "Now we're not going to get any publishing!". *Laughs*
YouKnowIGotSoul: Your sound is such a breath of fresh air. Before you created this project, did you have to go through challenges of what you wanted to put out versus what other people wanted you to release?
Lucky Daye: We put it out how we set it up. It just so happened that everything fell into place. I'm literally not driving this train. I'm in the passenger seat and I'm just letting whatever happen, happen. We sent the songs in that order and Keep Cool left it in that order. They didn't change anything. They were like "That's the first song on there? That's the first song that's coming out". I thought it was cool because I didn't make it for the approval of everybody else. I made it because I needed to get that out of myself because it was in there for so long, but I'm glad I did.
YouKnowIGotSoul: Of course you're from New Orleans. Something we've noticed with artists born in New Orleans such as August Alsina, Luke James and Frank Ocean is that they're rooted in R&B but they experiment with different genres, yet through that their music is always very soulful. What does that city mean for you with your music?
Lucky Daye: New Orleans means home, soul, funk, trial and error. It means misplacement and finding your own way. It's a lot but it's a great place. It's always home and it made me who I am.
YouKnowIGotSoul: I've been to the Essence Festival a couple of times and it's fun times.
Lucky Daye: Yeah, it's always nice!
YouKnowIGotSoul: You've also done some writing behind the scenes for Mary J. Blige, Trey Songz and Ella Mai. How did that come about?
Lucky Daye: It's just like anything, you just write and find people who click with you on that level that day. You just work. I didn't know any of these people were going to be what they were. I wanted to create and they wanted to create, so we did that and that's what came out.
YouKnowIGotSoul: I was talking to your manager earlier and she said you've had quite a journey up until this point. Of course we know you from "Roll Some Mo" and you're onto bigger and better things, but talk about the struggle early on.
Lucky Daye: The struggle early on is a long story because I have a lot to pull from. Someone once told me "Don't forget anything, just keep it in your backpack, so when you need it you can just grab it". I try to remember it all which would make the story very long. I guess from Hurricane Katrina to now, I've just been on my own a lot of and had to learn a lot about myself by making mistakes.
YouKnowIGotSoul: How did you end up signing with RCA after that struggling period?
Lucky Daye: It was a situation where the music was done and I was looking for a way to say "Listen to this before I go home in New Orleans and put it on some independent stuff". I was on some "I don't care" type stuff, but I wanted everybody to hear it. In my mind, I was like "How do I get the most people in the world to hear this one thing at one time before everybody finds out?". RCA popped up after a couple of meetings we had and Tunji was like "You want to sign with RCA or do you want to mess with me at Keep Cool?". I was "Man it's all the same!". He liked my vibe and our teams were super cool. He was so non-nonchalant about the music, he was like "I fuck with it". To me that's how I felt! I was like "I don't care if you're messing with it." I could tell he was genuine and to have somebody like that in your corner is special. I don't like to beat around the bush, I'm a straight up type of person.
YouKnowIGotSoul: With your attitude right now, you're just making the music you want to make and you don't really care who likes it. What's the creative process like for that?
Lucky Daye: Well, I don't want to say I don't care who likes it. I just don't put my life on who likes my music. I want people to feel good. If it was my choice, I would want everyone in the world to like it. At one point, I thought everybody in the world liked Michael Jackson and then somebody hit me with the mind blower like "I don't like Michael Jackson". I started hearing it more often and I was like "Huh?!". If he can't get everyone to like him, I know I can't get everybody to like me. He's the king! It would be nice though, it's the dream. I kind of make my music hoping that there's people that care about love and the simple things in life like integrity, respect and their own emotions. It's little stuff like that. I just want to connect to people that feel again. To me that's not them liking my music, that's them connecting with me to a feeling and I appreciate that way more because it's like we're on the same team.
YouKnowIGotSoul: You've dropped two EPs so far. What's coming up?
Lucky Daye: I've got something in the works and I'm also working on another thing after that. I can't tell you, but I have something coming out in a few weeks. I'm going to present an album after that, but I want to give people a chance to let it simmer because my music isn't just here now and then it's gone. I want it to be something you can live with and it sticks with you and you remember what you were doing at this time and how it made you feel. I want it to be like that.
YouKnowIGotSoul: Over the past decade, a lot of people have kind of shied away from the R&B label but I can tell you love the genre. What does R&B mean to you?
Lucky Daye: Damn to me, R&B means getting picked on in school. *Laughs* R&B is a way to give people emotion, feeling, a piece of yourself, your interpretation of how you see the world and putting it in a way where you can feel it. Not only hearing it, but feeling it. I want to be able to hit all the senses that a human being can have. That's what R&B is. You can taste it when you kiss somebody that's sweet, I want it to be everything. I feel like R&B opens that door, there's no limit. And it won't die, it's very much alive and it's going to be here forever actually.
YouKnowIGotSoul: Anything you'd like to add?
Lucky Daye: I love everybody and I just want to thank everybody that is behind me. I'm going to keep R&B alive and keep the good music alive as much as I can. And anybody that wants to collaborate, let's go. I have no shame. *Laugh*