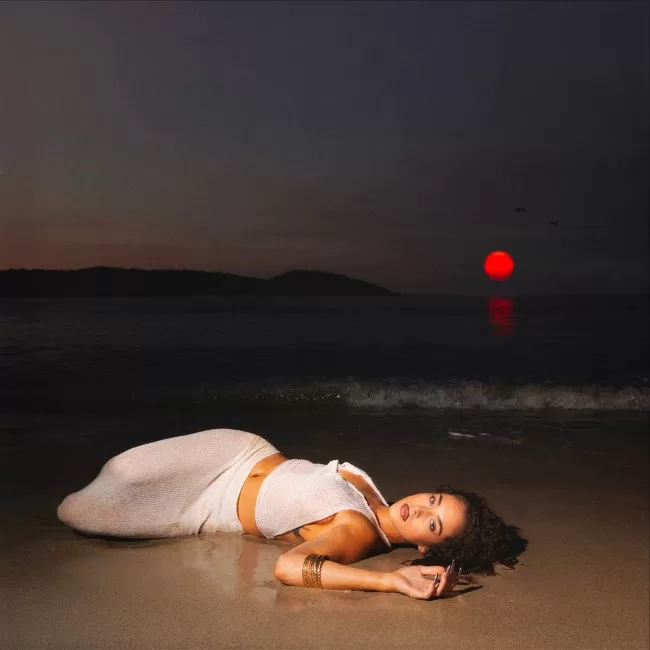 If you're like us, constantly searching for new R&B songs and talent to soak up, you're bound to have come across one of the biggest female acts right now: Maeta. If not, take some time to listen to the Roc Nation artist's most recent project When I Hear Your Name and you'll see just why we were so excited to dive into some details of its making with her. Maeta has received praise from huge names like Pharrell, Joe Budden, Robin Thicke and more, so it's no wonder she is quickly becoming one of our favorite voices in R&B. Working with some other newcomers that we've highlighted in the past such as Tone Stith, Ambré and Lucky Daye, Maeta is clearly on her way to making an even bigger name in the R&B space. Maeta shared with us what inspired When I Hear Your Name, working with songwriters Fallon and James Fauntleroy, her plans for the future and much more.
YouKnowIGotSoul: Something about you that I've noticed is that everybody loves you. One thing they always talk about is your voice, so where did you get that vocal ability from? Name some artists that may have inspired it.
Maeta: Well, I've been singing since I was a kid. Nobody in my family sings, I'm the first one of us that's a very musical like that. I remember when I was younger, whenever ''Bleeding Love" by Leona Lewis came out, I used to watch VH1 Top 20 Countdown and I was like, "I want to be an artist one day. I want to make music videos like this. I want to be on this TV show". I just wanted to be her so bad, so I started practicing that song and going on YouTube and typing in karaoke versions of it. That's kind of how I got into singing. I would sit in our computer room and sing all day. I don't know what year that was but I've just been singing since then. I think that, I don't know, I guess I was gifted with my talent, but at the same time I've been practicing for however many years, like 15 something years. I don't know the math, but I've definitely Contrary myself to where I am.
YouKnowIGotSoul: You were signed to Roc Nation through your YouTube and Instagram covers, but I'm more curious about: how has being signed affected your music and who you are now?
Maeta: I was living in Indiana when I got signed. I was 18 and I moved to LA a few weeks after. I went by myself, I didn't know anybody in LA. I had no money, it was rough. I kind of just started my life completely over, but I was so excited and ready to take on this new chapter of my life so I didn't really care. I went through a lot all at once. I went through getting taken advantage of by men, like I was such an innocent girl. When I moved to LA, I just became a woman and had to face real life on my own. I was 18, so it's not like 12 having to go through this stuff. I think that a lot of that came out in my music. I'm so over saying toxic relationship, but I entered this toxic relationship. It's somebody that I have such a complicated relationship with, even now. It had a huge effect on my music. Most of my projects have been about him, if not all of them. So yeah, I just went through a lot of life *laughs*
YouKnowIGotSoul: With the songs that you sing I feel like people know that you've gone through something, and that is why they enjoy them so much. You were on tour with Jazmine Sullivan and H.E.R, so compare that time to now being on tour by yourself. What have you learned from then and have you learned anything now that's helped you develop and express your feelings more on stage?
Maeta: For the Jazmine and the H.E.R shows I would just freeze on stage. I would not move. Anybody that told me to walk around, I was like "Shut up. I'm not moving" because I'm clumsy. On stage, I feel like I'm being watched. Every single movement that I make, I think about. Thank God this tour I've gotten out of that. I think that having real fans that know my music and they're singing back to me and excited for me to go on stage [helped]. For the opening tours, it felt embarrassing kind of. I think that just comes from me being shy naturally. People loved me and they weren't mean to me, but in my head it's like these people don't know who I am. They're not cheering, you know? It's scary. But, now that I have fans singing my words back to me, I feel so comfortable on stage. I have so much fun. I get excited to perform. All day I can't wait to get on stage. So it's definitely a lot different, but I think I had to go through the first tours to just get through that uncomfortable stuff and just know that it's not always going to be amazing. I also have background singers on my tour and I love them so much. One thing I've learned is that I like having people on stage with me just because I turn around and we smile at each other. It's a comforting feeling like we're doing this together.
YouKnowIGotSoul: Let's talk about the project. Were there any particular albums that you were listening to when you were making it? Did you draw from them or were you just really trying to be yourself completely in the music?
Maeta: I don't really listen to anything when I'm making a project. I just started working on my album, so now I'll be on a plane and all I do is loop my songs and think about what I'm going to change, what I'm going to re-cut, ideas like visuals, that kind of thing. I kind of obsess. I think that also helped it sound original. I don't think my project sounds like a lot of other stuff that's out. There's inspiration from certain places, but I think not listening to certain music that's out kind of helped me keep the originality of my project. But, I'm obsessed with my project. I genuinely like listening to it, even now I'll listen to it just cus'. I have a song called "Sexual Love" on there and somebody made a slowed & reverbed version of it. I put it on and I fell asleep to it. I looped it all day. I really enjoy my own music, which I'm proud of because in the past I didn't like my own songs. So yeah, this project I didn't listen to anything.
YouKnowIGotSoul: Why don't you talk about that growth a little bit of not liking your stuff and now being confident in it.
Maeta: I've had the same A&R the whole time. Omar, he's my A&R, love him to death. We have an amazing relationship when it comes to making my music. We have the same exact taste and agree on pretty much everything. He likes to challenge me, so we fight, but we're very close. Making music with him is so fun. I think that it took a couple albums or EPs for us to really build that trust and that bond. The first project, we were kind of just trying to figure out my sound. He didn't really know I could sing like I do now. I didn't really want to sing at that time. I was trying to be cool and I think he made me a little cool. It was good music, but it wasn't as authentic as this new music. I hadn't really experienced that much at that time, so I didn't know what to sing about. We were kind of just trying to figure it out, but I'm so happy to finally have gotten to a place where it's like, this is me. It's amazing. I'm proud of it. People love it. We're going to beat it with the album, but this is like the best music I've ever made.
YouKnowIGotSoul: I'm excited to get into that new album when it comes out. I want to really dive into some specific songs on this project. I think "Control Freak" with Ambré is probably one of the standouts of the project for a lot of people. Tell me a little bit about that song and "F*** Your Friend", which you also worked on with her. I feel like I shouldn't listen to that song, but the fact that it hurts me to hear it, that's how you know it's a good song.
Maeta: Well, "Control Freak" … I was on tour with H.E.R actually which was years ago, so we've been working on this project forever. My A&R sent me Ambré's version of that song. It was not done, but he sent it to me during that tour and I loved it. I couldn't wait to get off the tour and work on it. I got back in with Ambré and Destin. I think Destin actually wrote it, but Ambré demoed it for him or something. We all got in the studio, made a second verse and finished it. They vocal produced me and I actually hated my vocals on that. The vocals they cut for me are the ones that are on it now. I hated it. I was like, "I sound so bad, blah, blah, blah", but after getting used to it, I'm like, "No, it sounds authentic. You should just keep it". I'm always trying to sound perfect, and its like you don't have to sound perfect all the time. So that one, it was pretty easy. We got in with Louie Lastic and did the outro, so it took a few sessions to get done, but I love that song. We had so much fun recording it. Destin is crazy. I have studio videos of us just dancing and being stupid, so that one was a good one.
"F*** Your Friend", another one I did with Ambré. That song makes me mad too. I don't even remember the process for that. I think I went to the studio super late and just cut it. I was in a bad mood because me and this man weren't talking, so it was fitting for my life at that point. Ambré got in and reproduced it but I didn't like everything she did, so I kind of went in and just added a few pieces. But yeah, they were all very easy and effortless.
YouKnowIGotSoul: Tell me a little bit about "Clarity" with Lucky Daye. How did that come about?
Maeta: "Clarity" was kind of like a b***s*** song that we did in the studio. We did that in the same session we did "Through The Night". I think a lot of times in sessions, it's like "yeah, I'm not feeling it, let's work on something else" and then "Through The Night" came right after that on the same day. "Clarity" was just something special about it that I loved and it actually wasn't supposed to be on the project. Me and my A&R have this thing where we last minute add a song the day the projects due and we have to push it back. This project got pushed back so many times. He had done that and I was like, "you know what i'ma beat you and i'ma add another song last minute". I was like "Why don't we put 'Clarity' on it?". It just made sense and it sounded good. We finished it up and now its on the project. People love it, but it wasn't supposed to be on there.
YouKnowIGotSoul: There's another standout song, I think you already know what it is, "Through the Night". Tell me about that song and how it was working with the Free Nationals on it.
Maeta: The whole project is about my relationship with this man, we've just been through so much. A few months of not talking, we talk again, we fight, we love each other, and then he does some stupid s***, then I hate him, and we don't talk like… ugh. Me and him went on this trip to an island, and we were like, let's put all the b***s*** aside, just make love and pretend like everything is perfect right now. That's what "Through The Night" is about. I was telling Lucky about that and the lyrics were done in like 30 minutes. He vocal produced me, and we ended up adding a bridge that my A&R wanted to add. My A&R is like a producer at this point on all my songs. He added the bridge and he got the Free Nationals to do the production on it. Basically the first time we did the song it was just me and bass the whole song. I knew for some reason I wanted music to come in halfway through, so the Free Nationals did whatever they did over the whole thing. I had to go in with my engineer and produce out the song with what they gave us, so I created the drop into the second verse. It was so complicated because I'm not a producer, but I had to figure out how to do it. It sounds good, so I'm proud of how it came out but this song was a process. It took months to finish and I was just pissed in the studio. My A&R kept pushing me to the end. He wanted me to sing out. I didn't want to do that because I'm lazy sometimes, but thank God he made me because it's doing really well and everybody's really proud of it.
YouKnowIGotSoul: Well, shout out to your A&R. It's awesome to hear that he's really involved with everything and that you're really involved with your own stuff as well. As a listener, I appreciate that. What's your favorite song off of the project right now?
Maeta: My favorite is "Sexual Love". I keep talking about this damn relationship, but it's a big part of my life. For years in every session, ever since I was like 19 and got in this relationship, I've always wanted a song to express how this relationship makes me feel and I never got it. "Sexual Love" is like the perfect song. It's like… this is my relationship. This is my relationship in a song and I finally got that out of my system, you know? So, I love that song. I love James Fauntleroy. He's so sweet to me. He came to my show, which surprised me because he barely leaves that damn house or leaves the studio at least. Him coming to my show was amazing and he's just written songs that I love. So having a song that he did for me is amazing. I love that song.
YouKnowIGotSoul: It's a great song. It sets off the project perfectly in my opinion. Honestly, the whole sequencing of the album is very good.
Maeta: Thank you, that's my specialty. I mean, it was my A&R and I, but we got into fights about the sequencing. I always knew I wanted to start off with "Sexual Love". Cause that just felt like, boom, this doesn't sound like anything. It sets off the story of the project and I just love the intro, so I wanted that. I knew what I wanted to end with "Through The Night". The whole story sonically and story wise, the sequencing was very important. I think we did it right.
YouKnowIGotSoul: How was it working with Pharrell? How'd that happen? Did you learn anything from him?
Maeta: It keeps going back to my A&R, but my A&R is Rihanna's A&R. I think that he has that relationship with Pharrell over the years. He's the president of Roc Nation, so it's like I have all these connections. But, he met with Pharrell and played him my project. Pharrell thought it was special and he wanted to work with me. I flew to Miami a few weeks later and did two days with him at his house in Miami. It was amazing. He was the sweetest person ever. He would just write a song in front of me and produce it. It took him like 30 minutes. He kept asking me my opinion like, "Do you like this? Is this corny? Should I change this?" and I'm just like stop asking me that I'm never gonna tell you no. It's like even if I think it's corny I'm probably wrong because you're Pharrell, you know? We have a few songs. We're going to put them either on the deluxe of this project or on the album. I'm definitely going to do more with him. He gave me my flowers at the end and he called me his inspiration. One thing he said that I remember was that I reminded him of Christina Aguilera, my voice. I don't hear it, but I kind of get it. It was a good time, and then I went to his bathroom and cried cause sometimes things are just wild. Like, I'm in Pharrell's house and he's sitting here telling me all these amazing things about myself. It's just, I can't believe it, you know?
YouKnowIGotSoul: How are the songs with Pharrell going to sound?
Maeta: Oh, they're very… like very sassy. Everything's very clever, not super upbeat, but like… vibes. I hate the word vibes. I can't believe I just said that. They're just like cool, clever songs. Everything he says is so witty. I need him to give me a ballad or something. But we'll do that when I get back with him.
YouKnowIGotSoul: I'm really excited to hear that. How did "Something In The Water" with Tone Stith come together?
Maeta: I honestly can't remember how it came together. We have the same manager, so I think my manager wanted me to sing on the song. I have a project with Kaytranada coming early next year and most of the songs are written by an artist named Fallon. She actually wrote "Questions" on my project. We just got in with her and did "Something In The Water". She vocal produced it, and it was just one of those songs that came together within a day. Just one of those easy songs, I never had to recut vocals. We performed it on stage and everybody always makes fun of me. We had slight choreography and the whole show planned out. I had to walk on this side of the stage, he walked on that side. We had a little show every time we performed together. I was so awkward. We had to get all intimate, I had to rub on his back and get close. I was just so awkward at the time, so that song gives me PTSD, but I do love the song.
YouKnowIGotSoul: How was your experience working on "Questions" with Fallon? She's a great songwriter.
Maeta: My first thing I ever did with her was "Questions". I just love her, she's like my sister. Every time I see her, I just want to cry cus' she's a good person with good energy. She loves to have a good time. Every time we record, we drink a little bit and it's just fun. She's so nice to me. She works fast, she's so quick, I love her melodies and she has a beautiful voice. A lot of writers don't know how to give singers runs and make things challenging for them. She's one of those people that we use every time we're like, "Maeta needs to sing". It's always Fallon that writes it cus' she can sing her a** off and she's good with all the runs and all that kind of stuff. Sometimes certain writers are amazing, but me and all this s*** that I do with my voice, I think a lot of people when they write songs it's very simple. She's one of those people we use to just make it vocal forward. I love her to death.
YouKnowIGotSoul: Yeah she's amazing. Like you said, awesome voice. Definitely someone that is doing a lot of the work behind the scenes that people don't really see. My final question for you, what are your plans for the rest of the year?
Maeta: I'm going to Europe in October for the rest of the tour. Working on this Deluxe that we're almost done with. Started working on the album too, so I'm kind of in early album mode. Next year I have a project with Kaytranada coming, it's like six songs. I'm super excited about that. It was supposed to come out this year, but the project did so well that we pushed it back to let the project have its moment. Pharrell coming soon. Just working. I took about six months to a year off and I hated it so much. I regretted it. I'm trying to just work all that away so I can pretend that didn't happen, I was going through some stuff. But, just working, working, working. Shows, festivals next year, you know, all that good stuff.