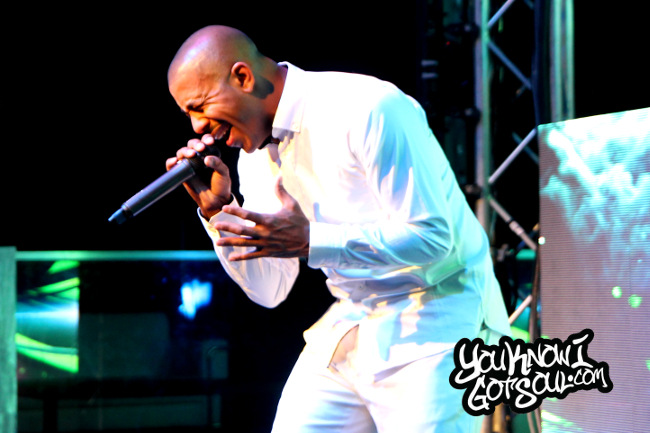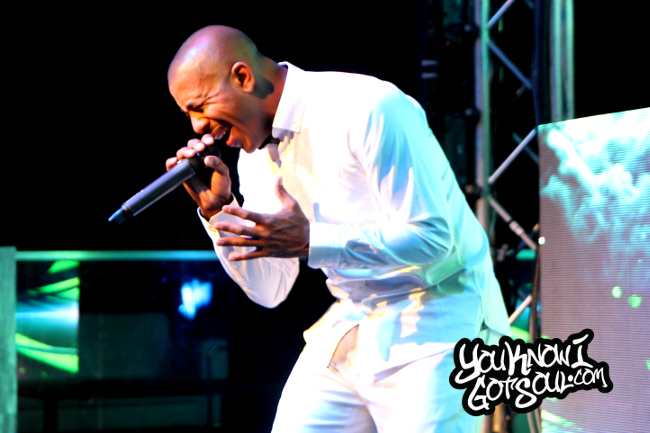 It seems like Marques Houston always has something going on with his career. If he isn't releasing solo music, he's working on a new film or touring with Immature. The artist known as Batman has been going non-stop since 1992 and it doesn't look like that will be changing anytime soon. After releasing the Marvin Gaye inspired album "Famous" which featured the single "Give Your Love A Try", he is back with the new single "Complete Me". YouKnowIGotSoul had a chance to quickly catch up with Marques Houston about his new music as well as some other major events in his life such as his religion. Lastly we talk to him about some of his more memorable songs found on his album.

YouKnowIGotSoul: You just put out the new single "Complete Me". Talk about the song.
Marques Houston: The single "Complete Me" is just my expression of where I am as an artist and an individual. It's the kind of music that I love right now. It's real clean and a real beautiful love song. It's something everybody can listen to. Like all of my music, it reflects where I am in my life and that's where I am right now.
YouKnowIGotSoul: This will be the lead up to your new album "White Party". Your last album "Famous" was very Urban AC, so what's the direction on this new one?
Marques Houston: This one will be very Pop. A lot of Pop ballads and slow records. There will be a lot of love songs and discussing examples of love. I think the world needs more love and less violence.
YouKnowIGotSoul: Just recently, you made a big change in your life when it comes to religion. How does that affect Marques Houston the artist?
Marques Houston: It definitely affects the kind of music I'm able to make and not just able to make, but the kind of music that I would like to make. I would like to make music that's more clean cut. I've been known for making different kinds of music in the past, but you won't see anymore of that in the future. You'll see music that inspires people to love and just live life and feel good music. It's just really good music that you just put on and listen to.
YouKnowIGotSoul: I feel like your last album had so much potential, but like a lot of R&B albums it kind of came and went. It's just the state of R&B right now, but how do you avoid that this time around?
Marques Houston: I don't really pay attention to any of that. I feel like I have a lot of fans out there that support me in whatever I do. I don't really make music to be this huge star. I make music for people to feel happy with my music and the people that actually want to support me, that's all I care about. I care about the people that want the music. I make the music for them.
YouKnowIGotSoul: I know you've reunited with Immature and released a few songs. What's the latest on that project?
Marques Houston: It's difficult with groups because you never know how that's ever going to pan out. Right now, we did a couple of shows and we might do a couple more but maybe not. You just never know. Right now I'm just focused on my new project.
YouKnowIGotSoul: You did some writing for Mila J recently and you've been making movies. What's the passion for you these days?
Marques Houston: I would say my passion right now is film making,. I started writing and producing films a couple of years ago and that's where my passion has been at. As far as music, that's always going to be my first love and I've always loved doing music and I always will, but right now it's more into film, television and behind the scenes with writing and producing. I'm still going to keep releasing music for my fans.
YouKnowIGotSoul: Talk about what you remember these songs. The first one is "Can I Call You?" from your debut CD.
Marques Houston: That's actually one of my favorite songs. Troy Taylor wrote that one with me. We were in the studio and it was really late. I remember I had a couple of friends in the studio and we were just vibing, chilling and having a good time.
YouKnowIGotSoul: The second song is "Everything" off your "Naked" album.
Marques Houston: "Everything" was a record that was sent to me and at first I didn't know whether I was going to record it. I made a couple of adjustments to it and I ended up loving it.
YouKnowIGotSoul: What about "Circle" from the "Veteran" album?
Marques Houston: "Circle" is a very personal song to me. Myself, Bryan-Michael Cox and Adonis were all in the studio kicking around personal stories and what we've been through in past relationships and that sparked up that song.
YouKnowIGotSoul: From that same album, the song "Always and Forever"?
Marques Houston: That was The Underdogs with Tank. We all wrote that one together. We were just in the studio vibing. That's how most of the records come about. You get the energy and you vibe.
YouKnowIGotSoul: And a bonus track off that album which was "Strip Club" with The Underdogs?
Marques Houston: That was another record that we just vibed out to. It was one of the first records we recorded.
YouKnowIGotSoul: You came from the golden era of R&B. The budgets then were off the charts. Take me back to that era and what you remember about it.
Marques Houston: Real music and real singers. It was all about Boyz II Men and Jodeci. It was about big boy bands and the music was just different.
YouKnowIGotSoul: Anything you'd like to add?
Marques Houston: I really appreciate all the fans support. Make sure you purchase the new single "Complete Me".