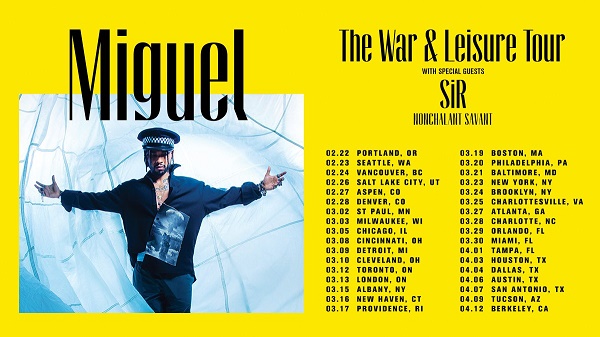 Miguel took a risk back in 2010 when he released his debut album "All I Want Is You" as he brought a new alternative sound to the R&B genre. That gamble paid off for him as he is now in his own lane and considered one of the premiere artists in R&B. His climb to superstardom was definitely felt when he visited Vancouver, British Columbia for his "War & Leisure" tour.
The always energetic Miguel brought his A game with his vocals and stage presence. The show, which was backed by his band, put his showmanship and charisma on full display. The one thing that people noticed immediately was his attention to detail with each record and the transitions in between as one could tell that Miguel studied some of the greats that came before him such as Michael Jackson and Prince. His setlist consisted of records from his new album "War & Leisure" which included the throwback track "Pineapple Skies" and acoustically driven record "Come Through and Chill". Miguel also sang records from his first three albums including "Waves", "Sure Thing" and the R&B classic "Adorn". After what seemed like an hour and a half non-stop action, he closed off his set with almost a rock version of his hit single "Sky Walker".
At this point in Miguel's carer, he doesn't have a lot to prove anymore as he's been able to release quality music for close to a decade already. However, it's clear that he still has a chip on his shoulder as he performed every song like it was his last ever. Those are the moments that separate the good from the great and case in point Miguel is leading the pack when it comes to artistry for the genre.
Top Dawg Entertainment's SiR opened up the show with a soulful performance. We were also able to interview him after the show to talk about his project "November".