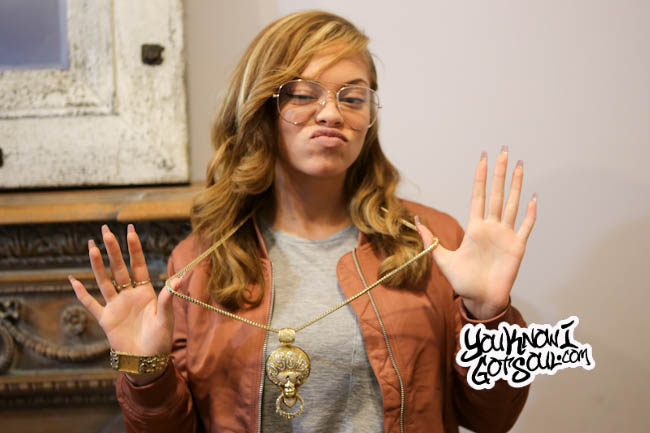 When Jermaine Dupri crowned Miss Mulatto as the winner of season one on his TV show The Rap Game, her life pretty much changed forever. Not only did she get signed to Jermaine's legendary So So Def record label, but she also gets to develop under one of the best in the industry when it comes to helping artists achieve stardom. We got to see a part of her journey play out in front of us on TV, so it will be interesting to watch the next steps in her journey as she continues her career. YouKnowIGotSoul sat down with Miss Mulatto during a recent press run in NYC and discussed the challenge of winning The Rap Game, Jermaine Dupri's advice, how her life has changed, artists who've reached out, and more.
YouKnowIGotSoul: We watched your journey to winning The Rap Game on the show. How challenging was it for you to come out on top?
Miss Mulatto: It was definitely a different situation and environment. Being the top dog in your little community, you're put in a house with four other people that are the top dogs in their community. Putting all of us in one house was a lot of egos to deal with. You think you're poppin, but you've got four other people who think they're poppin too.
YouKnowIGotSoul: Of course the prize was signing to Jermaine Dupri's So So Def label. Talk about the label and how much you knew about the legacy of it.
Miss Mulatto: Growing up in Atlanta, you already know the deal with So So Def. I feel like it was meant to be because not only am I from Atlanta, but both JD and I are from south side. That and then growing up, my dad used to play Kriss Kross "Jump", so me and my friends made routines to that song. It was kinda surreal. It still is surreal, I'm still getting used to everything, it's dope to be a part of this whole legacy and be the new face of it.
YouKnowIGotSoul: Talk about how your life has changed since you won. Have you been able to go back to your normal lifestyle?
Miss Mulatto: Oh noooo! Normal lifestyle is gone, finito, out the door! *Laughs* Everywhere you go, people know who you are. At the doctors office, my nurse asks for a selfie. It's crazy. The gym, places where you do not want to take pictures. But I'm the type of person that I have to take pictures with every single person that asks for one. I still do it! *Laughs*
YouKnowIGotSoul: Now that the competition is over, talk about some of the work going on behind the scenes as you continue to build up yourself as an artist.
Miss Mulatto: While the show was going on, JD always told us to work like we were losing. Even though I won The Rap Game, I'm still out here working like I lost.
YouKnowIGotSoul: What do yo think will be some of the biggest challenges for you on the path to becoming a star?
Miss Mulatto: Just being that all of the odds are against me. I'm young, I'm a kid in an adult industry. I'm also a female in a male industry. You constantly have to be about what you want to be. That means if you want to do this, then you need to give it all because there are so many people trying to hold you back from doing that or obtaining what you're trying to do.
YouKnowIGotSoul: Talk about your creative process when you make music.
Miss Mulatto: The creative process is why I do this and why I'm involved in this industry. I love being in the studio. I'll stay in the studio all day, days at a time. I'll live in the studio if it was up to me! Then, performing. I love performing and entertaining a crowd of people. I started off as a writer, so maybe that's why that's my favorite aspect of this business. I feel like that's the most fun part. If you're not hands on as far as your creative process goes, then what are you doing.
YouKnowIGotSoul: Are there any artists you're looking up to right now?
Miss Mulatto: I would say there are some I'm definitely learning from. Da Brat has been in and out of sessions, and I'm trying to learn from her. She's such a humble person. Her heart is so genuine in everything she says and every piece of advice she gives you, she means it. I would definitely say I'm learning a lot from Da Brat. I wouldn't say there is anyone I'm trying to emulate. I feel like I'm in a lane of my own.
YouKnowIGotSoul: With this big achievement you've had, have any hip hop veterans reached out to work with you?
Miss Mulatto: Yes! You know what's so funny. The other day, Timbaland commented under my Instagram and said his daughter loved me. He called my manager and said he wanted to do some work with me so maybe you could look out for that in the future. That was like woah! People are watching and looking at me. That's what's up.
YouKnowIGotSoul: As you're on this journey, what are some of the biggest things you're taking from Jermaine Dupri as you watch and learn from him?
Miss Mulatto: Keeping up with JD is a process within itself! *Laughs* He does not sleep, no breaks. JD has a crazy work ethic. Like I said, I've been working since I was 10 years old and I'm 17 now and I'm used to that lifestyle so it's cool.
YouKnowIGotSoul: What can we expect next from you?
Miss Mulatto: "No More Talking" is on iTunes right now, that's the first single. The video to that song is also out now. It's basically self explanatory. I won this thing and I'm gonna show you why I won this thing.
YouKnowIGotSoul: Anything you'd like to add?
Miss Mulatto: Any kids that want to be like me or trying to get on Season 2, yall just realize that this is not overnight. People see the TV process and they feel like this happens overnight. It doesn't. I've been doing this since I was 10 years old. I got on The Rap Game when I was 16. I just want to say patience and persistence, make sure those are two keys ideas in your whole process.