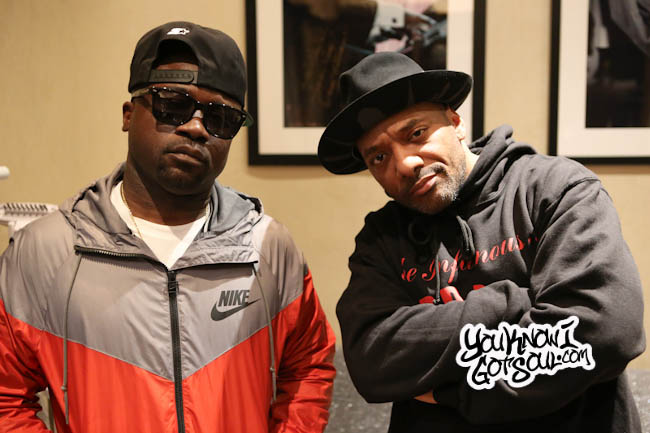 When Mobb Deep announced they were going to perform their classic "The Infamous" album in full with a live band for the first time in NYC, there was no doubt it was going to be a special occasion. After all, this was an album that not only put the group on the map, but helped shape the landscape of 90's hip hop and set new trends. It also helped to springboard them into a legendary career that now recognizes them as one of the best hip hop groups of all time. We got a chance to catch up with the group prior to their performance that night at the Blue Note and discussed what adding a live element would bring to the music, memories of creating the album in the studio, what's next for Mobb Deep, and more.
YouKnowIGotSoul: We're here at the Blue Note in NYC for your performance of the classic "The Infamous" album with a live band for the first time. How did this come together?
Mobb Deep (Prodigy): The concept came together because the people who run the Blue Note, we're like extended family. My grandfather used to perform here back in the day, I used to come when I was a little kid watching his shows. I got cool with the manager, we were tossing around ideas, and we wanted to do a Mobb Deep event here with a live event, some upscale shit. We wanted to make it real nice, and here we are.
YouKnowIGotSoul: Performing the music with a live band for the first time, what type of elements do you feel like that brings to it?
Mobb Deep (Prodigy): It's just a different feel. Live band is a different feel. Live instruments. You get that live feel.
YouKnowIGotSoul: Looking back on the album, it came out back in 1995. Talk about what you guys set out to create when making "The Infamous".
Mobb Deep (Prodigy): We were trying to just really show who we are and our story. We wanted people to know we have a story to tell that's important. We were trying to prove ourselves and our value in the industry. That's the mind state that we went in with.
YouKnowIGotSoul: You guys handled a bulk of the production in house on your own. What did that allow you to do with the sound of this album?
Mobb Deep (Havoc): It just made it where we had more full control of our sound, so if it came out fucked up, it was on us. We were in control of our own destiny.
YouKnowIGotSoul: Looking back at the album, many media outlets have given it a perfect score rating. What impact do you guys feel the album had in hip hop?
Mobb Deep (Prodigy): I definitely look back like it just amazes me all the time. Like wow, look what we did and what we were doing. Our slang, us period. Our personalities and the way we were, it transcends. The way we made music, our style of music making and our style of writing lyrics. We started a lot of trends, it's amazing to look back and see that.
YouKnowIGotSoul: The album came out back in 1995 and it helped really contribute to the changing of the hip hop landscape. What was like creating hip hop in that era, which many would consider the golden era?
Mobb Deep (Prodigy): We were just having fun with it and being creative. We really loved what we do and we were having fun and really just taking it serious at the same time. We take music serious. Back then, when I think about our mind state back then, we were serious about what we were doing, we weren't playing at all. We were thinking into the future and making music that could last and stand the test of time.
YouKnowIGotSoul: When you look back to being in the studio at that time and creating the album, what memory most stands out?
Mobb Deep (Prodigy): It's so many moments man. Crazy moments in the studio. Good times, bad times, funny stuff happening. Just all kinds of memories. But for the most part, I just remember that a lot of the song used to make my hair stand up on my arms. The same thing would happen to the engineer and whoever else was the studio. It happened to everybody simultaneously. That showed us that we were making some good shit, these songs were powerful.
YouKnowIGotSoul: A few years after "The Infamous" album, Mariah Carey came out with her song "The Roof" which of course used the same sample as "Shook Ones Pt. II". She reached back to get you guys on the remix. What was that moment like for you guys?
Mobb Deep (Prodigy): That was dope, it was an ill blessing. We are big fans of her music, she's definitely one of the greatest. When she reached out, we were like "Wow, that's respect, let's do it."
YouKnowIGotSoul: What can we expect next from Mobb Deep?
Mobb Deep (Prodigy): The next thing we're dropping is the "Hell on Earth" anniversary album, 20 years of that album. We're about to celebrate that, and we're doing a tour right now. November will be 20 years.
Mobb Deep (Havoc): I got an album coming out May 20th.
Mobb Deep (Prodigy): Havoc got a solo album, I got a solo album, Mobb Deep albums, books, films, everything, we're out there. We're working and grinding. We're not stopping anytime soon. You may not be paying attention, but we're still working.