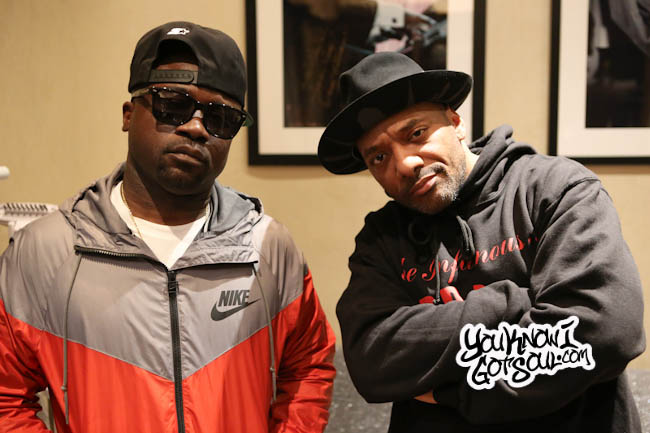 The famous Blue Note venue in New York City played host to a very special performance from the legendary hip hop duo Mobb Deep. Backed by Phony Ppl, the group was performing their classic "The Infamous" album in full with a live band for the first time ever.
The intimate venue, which holds just over 200 people, served as the perfect backdrop for this epic occasion which was the first of two performances on back to back nights. The line stretched all the way down the block well before the doors opened as fans came out in full force to support their hometown heroes. As a result, the Queens natives were performing not only a sold out show, but also for some of their biggest fans.
As Havoc and Prodigy hit the stage, Phony Ppl began playing the instrumental interpretation to "Start of Your Ending" before the duo began rapping the song which is the first on the album. The band's interpretation of the beat into the live instrumentation song was spot on, and this trend continued to play out the rest of the evening.
Between each song, the duo made time to address the album and their history and share unique tidbits with the audience. They continued to roll through each song in order on the album, including the skits, which added a unique element. The crowd got a kick out of Prodigy reciting "The Infamous Prelude" word for word with his braggadocios talk.
As the group continued to go through each timeless song on the album from "Survival of the Fittest", "Eye for a Eye", "Give up the Goods", "Temperature's Rising", "Up North Trife", "Shook Ones Pt. II" and beyond, the audience was in for a real treat with this unique experience. The way that the Phony Ppl were able to flawlessly recreate the beats from the album with live instruments made this an epic occasion for anyone in attendance. Mobb Deep even commented on stage how good the band sounded. With the backdrop of The Blue Note with the unique experience of hearing this Mobb Deep album re-imagined in this unique way, this was sure to be an evening few would forget anytime soon.