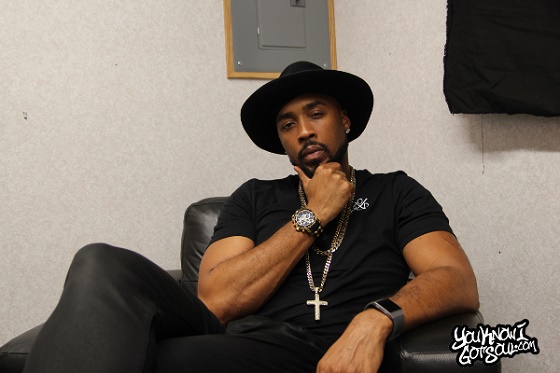 When you think about the best R&B songs from the 90's, it's almost impossible to create a list without mentioning "This Is How We Do It" which is potentially the best party anthem from that era. Along with that, Montell Jordan had a handful of number one hits including "Let's Ride" and "Get It On Tonight". YouKnowIGotSoul had a chance to catch up with the R&B veteran to discuss his extensive body of work which includes his new single "When I'm Around You" with Lecrae. A few months back, Montell Jordan announced exclusively on our SoulBack R&B podcast that he would be returning to R&B, so we had to do a follow up interview to find out more about the single and his upcoming project "Masterpeace". We also asked Montell about some of his most memorable collaborations including the song "What's On Tonight" which he did with Devante Swing of Jodeci.
YouKnowIGotSoul: You just dropped the new single "When I'm Around You" with Lecrae. Talk about the new single.
Montell Jordan: Lecrae is a friend and fraternity brother of mine. The single is the first release that I've put out in over ten years. It's going to be the forthcoming single from an album called "Masterpeace". It's a project that I wanted to do to be the soundtrack to marriage ministry. my wife Kristin and I do marriage ministry together and we go places to do conferences and speaking engagements. It just felt like some music doesn't always fit in a church or the occasion, so we wanted to create the soundtrack to our marriage ministry. It's stories and experiences, so we put together a project which is coming out probably late fall or winter.
YouKnowIGotSoul: When you announced to us that you were coming back and we shared it with the fans, they were really excited to hear from you. Did you notice there was a demand for new Montell Jordan music?
Montell Jordan: I think there's always a group of people that appreciate your artistry so when you say you're going to put out something, I think it's refreshing to know that your favorite artist is going to put out new music. Now do people actually go and get the new music? That's a whole different story. I think a lot of people are into songs now as opposed to artistry because it's a different day. People aren't just running out to buy CDs now, it's getting a person to actually put it on a playlist or download a song. That's the goal. It has to be more than just knowing Montell has a new song, there has to be some action steps. That's what we're trying to do. We're trying to get people engaged and not just knowing the music is out, but actually posting about it, listening to it, putting it on their playlists and sharing it with people so that Montell fans from back in the day and new fans have an opportunity to hear what was not only good in the 90's but what's also really good right now.
YouKnowIGotSoul: A lot of your peers like Joe and Tyrese have retired from music because they feel no one cares about new albums anymore. Was there any hesitation on your end when you decided to come back?
Montell Jordan: I think the hesitation is that the model changed. The model of how music is listened to, people are listening with their eyes now. You can put out music and it can be fantastic, but people don't know that it's out there because people now have everything at their fingertips. If you can control what's at their fingertips, you can direct the narrative. I think there's a hesitation, but when I look at a guy like Charlie Wilson who is out there touring and putting out music, it says that anything of us can do it. It's just a matter of how do you connect myself, Ginuwine, RL, Joe, Tyrese and all of us, how do you get people to connect with the new music that we're putting out in a music business that has changed drastically? We were all radio driven artists and radio has gone to cellphones, podcasts and streaming. It's just a new day, so there's hesitation always when there's a new system you're not familiar with.
YouKnowIGotSoul: You've been away from music for a minute. Were you doing any writing during that time?
Montell Jordan: For several years when I left the music business and went into full-time ministry, I did just that. I went into full-time ministry. I recorded songs for the church and the ministry. There are albums out there that I'm very proud of that I did with Victory World Church. Songs that youth ministries and people are singing all over the world. There's a song called "Shake Heaven". There's a lot of stuff that it's out there that I'm super proud of. In coming back, I did realize that a piece of me went dormant when I was songwriting. Even though I wasn't being the artist, I think not songwriting for others started to bother me a little bit. For the past two years, I've started doing that again and another part of me has come back to life. Not just with this project, but with some other things you'll hear that I've had an opportunity to put a pen on.
YouKnowIGotSoul: What's it like going back on tour with your 90's peers?
Montell Jordan: Being back on tour is bittersweet. It's an awesome opportunity because I border on Hip Hop and R&B. I can be on a Hip Hop show with Rob Base, MC Hammer and Coolio but I can also be on an R&B show with Mya, Next and H-Town. It's a family reunion when I get to be on the road with everybody, but I'm also away from my own family which is the bittersweet part. It's not as glamorous as people would think that it is, but it is a productive and a cool way to connect with people. What better way can I connect with 20,000 people at one time than being in front of them because the 90's brings us back together.
YouKnowIGotSoul: Just want to touch up on your history and quickly go through your discography. Take me back to your mindset when you put out your debut album "This Is How We Do It".
Montell Jordan: I didn't know what the hell I was doing. *Laughs* I knew I had a voice and I felt like coming out of South Central Los Angeles, if I could combine rapping and singing I could carve out my own space in the world that I wouldn't sound R. Kelly or Guy. If I could spit Hip Hop lyrics and sing them, that was my mindset. It was just to create something that no other R&B artist had done before.
YouKnowIGotSoul: Now on your second album, you were one of the last to collaborate with Devante Swing from Jodeci before he left the industry. What was it like working with him on the "More…" album?
Montell Jordan: The A&R on the project was James Jones. Def Jam wanted to solidify me as a real R&B artist. On the first album because I rapped so much, they were like "They're not going to take you seriously unless you come out with a straight R&B album". That's where the album kind of took that light. It's funny because the song "What's On Tonight" was produced by Devante. It was a time when he was in a pretty weird place and he was going through something, so my boy Shep Crawford actually came in and helped co-produce that record to make the final product be what it actually was. It was challenging at that time. I love Jodeci, Devante and I love the way the record turned out, but there was a lot behind making the record what it needed to be.
YouKnowIGotSoul: On the third album "Let's Ride", you had the traditional R&B single "I Can Do That" and a Hip Hop/R&B single "Let's Ride". What was going on with this album?
Montell Jordan: "Let's Ride" was the beginnings of a cry for help. *Laughs* I was spiraling out of control with the whole "You're a one hit wonder" thing. We had a number one record with "This Is How We Do It" and then "Let's Ride" went to number one again. That's when I started to learn more about myself and what was satisfying me was what people thought about me and I wasn't sure who I was, so I was falling deeper into the strip club scene and those dark places. I was singing about it on the records and it made the music authentic, but it made for a tragic life for a guy who was married behind the scenes, but the world didn't necessarily know that. I wasn't living a good life as a kid who grew up in church, a good husband or a good father.
YouKnowIGotSoul: I remember you performing at the NBA All-star halftime show when "Get It On…Tonite" came out, so you were a solidified star at that point. What was going on internally at that time?
Montell Jordan: They say when bandits get sloppy, sometimes they want to get because they want to put an end to it. That's what that album was for me. I was in some dark places and I was unfaithful to my wife. I was singing about it on a number one record. It was a song about adultery and it was basically like "I've got a girl but I want to get with you". I was living it out at that time. I had success based on what the outward world saw, but I had no significance in my life and my marriage basically was falling apart at the seams at that time. I was successful with my music and tour, but my home and marriage were falling apart.
YouKnowIGotSoul: We have to touch on "Once Upon A Time" because the songwriting was crazy!
Montell Jordan: That song was dope! We did it in English and Spanish. Each chorus was different and normally you want to have a song that the chorus is always the same. We kept the melody the same, but we experimented with having the song change every single time. We shot the video in Puerto Rico and made it seem like it was Cuba. One of my favorite songs and it was a huge record outside of the US.
YouKnowIGotSoul: You had the "Montell Jordan" album which was your last on Def Soul. I felt that project showed a lot of growth and maturity, but it didn't do as well commercially. You followed up that project with two independent projects. What was that transition like going from having number one records to being in a different phase in your career?
Montell Jordan: The music industry and I was changing. The "Montell Jordan" album was one of my favorite albums ever. It was never released in the US, it was only put out overseas. The world never got a chance to hear that. That was an evolution in my marriage and a lot of different things were happening at that time. There was "Life After Def" which was more back to my first album roots with singing and rapping over songs. I think there was an album called "Let It Rain" and I was basically robbed by a record label that took the song and put it on the internet. They took my masters and everything. If you want to look that up, you can see the company that did it. To this day I've never tried to fight that. At that point I got a really bad taste to my mouth for the music business because it had gone from tangible product to a digital marketplace and you could basically do anything at that time. Those were starting to lead a path where I was like "The business is changing, I have to determine who I am".
WYouKnowIGotSoul: hat do you to take away from the Montell Jordan discography and that whole body of work?
Montell Jordan: There's some good stuff there like the album cuts. I still go back from time to time and I listen and I'm able to take a journey through that music and know where I was in my life at that time. But if there's anything you get from that, I hope on the other side of listening to those records that you'll be able to walk away knowing what I waked away from the business knowing and that's that music doesn't define me, I define music. That's what I had to learn. Without a microphone, stage, platform or fans, I'm still a son of God, husband, father, friend and giver. All these things are who I am if I never pick up a microphone and sing again. That's why I can put out new music because it doesn't define me if people purchase it or not. I know who I am now and the music will have an opportunity to live on when the right ears are ready to hear it.