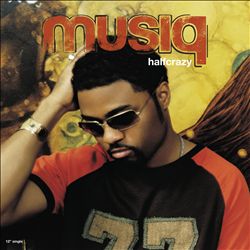 "Halfcrazy" is one of Musiq Soulchild's most popular hits, but did you know the song was actually meant for Jazz from Dru Hill? The producers Carvin & Ivan tell us the story behind that song and how it eventually ended up Musiq's second album "Juslisten". Check out our latest interview with Musiq where he talks about his upcoming album.
Carvin Haggins: You know what's funny, I just listened to a cassette tape of "Halfcrazy", but of when Jazz of Dru Hill sang it!
Ivan Barias: "Halfcrazy" has a very interesting story behind it. When we originally did the record, we did it with Jazz from Dru Hill. It was originally a sample on that record as well. He had a solo deal with Def Jam and our management team brought Jazz to A Touch of Jazz studios. They put us in the studio with him and we recorded the song "Half Crazy". The only thing was the verses were different and the music was totally different. So we did it and it was dope. Months later I hit Jazz up and asked if he still wanted the record and he said "I don't know man, I think we've gotta get some different sounds on there." He wanted us to update the music a little bit because it just sounded like the sample we had on there. He wanted something that showcased a little bit more of the musicality of what it was all about. So I called in the troops, I called in Frank Romono, Terry Trippet, Pete Kozma, Jeff Bradshaw and Matt Cappy. The order of how I did it, I called Terry and he came in and played. The crazy thing about it was the sample was off, so when Terry played on it, he tried to put the drums back into it and everything was off. So I had to chop the bassline of the sample. Frank Romono came in and played guitar and Pete Kozma came in and played keys and Matt Cappy and Jeff Bradshaw did horns. Put the track together and called Jazz and told him we had his record and he was like "Man, I'm gonna pass on it!" *Laughs* Fast forward a few months later, we're at the video shoot for "Girl Next Door" and Musiq was saying "Yea I'm getting ready to go in and do my next album, you know what song I want to cut? I want to cut 'Half Crazy'." We went to L.A., came back and went in a few months later and went straight to the studio to work with Musiq. I played the beat first for Carvin and Musiq and you lost your minds. Then they just rewrote the lyrics and trimmed the hook, and the rest is history.
Carvin Haggins: Lyrically the song was about being in a relationship with a young woman. Basically, our relationship started off as the coolest relationship, she was like my dude, we could relate on every level. It was good as friends. We went into a relationship and it started getting crazy and I'm like "I just want my friend back. Let's just move from this point on." That's how I wrote that tag line "I just want my friend back".
Ivan Barias: That's crazy, I never knew that. Thank you YouKnowIGotSoul for allowing me to find out what that song was dealing with! *Laughs*
Carvin Haggins: Easy man, you know you gotta have secrets!