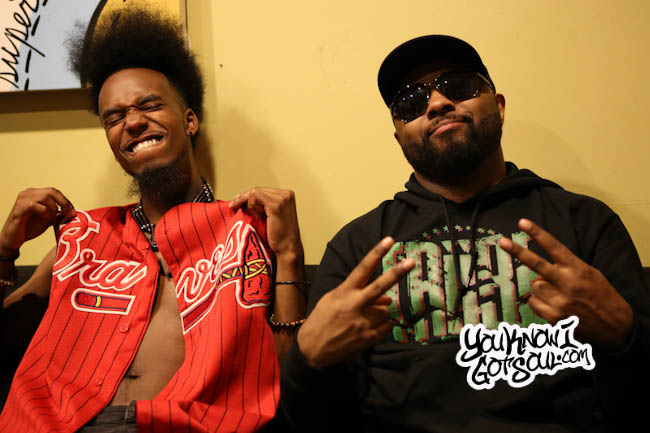 After a lengthy layoff from the Musiq Soulchild brand over the past several years, the singer returned with a vengeance last year with the great album "Life on Earth" and tour that followed. Although he took some time to pursue his true passions through alternate personas, he's recently been rejuvenated, and now we know why. Meet Willie Hyn, a dope new artist who Musiq signed to his label and who has helped keep him inspired like he hasn't been in years. The pair have been collaborating frequently in the past few years, including on Musiq's latest release, and also on Hyn's "13 Roses" project. It's an exciting time for both, and this is just the start. We sat down with the pair following their performance at our Sol Village r&b show in NYC and discussed how the collaborations began, the new music we can expect from Musiq Soulchild, Willie Hyn's artistry, and much more.
YouKnowIGotSoul: We are here tonight at the Sol Village showcase at SOB's in NYC, you both just came off of the stage. Talk about the experience performing tonight together.
Willie Hyn: Man it was a blessing. I had my idol coming to perform with me to sing songs that I wrote. He didn't have to do it but he did it. It's beyond a blessing.
Musiq Soulchild: It's only right, I'm your biggest fan, it's the least I could do.
YouKnowIGotSoul: Talk about us about how you became his biggest fan. You signed him to your label and you've been working with him over the past couple of years. How did that happen?
Musiq Soulchild: So you know I have these alter personas, and I have one by the name of The Husel. Like it if you do, don't if you don't. Don't care, never will. I needed somebody on this one song called "Barz". Working with my MD and producer J. Troy out of Atlanta. I did this one verse, and I needed somebody else on the record. J. Troy said he had the perfect person. He sent him the beat without my verse on it, and we came back the next day, and I had did my verse, and he sent me his verse. I was like "Yoooo, how did he know this was the vibe I wanted?" It was just so perfect. At that point, I knew this guy gets it. Then I came to a couple of his shows, saw a couple of his videos, heard a couple of his songs. I thought "Nobody knows about this dude?" Then I found out the whole Atlanta knew about him. But he was kind of like an underground Prince happening. He just needed a little wind under his wings. Ever since then, people have been taking to him. I put him on a record on my album on the very first song called "Wait a Minute". Then on my next album, yes I'm working on another album, it's going to be coming out later this Summer, I got him on about three songs. I'm really excited about my new stuff and what I'm doing, but I'm really excited about breathing life into other people's careers as much as I can. He's already a thing on his own. I don't need to tell him nothing, I just need to put gas in his tank so he can go further. That's all I'm here to do.
YouKnowIGotSoul: Talk about how you built up this movement to be able to get the attention of someone like Musiq Soulchild?
Willie Hyn: Open mics. If your mic was on, I was there. Monday through Sunday. Every night we were performing, everywhere. It just had to get to the point where people would get tired of us. Shout out to Confetti Rose. It took them to believe. They could have been like, "We love you, but we aint tryna be doing all of this." They backed me time in and time out. For at least five years, they were just running with me. I'm just blessed to be able to have a strong team with me. It took all of that time and all of those performances to get to this point.
Musiq Soulchild: People don't understand that's what it takes. People look at this microwave success, but it takes years. You better be about it, and serious about what it is you're trying to put out into the world. The gratification is not going to be instant. This is the long game. You gotta be focused and you gotta have it in your heart, ultimate confidence, that it's dope and they need to catch up. When it hits, it's going to be worth.
YouKnowIGotSoul: Talk to us about the "13 Roses" album you released recently.
Willie Hyn: I would say it's pretty much like a biography of my last three years of life. It's a love story. It's one of them things where it hurts to tell it because of the outcome, but at the end of the day, it's my truth and it turned into art. I couldn't have done it without Chris Theory my executive producer. He's been with me since day one. He really chimed in with me and allowed me to take it to another level. That was the first time I sat with all of the different producers. It just came together. Musiq agreed to get on it. I did the record for The Husel, but I wanted him on my album, and I needed him to sing. I wanted him to take me back to "Aijuswanaseing" "Juslisen"!!
Musiq Soulchild: Ha! *Laughs* I see what you did there! What's cool about the song "Flowerchild". I was doing The Husel, and what people don't realize is, I was like "I'm cool on Musiq Soulchild, don't nobody care anyway." Record sales weren't poppin, people weren't showing up to the shows, promoters weren't calling. I thought nobody wanted Musiq Soulchild anymore so I started over. I was being inspired by all of the sounds in Atlanta, so I said "F It, I'm going to go and do this The Husel thing". When he brought me that song, I was listening to the song and doing it, and thought "This Musiq Soulchild thing is pretty cool! Let me go ahead and get back in the studio". I don't know if I ever told you that Willie. I had to really sit down with myself and realize I couldn't abandon this Musiq Soulchild brand even though folks weren't giving it the love and the attention that it deserved. I had to take into consideration I'm appealing to a whole nother generation of people. There were a lot of factors I didn't consider. I was being very emotional. I sat and got realistic about it. You're so willing to breathe new life into someone else, why don't you breathe new life into your own thing. I just wanted to put that out there and tell you I appreciate you. It's you guys and your whole movement. There are a lot of solo people out there, who it's all about them, but you guys operate like a village and a family.
YouKnowIGotSoul: Watching you guys on stage tonight, it's clear to see the talent and why you'd want to sign him, but also how he's keeping you inspired.
Musiq Soulchild: He's definitely been an inspiration and it's important in this business to be always inspired.
YouKnowIGotSoul: What can we expect in the future from you guys?
Musiq Soulchild: I'm working on a lot of music coming out very soon. Please remember when I said that, because when you get a lot of music, just run this back and say "Oh yea, he did say that!" A lot of Musiq Soulchild music that is, along with all of the other stuff. He and I, and another artist Re'Lxuise. We just put a group together, and we're going to put out some music coming out very soon. We don't have a name yet. It might be a one time thing, it might not, who knows. It's definitely still fresh out of the box. It's so much out there, and it's like no attention. For instance, it's a lot of Soundcloud superstars but they're not getting no attention. Unless you know somebody who knows somebody who knows about it. Somebody out there somewhere has to figure out how to start showcasing the dopeness on Soundcloud and all other platforms of independent artists.
YouKnowIGotSoul: Anything you guys would like to add?
Musiq Soulchild: "13 Roses" the movie, coming soon. If you care, I did a The Husel, kind of like movie. A bunch of videos I'm stringing together, starring Willie Hyn. It's gonna be cool. We're just out here being creative, being artists. This is what we do. Forget about all of the other stuff, who's charting and who isn't. For us it doesn't really matter. At the end of the day, the only thing that matters is what you put out and how much it hits people in a positive way.