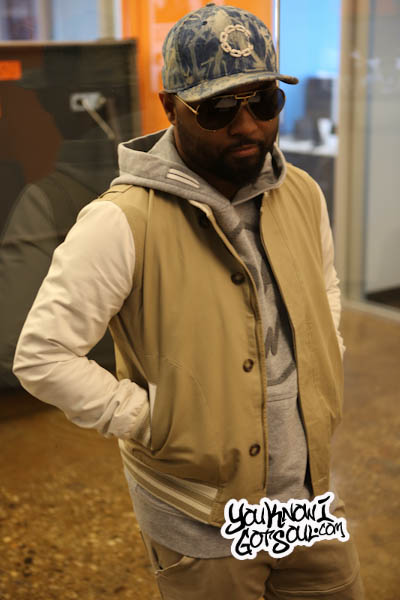 In a time when albums have become a scarce commodity from our favorite singers, how exciting is it that Musiq Soulchild is not only returning for his second album in as many years, but it's a double disc. While many of his peers have become discouraged, lost their focus, or even threatened to retire, Musiq is working just as hard as ever. The new album is called "Feel the Real", and the first two singles "Simple Things" and "Start Over" gave us that timeless traditional r&b sound we've grown used to from the legend over the past decade and a half. Not satisfied to just rest on his own laurels, he'll also be giving back to other artists through his label SoulStar Music Group where he'll groom other to have the same success he has had. YouKnowIGotSoul sat down with Musiq Soulchild once again and discussed what to expect on the new album, labeling himself as a hip hop soul artist, what to expect from his new label, and much more.
YouKnowIGotSoul: The new album "Feel the Real" is out now. It's a double disc. What excites you the most about this album?
Musiq Soulchild: The fact that it's coming out! *Laughs* It's been a long process. Finally the day is here. I hope you guys dig it and appreciate it. I put a lot of work into it and so have a lot of people I've worked with on it.
YouKnowIGotSoul: At what point did this become a double disc? That's kind of a rarity these days.
Musiq Soulchild: Somewhere in the middle, I started thinking about plans for the future and how much music I wanted to put out. I thought about how I had all of this stuff I thought was fresh, and probably would never see the light of day if I don't release it. If I were to put out 12 songs, I still would have had 12 I wanted to put out. Then with the next album, I would have had 12 more songs because the ones I had from before were old. I actually had some songs on this album that are really old but I breathed new life into them so they don't sound like old material. The reason I wanted to stick with them because they're good stuff. There's songs on there that are 5 years old and also 5 months old. I kind of wanted to purge and start over. The way you do that is getting rid of what you already have and starting fresh.
YouKnowIGotSoul: This is a quick turnaround for you since "Life on Earth" came out early last year. What motivated you to get something back out so quickly.
Musiq Soulchild: I had too much to do. As a creative person, I'm becoming more and more creative, there's too much to do to be waiting around two years. Soon, I'll be putting out stuff every 3 or 6 months if I have to. I think waiting and waiting years and years is an old way of doing stuff. No dissing anybody who does it, but I don't know how to hold onto stuff. I keep doing other stuff and stuff I thought was dope would never see the light of day because I came up with new stuff.
YouKnowIGotSoul: Talk about the creative freedom you felt on this project. Prior to this, you were with a major label for a long time, and then the last album was with Warryn Campbell, but now you're on your own.
Musiq Soulchild: What they don't tell you is freedom comes with a lot of work! I'm definitely grateful for the freedom to call my own shots. However, you don't have the luxury of leaning on a squad of people to put stuff in motion. It's just you and your homeboys trying to figure it out. It gets challenging at times. I do appreciate being able to see my own thoughts get put into play. Then with eOne, it's definitely a good ally because everyone here is accepting and we work well together. I couldn't have put this project out without them.
YouKnowIGotSoul: We were so excited to hear you come with the traditional r&b sound on the first two singles "Simple Things" and "Start Over". Many of your peers are touching on trendier sounds, so you never know…
Musiq Soulchild: See this is why I started The Husel! So that you don't get that. So that if I do feel the urge to do that, I do that over there. But if I want to come back to Musiq Soulchild you don't have to worry about me messing with it! I might incorporate it in because that is the way, you've got to respect it. I'm not going to change for nobody. Just because I don't want to change doesn't mean I can't involve myself in other stuff. It's just a way of doing stuff. I know you didn't understand, but I'm trying to explain in detail. The point that you just made just now is the reason I made a decision three years ago that nobody wanted to respect.
YouKnowIGotSoul: It was interesting how you released the video for both singles at the same time. Now "Start Over" is making some great traction at radio. What made you decide to go with that as the main single?
Musiq Soulchild: I actually sat in this room and told them I wanted to lead with "Simple Things". I did what it did and did pretty well. "Start Over" was the favorite and I'm not going to fight anybody over my music. It doesn't really matter to me. The fact that people even still care about a Musiq Soulchild album. I don't have a strategy or plan, whatever catches I just follow that.
YouKnowIGotSoul: We were talking off camera about the dope branding you've got on this album and the last one with the denim look and the consistent feel of it all. Talk about that and the Emoji app you've got.
Musiq Soulchild: I've always wanted to do the denim thing, but I was just advised against it during my Def Jam days. I went along with it because they tried to suit me up and be this r&b guy. It's cool but it just never really fit. Now that I'm kind of on my own now, I just went back to my original plan, the denim thing. The emoji thing is because we live in a very social media heavy reality right now. It's to try and figure out how to capture a feeling in an image. I literally woke up one day and thought of Emoji's. The very next thought was to make it a denim Emoji. I actually put together a whole app for it called Denimoji. It's available right now on. It's sticker based. It's a whole bunch of different expressions and we also have a lot of my sayings from my songs with an image of me. It's just trying to keep it interesting and keep folks entertained.
YouKnowIGotSoul: Even the heart that you had on the "Life on Earth" album cover was really cool.
Musiq Soulchild: If you notice it's actually an atlas, an image of the world. It would have otherwise been round, but I put the planet in the shape of a heart and then the tear and sewn back together is about life on earth. The whole thing was "Life on Earth in Love". That's why it's in the shape of a heart because these are songs what you could end up experiencing as a person living life on earth in dealing with love and relationships.
YouKnowIGotSoul: Talk about the collaborations on "Feel the Real".
Musiq Soulchild: The title track on the album features Marsha Ambrosius and she wrote the song. I got my home boy Willie Hyn, he's on about five records. Two of them feature Re'Lxuise. Myself, Re'Lxuise and Willie Hyn are a group called "Black Gold". Look out for a project from us coming soon. I got a really obscure feature Neil Degrasse Tyson. That was so dope how that could have happened at all. I just dig the concept of merging the two worlds of science and music together. The fact that he was down with it, I thank him.
YouKnowIGotSoul: The press release lists you as a hip hop soul artist, but years ago they tried to call you neo-soul. Are you trying to rebrand yourself?
Musiq Soulchild: Well I'm not trying to rebrand, but I'm been branding myself that way since day one. But everybody wanted to call me r&b or neo-soul. I don't know why. I let people do it because it really doesn't matter at the end of the day. If you ask me, it's hip hop soul because those are the two main elements of my sound. I come from the hip hop generation of that time and raised under the soul music era from my parents. That's where the name Soulchild came from, out of soul music. Hip hop music and soul music have been the two main motivators for me musically. The music I make is hip hop soul, but I do make r&b music as well. I don't think I make r&b music to the point where I'm accurately categorized. There's more to what I have to offer and offer in the future. People could choose to respect it or not, but I pray that you do. As long as you get it, support it, and pay for it, it doesn't really matter.
YouKnowIGotSoul: Talk about the future of your label. I know you've signed Meelah, former lead singer of 702, to put her album out. What can we expect?
Musiq Soulchild: She's still working on her project, I'm not going to rush her. She's definitely taking her time, she's got some really cool stuff. I'm excited for you guys to hear her outside of the group element. I think people keep associating her with the group. They don't have anything else to go off of. We made an attempt not too long ago where I did a record with her and did a video. Some people caught it, but that served its purpose and we've got to take it to the next level. I think it's her time to be out on her own and get a chance to experience her as just her. I'm sure she's going to still do the group songs, but I think she has a whole lot more to offer than just that. I think that as an artist, it's important for us to have those outlets and be able to express ourselves without being associated with things we've moved on from. Any little bit I can do to help her accomplish that, I'm here for her. I hope you receive it as well as it was intended.
YouKnowIGotSoul: Any hope for another Purple WondaLuv project?
Musiq Soulchild: Oh, you do want that?? *Laughs* It's coming, but I think I'm going to take my time. I think I need to give people time to understand. That was my bad. I needed to give people time to understand what is happening, it was new and foreign. People still can't process how I was Musiq Soulchild and The Husel and Purple WondaLuv. They still can't put that together. I'm going to give it a minute and spoon feed The Husel process. I think that's going to be the most challenging because it's the newest one. I didn't have it figured out. I had all of the other concepts in my mind since 2004. The reason I want to move with The Husel is because it's what you would consider current. I'm definitely doing it my own way, which is why it's important people pay attention. I don't really listen to a lot of the comments. It's coming immediately. I put a lot of work into this and I'm really passionate about it. It's no game or gimmick and not for attention and selling out for money. I'm an artist. If you don't get it you don't get it. You do still have this Musiq Soulchild thing that you keep complaining about but you don't support. You've got to pick a side!