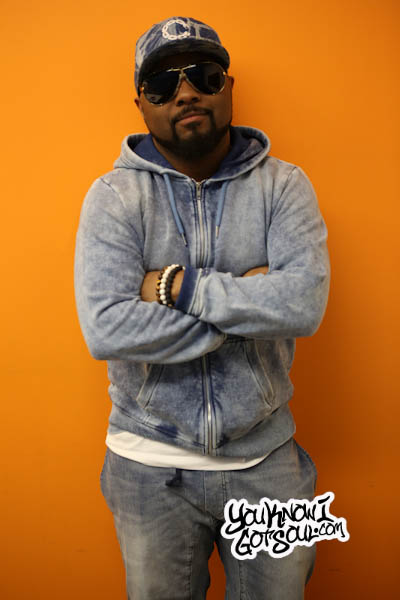 If you've spent any amount of time on YouKnowIGotSoul over the past few years, you'd know that Musiq Soulchild hasn't gone anywhere since the release of his last album "MusiqInTheMagiq" in 2011. As he returns with the new album "Life on Earth", he brings with him the experiences learned creating his duets album with Syleena Johnson and alter ego projects as The Husel and Purple WondaLuv. As we've heard with the first single "I Do" and the additional song releases, it's fair to expect another great album from an artist who's already built a legendary career. The Warryn Campbell executive produced album is his first as an independent artist and represents the next chapter of his career. YouKnowIGotSoul sat down with Musiq Soulchild once again during a recent press run in New York City and discussed what inspired the new album, revisiting his original sound, building his brand, what excites him about music, and much more.
YouKnowIGotSoul: Talk about what your inspiration was behind the new album "Life On Earth".
Musiq Soulchild: I think it's important to keep pressing the issue about being realistic and talking about very complex things, but in a simple way when it comes to relationships. I think it that helps diffuse unrealistic expectations and assists people in having a more productive relationship than selfish ones that I think a lot of us tend to have. I think it's natural as humans to want what you want what you want, but I think it's important to consider what the other person wants too. These songs are basically soundtracks for the grey area that a lot of us find ourselves in. Ultimately it's just to let folks know that I'm still here as Musiq Soulchild.
YouKnowIGotSoul: We're loving the single "I Do". The song structure is so unique because it starts off with a pre-chorus and it's just different.
Musiq Soulchild: I think it was important and innovative because you have a lot of sameness going on. Not to talk down on anything or anyone, but after a while it creates a situation it's like "Do something else now". Everyone can't be doing the same thing and expecting the same response. That's when you start to sound like everybody else. I think it's important to keep things interesting and to just always contribute to an alternative that there's other ways of getting your point across. I didn't even think about the song structure. I was more so thinking about getting the message out. It just ended up being that way. I don't usually start off my songs cold like that. There's usually a musical intro. This time I just had to get to it. I don't have that kind of time messing around. I was like "Let's get to the point". I like that "shoot from the hip" approach because you have to deal with it in real time. I don't like to be fluffy or pretentious with it, but let's talk about something real. That's pretty much it.
YouKnowIGotSoul: You also put out the songs "Alive & Well" and "Heart Away". They remind us of elements you introduced us to earlier in your career.
Musiq Soulchild: First of all, those songs are instant gratification tracks. It's basically a thank you for pre-ordering the album. If you haven't heard these songs because you haven't pre-ordered the album, please go do that and let me know what you think. At least that's how it's supposed to be set up. You could probably just download the songs. *Laughs* Anyway, "Alive & Well" and "Heart Away" are just songs that I made available to let you know that I appreciate you for pre-ordering the album, but also to give you a slight perspective on how diverse the album is. It's way more diverse than that even. I didn't want people to think it was going to be a bunch of "I Do" or "Heart Away". I'm touching on different things. Most of it is about love and relationships. However, all of it is from a real life point of view. Ultimately, I wanted to bring the issue of Hip Hop Soul. I think people misunderstand me in a lot of ways because I've always been reserved as an R&B artist. Even though I do make R&B music, I've never seen myself or intended to present myself as strictly an R&B artist. Hopefully people will understand what it is I'm doing. I used to say that it was just Soul music, but I think that's slightly inaccurate because I'm not acknowledging that I have a very huge Hip Hop energy to what I do and in my presentation. I think the more accurate description or title that could be used for the type of music I do is Hip Hop Soul because I always tend to have a rappers thing to it with how I sing. I talk about more than what your average R&B singers would talk about. It's not that I'm that much more deep or anything, but it's just different than the usual topic. I'm just doing something different. It's not for the sake of being different, but for the sake of being me.
YouKnowIGotSoul: Since the last Musiq Soulchild album "Musiqinthemagiq" came out in 2011, you've been pretty busy with the Syleena Johnson duets album as well as your persona projects. How has Musiq Soulchild evolved as an artist that will show on this album?
Musiq Soulchild: I think that the time off, it may seem that it wasn't really time off. It may have been time away from the Musiq Soulchild brand to focus on different things, but I think that doing those things helped me be a better Musiq Soulchild because it helped me get some of the creative stuff that I have going on internally that sort of got in the way of the Musiq Soulchild content. What I started doing indirectly is trying to filter all of that stuff within the Musiq Soulchild brand which was compromising the integrity and left people confused. That happened mostly at my shows because I was trying to funnel all of this hyper musical stuff to an audience expecting one thing. It complicated things. That's partially the purpose of the other personas, so that I can find a platform or outlet to get that out of the way, so that I can focus on being Musiq Soulchild. So the people that have invested time and money into that brand throughout their lives can feel like they're not being cheated or underserved. I needed that time off because I was telling you what I needed to do rather than finding out what it is that I am and living up to that. Trying to live up to certain expectations that weren't real, but I did it because it was working and people liked it. I was making money off. After a while, you have to stand for more than that. It has to be more than just the look or getting the bread. It has to matter and it has to amount to something more than that. I just feel like I wasn't really accomplishing that, so in essence I had to do some digging and soul searching. That's where I found all of these other levels to myself and as a creative person, I'm going to breathe life into them and present myself in those ways because I know there's an audience for that, but the plan was always to come back as Musiq Soulchild. I did all of that to be an artist and to give you a better product. I didn't know how to do that with all of this stuff in my head, so I think working on all of these other side projects just made me a better songwriter, singer and performer. I'm able to focus on what's really important to meet the needs of my supporters. I'm still working it out and figuring it out. What that means is that I'm learning to rise above my personal sense of creativity enough to serve my audience in a way that they are expecting. It's not fair to expect them to sell them on this creative stuff when they just bought a ticket, got dressed and got a date to see a Musiq Soulchild show. They could have been The Roots show because the music feels the same. It's not fair to the audience to them to expect one thing off the albums that I've put out and then when they come to the show, they get something slightly different. It's the same, but it's not.
YouKnowIGotSoul:: This is your first independent album as Musiq Soulchild. What has that allowed you to do?
Musiq Soulchild: I don't think you should expect anything differently being that I'm independent. If anything, I'd say to expect more. That's the beauty of independence. You get to do things more closely to what you want to do rather than what you feel like you're supposed to do for ratings and sales. I don't want to downplay those things as not important because they are. I think the quality of the product is more important than anything. It doesn't matter how much you sell or how much you don't sell, if it sucks then it sucks. I put that as the priority. Now I'm in a position where I can put it through more accurately without a lot of chefs in the kitchen. When it doesn't go according to what everybody expected or projected, they want to blame the artist. It's just like "I was just listening to you guys. I gave all of you a voice". So rather than that, how about something like "If it all falls on me anyway, I get to make all my decisions. If you want to help, then cool".
YouKnowIGotSoul:: What excites you about creating music at this point? You've done so much, so what it is that gets you excited?
Musiq Soulchild: What gets me excited about making music and being creative is the reality that it's always an opportunity to affect someone in a positive way. Hopefully inspire someone in a progressive way. I like it when it happens to me. I like it when I'm inspired. When I hear it or feel something, I want to be like "Why didn't I think of that?" It helps life to make that much more sense. If I can provide that for someone in any way, you can't unbuild that. You can't unlearn or unexperience something that changed your life, so I'm always pursuing that. I can't always control whether or not that happens, but I can do my best to contribute to it as much as possible and just have the faith that it'll register to people. I can't focus on how people think about me. I don't think that's wise or healthy. I just focus on what I do, what I put out and what my intentions are. I do a lot of internal work when it comes to presenting myself to people with what I have to offer with my gift, blessing and creativity. I take it very seriously. I take it so seriously and I know you can't take yourself too seriously. Now you're making it about you, it's about what's happening. So my inspiration and reasons are very nuanced. It's very specific in a lot of ways and it's very general in others. I can only pray that before my time is up on this life on earth, I would have done something worth everyone's time.