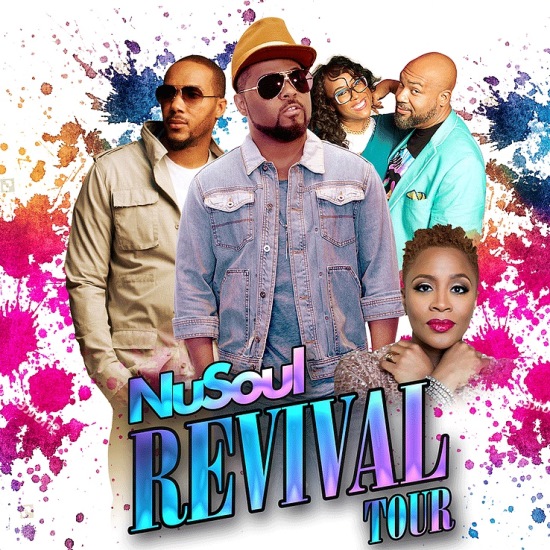 It looks like yet another great r&b tour is on the horizon. In the past few years, we've seen r&b artists band together and perform as a team, and that's what the "NuSoul Revival" tour is looking to bring as well.
The show will be headlined by Musiq Soulchild and also feature Lyfe Jennings, Kindred the Family Soul and Avery*Sunshine. It will kick off in early February before heading out across the U.S. in 22 cities.
To add even more punch to the lineup, Christte Michele, Dwele and The Foreign Exchange will be appearing on select dates during the tour.
In celebration of drawing over 10,000 soul and R&B music lovers, from all over the U.S, to the largest annual Soul Music Festival in the SE region, the producers of the ATL Soul Life Music Festival are expanding on that successful concept. The NuSoul Revival Tour seeks to send the message that "Good Music Still Lives! "while continuing to support artists whose music is the soundtrack, and in some cases, a blueprint of areas of our lives. It also seeks to raise awareness for Alzheimer's disease which affects over five million individuals in the United States.
"NuSoul Revival" Tour dates:
2/3 – Raleigh, NC
2/4 – Charleston, SC
2/10 – Nashville, TN
2/11 – Chicago, IL
2/12 – Louisville, KY
2/14 – Philadelphia, PA
2/17 – Washington, D.C.
2/18 – New York City
2/24 – Charlotte, NC
2/25 – Detroit, MI
3/3 – Norfolk, VA
3/4 – Dallas, TX
3/10 – Atlanta, GA
3/11 – St. Petersburg, VA
3/17 – Columbus, OH
3/18 – Cleveland, OH
3/24 – Kansas City, MO
3/25 – St. Louis, MO
3/31 – South Haven, MS
4/1 – Houston, TX
4/7 – New Orleans, LA
4/8 – Jacksonville, FL