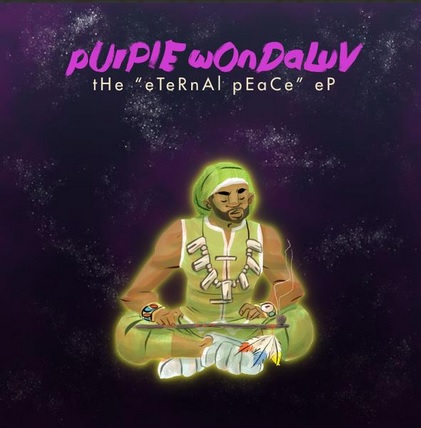 Musiq Soulchild released his Purple WondaLuv persona project nearly five years ago in 2015. The EP was called "Eternal Peace" and we were pretty excited about it here at YouKnowIGotSoul.
In fact we still keep the project in rotation because it is that special. That's why it's an exciting day for us to find out that there has just been a video released for the song "Time is Now".
The visual by Purple WondaLuv had apparently been filmed in Egypt around the time of the EP's release but left in the vault until now.
We implore you to take a listen to the "Eternal Peace" EP if you haven't checked it out yet. In a time when we need it more than ever, the healing and soothing qualities of the project will truly take you to another place.
Click Here to Listen to the "Eternal Peace" EP.
Click Here to See all of our coverage of Purple WondaLuv.
Click Here to watch Purple WondaLuv perform "Time is Now" live exclusively for YouKnowIGotSoul.
View this post on Instagram

👑🌟⠀ ⠀ Filmed in EGYPT on the Continent of AFRICA⠀ ⠀ VERSE I⠀ what are you waiting for⠀ thinking things'll come your way⠀ but it won't, no⠀ I know you want it to feel right⠀ looking for your green light, but⠀ ⠀ CHORUS⠀ ooooooh, ooh, ooh⠀ ooh ooh, hey⠀ ⠀ don't wait too long⠀ moments don't last⠀ before you know it it's gone⠀ ⠀ ooooooh, ooh, ooh⠀ ooh ooh, hey⠀ ⠀ you won't get too far⠀ if you don't decide⠀ what you really want⠀ ⠀ ooooooh, ooh, ooh⠀ ooh ooh⠀ ⠀ time is now⠀ ⠀ ⠀ BREAK I⠀ ooooooooh⠀ your time is now⠀ aah aah ahh, hey⠀ aaaaaaaaaah⠀ right now⠀ now⠀ ⠀ ⠀ VERSE II⠀ everything is on you, just⠀ make up your mind⠀ what you wanna do⠀ some people waste their whole life⠀ waiting for the right time⠀ ⠀ soooooooooo⠀ ooh⠀ just⠀ ⠀ ⠀ CHORUS⠀ don't wait too long⠀ moments don't last⠀ before you know it it's gone⠀ ⠀ yeah ahhhhh⠀ ⠀ you won't get too far⠀ if you don't decide⠀ what you really want⠀ ⠀ soooo⠀ ⠀ time is now⠀ ⠀ ⠀ BREAK II⠀ hey.. your.. time..⠀ is now⠀ hey⠀ ⠀ ⠀ BRIDGE⠀ ever since the moment⠀ you come into the world⠀ you're born in⠀ every hour in your life you got to⠀ live it like you own it⠀ cuz every minute is borrowed⠀ but that's ting that we all know⠀ how many yesterdays a gone by⠀ how many tomorrow⠀ that you don't get to seize hey⠀ don't miss out on your season⠀ every single second that you get⠀ is a present that not everybody gonna see, yea..⠀ ⠀ ⠀ CHORUS⠀ ooooooh ooh ooh⠀ ⠀ no, no, noooo⠀ oh, hey⠀ ⠀ don't wait too long⠀ moments don't last⠀ before you know it it's gone⠀ ⠀ ooooooh ooh ooh⠀ ooh ooh⠀ hey.. yeah.. aaaah, ha, ha..⠀ ⠀ you won't get too far⠀ not if you don't decide⠀ what you really want⠀ ⠀ ooooooh ooh ooh⠀ ooh ooh⠀ ⠀ sooooooo⠀ ⠀ the time is now⠀ ⠀ To learn more and hear more about this project ⠀ Follow @pwondaluv ✨✨ALBUM LINK IN BIO✨✨