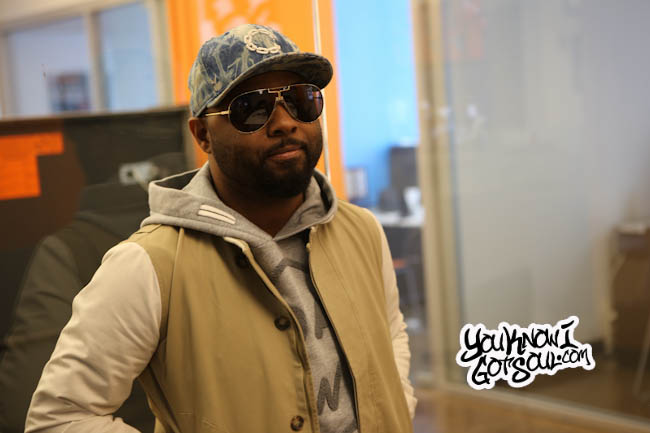 When it comes to artists stories on how they originally got discovered and signed, each one of them is unique. Musiq Soulchild just might have one of the most unique stories out of all of them.
He appeared on a recent episode of our SoulBack R&B Podcast and shared that unique story which involved him not even looking to be signed.
The singer also took some time to discuss with us plans to release new music in 2019. It's already been a busy year with songs and collaborations for Musiq Soulchild, so make sure you check the site to listen to any of those you may have missed.
Also be sure to check out all of our episodes of the SoulBack R&B Podcast, we have a special guest every week.
YouKnowIGotSoul: Talk about your journey and how you originally signed your first major label deal?
Musiq: The interesting thing about that, is I didn't spend a lot of time, where I was recording and trying to get a deal. As a matter of fact personally, I wasn't trying to get a deal. My writers and producers and managers, I didn't know that that is what they were doing. I was dealing with my own issues in my life. I was homeless, I wasn't really cool with my family like that. I was sleeping on people's couches, depending on the kindness of strangers. Going to open mic clubs, having all of these big grand ideas. I was actually discovering my own creativity. It was a blessing that those guys were willing to work with me and have me record. That within itself was a process. Prior to them, I didn't record. I didn't know what it was to record a song. I sang to people, that was my only experience in singing. I didn't grow up heavily in church. I was there, but even then I wasn't in the choir. The only role that music played in my life was a personal thing. I didn't have supporting things in my life that would encourage me to be successful in music. I had people that I would hang out with and other kids I'd sing with. I'd stop strangers on the street around rush hour and ask them to listen to me sing and tell me what they thought. It got mixed reviews, it was weird. *Laughs* I was a different kind of dude back then. You put a nerd, a weirdo and a geek altogether; I was a music geek man. I was really about being creative. It wasn't just music, it was everything. I was so into the concept of making something. I had friends who almost had to tell me to chill and figure out what I wanted to do, because I couldn't do it all at once.
It was weird because when I finally wanted to venture into other things once I popped, nobody was interested in that. They just wanted me to be this Musiq Soulchild thing. It wasn't even really Musiq Soulchild if I'm being completely honest. Musiq Soulchild was something I had to live up to because it wasn't my idea of Musiq Soulchild. But you had a bunch of different people pitching in their ideas, they wanted to tell me. They had the industry experience. I didn't really have much time served. I started recording in November of 1998, very sporadically. I did a couple of months recording and then be off. I recorded literally my first song in fourth quarter of 1998. Then during 1999, I recorded most of what most people know as my first album "Aijuswanaseing". Even a few songs on "Juslisen" as well that didn't make my first album. Essentially, that was my demo, that I didn't even know was being played and shopped around. I didn't know until I got the offer from Def Jam at the end of 1999. My manager called and said they had a deal for me. I said "What do you mean?" I was back in forth between Philadelphia and Georgia. I had family in Georgia so in the colder months, I'd go down to Georgia, which is essentially why I made the move to Atlanta later on. When I got the deal, I was like "So what am I supposed to do?" I never really chased being signed. If anything, I would have recorded and sold my own stuff. Back in Philly, that was big, print your own CD's. That was lit to me. I was sitting in Def Jam across from Kevin Liles and all of these people were telling me how dope I was. I said "Thank you, but I kind of don't care." So I just listened. All of this talking, and then the check came. "Ooohhh, I think I get it now!" So this means I make money, got it! For a dude living on the street and not having anything to his name, and no plans of getting money, that was a come up. It was the process of being in the business that I learned what it meant to be in the business. I took a lot of L's, I learned a lot of stuff. I'm sure a lot of people in my time coming up couldn't figure me out, because I didn't know what was going on! I didn't have any artist development process! I used to read music magazines, that was my only connection to the industry! I used to watch a bunch of music videos. I came up with a bunch of ideas, but I never really took it seriously or expected to be a fraction of what I ended up being. It was not on my mind at all. It was a blessing and also a not so good thing.
YouKnowIGotSoul: Talk about your plans to release new music in 2019.
Musiq: You mentioned the Dilla project. Hopefully I can get it out by May. I just started up a bunch of projects with a bunch of people, hoping something hits. I recently joined up with T3 from Slum Village. We're a group called TraSoul 98, we've got a song called "Once Upon a Time". I could mention a bunch of other things, but nothing's been released. I don't know how that's going to go so I don't want to say it's going to come out if it never does. I'm personally excited about all of the work I'm doing, and can't wait for it to come out. Of course I'm working with Meelah, she's working on her album. It's taking the time that it takes. She's working on some really cool stuff. Trying to find out what it means, because I'm technically a label now. I'm trying to figure out what that means. I don't really know! *Laughs* I'm working with Willie Hyn, who I've been working with for years. Please go support him. It's just challenging for people out here trying to do real work. It just feels like the more you do, you're doing too much. In order for you to succeed, and I don't like this term, but for the sake of conversation, you've got to dumb it down. The more you dumb it down, the more accessible it is to people. You gotta understand the psychology behind that for an artist individual. It's weird, it's like everything is upside down. I pray for all of the artists out there to figure it out for themselves. I encourage everybody to stay true to what's real for you, and hopefully things will change. I hope people find it within themselves to be more understanding and supportive. That's all I can ask for.