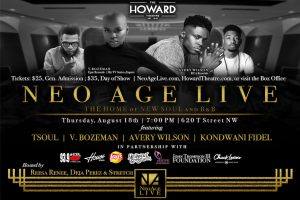 YouKnowIGotSoul.com is proud to once again be a sponsor of the upcoming Neo Age Live show which will take place August 18th at the Howard Theatre in Washington, DC. This month's show features performances from V. Bozeman, Avery Wilson, T-Soul, and Kondwani Fidel. Check out the full press release below, and tickets are available now. For additional information, please visit NeoAgeLive.com
Neo Age Live: The Home of New Soul and R&B is relaunching its groundbreaking concert experience at the legendary Howard Theatre at 7pm on Thursday, August 18th. Neo Age Live is dedicated to providing authentic, motivational entertainment through a premier concert experience for the next generation of superstars in Soul and R&B music. Performing LIVE will be Epic Records & FOX TV's "Empire" cast member, V. Bozeman ; RCA Records and NBC's, The Voice alumni, Avery Wilson ; Virginia native, TSoul , and spoken word artist Kondwani Fidel . Radio One's, WKYS 93.9 will serve as the premier media partner. In addition to WKYS 93.9 serving as one of the many partners, The John Thompson III Foundation, Frito Lay, House Studios, Briclyn Entertainment, YouKnowIGotSoul, and Chuck Levin's Washington Music Center also serve as partners of Neo Age Live.
Philanthropy and giving back to the community have always been of the utmost importance to Neo Age Live creator Zeplyn Tillman and these beliefs transcended to the business. A portion of the proceeds will go to The Follow Your Dream Campaign which provides one Washington D.C. metropolitan area youth per show with a paid instrument, products, and opportunities, to encourage and cultivate their passion for the arts.
Concert attendees can expect an electrifying and warm night filled with fun, friends, and sensational performances, along with giveaways, competition, and crowd interaction. The event will be held at the legendary Howard Theatre, located in Northwest, Washington DC, where there is a fully stocked bar and amazing food. Whether you're having a date night or just want a night in the town with some friends, Neo Age Live is the perfect concert event for music and entertainment lovers.
Hosted by the rising Washington D.C. R&B superstar, Reesa Renee, along with WKYS 93.9's own Deja Perez and Stretch. General admission tickets are $25 and VIP tickets are $35 and can be purchased at neoagelive.com, Ticketmaster, or at the Howard Theatre in DC. Doors open at 6pm, where a Happy Hour/ Meet and Greet will be taking place for purchasers of VIP tickets until the actual show, which kicks off at 7pm.