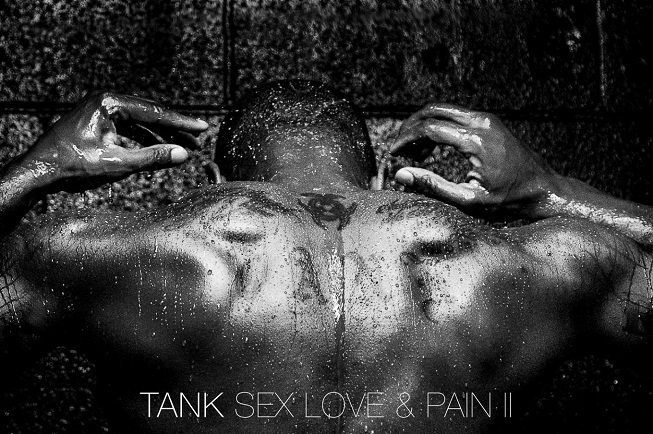 Tank splashed onto the scene in 2001 with his hit record "Maybe I Deserve" and he's been consistently making an impact since then. His career has been an interesting one because he hasn't necessarily achieved the same amount of success as some of his peers he came up with, but he's maintained a certain longevity that has kept him on top of the R&B game. Proof of that is the success of his new album "Sex, Love & Pain 2" as well as his new label "R&B Money". As part of the R&B supergroup TGT, Tank was able to serve his traditional R&B fans on the Grammy nominated album "Three Kings". The new album, which serves as a sequel to the original "Sex, Love & Pain", has allowed Tank to reach new heights with younger records like the Chris Brown assisted "#BDAY". YouKnowIGotSoul had a chance to speak with Tank about his new album, his new label situation with Atlantic Records as well his upcoming tour that he's ready to embark on later this year.
YouKnowIGotSoul: Congratulations on the new album "Sex, Love & Pain 2". The album is a little different than the first part, so what made you title it that way?
Tank: Outside of the fans asking for it for a long time, I launched my new label "R&B Money" and my album would be the first off of the new label. I said "If we're going to go hard or go home, we need to jump into the staple and the thing people know me for". That's that "Sex, Love & Pain" space and that's where I connected with people in a major way. We decided to get it and we decided to make it the one. We wanted to give this "Sex Love & Pain" its own moment. It happened so far apart and of course people are going to compare, but we also understand that it's almost 10 years later so a lot has changed musically, melodically and sonically. Even how things are talked about has changed a little bit, so the fact that the fans have allowed this "Sex Love & Pain" to be its own is pretty awesome as well.
YouKnowIGotSoul: One song that stood out is the intro for the album. Talk about that song a little bit because there's a Jodeci vibe to it.
Tank: Well it's funny because that's exactly what that was. I wanted to remind people of the first time I got that feeling when I turned on "Diary of A Mad Band". It changed my life completely when I heard that. I wanted to inspire other R&B artists, singers, songwriters and producers to be invested in giving people those feelings again. I want people to be invested in creating those nostalgic moments and creating those spaces and time where people remember where they were and what they were doing. That's how I tailored that music. I wanted you to know where you first turned on "Sex Love & Pain". I wanted you to know what you were doing, where you were eating and who you were hanging out with. I wanted to create that feeling in that music. You hit the nail in the head and that was Jodeci. They were the biggest influence for that.
YouKnowIGotSoul: On this album, you fused your grown sound that you're known for with the trendy stuff and you made the project sound current. Is that something you were going for?
Tank: Absolutely. In order to inspire the new, you have to be new. You have to be able to in the spaces that they're living in and meet the younger audience where they are and even the new R&B listeners. R&B does transition and change as it evolves, but of course I'm true to what I do. I'm always heartfelt and always singing about a woman in some way, shape or form. I just try to keep those traditional aspects so it can creat some of a classic/current blend.
YouKnowIGotSoul: Did you look back at the original "Sex, Love & Pain" and borrow any of the elements to use it as a blueprint for this one?
Tank: I used the energy of the first "Sex, Love & Pain". When we made the original one, we didn't follow any rules. We didn't have anybody to answer to and there were no budget restraints. We just did it the way we wanted to do it and had fun with it. That's what I did with this album. I just had fun. I got the producers to produce it the way I wanted and I didn't follow any rules. I didn't follow any classic or current R&B rules. I just did my own thing and I'm happy with the results.
YouKnowIGotSoul: Your new single "#BDAY" is going to be played on Urban radio. We're used to hearing you a lot on Urban AC, so did you want to branch out and reach new audiences?
Tank: I don't think anybody is comfortable being stuck in one place. The movement is to not live in one place and one area, but to be able to branch out and touch other people and other opportunities. Life is about growth and understanding what boundaries are set for you and trying to push the threshold of those boundaries to go even further. If you're not doing that, if you're not trying to get better or expand, then what are we living for? "#BDAY" and a few of those other records are those moments. You still have a classic Tank, but you have an opportunity to flush it out to the rest of the world. It's not just stuck in one person's hand and one box. There are plenty of boxes that you can put this "Sex, Love & Pain 2" in.
YouKnowIGotSoul: You were part of the TGT album and it had a strictly grown sound on there and this one is a little more trendy. Was it ever a thought in your mind to stick with the TGT sound?
Tank: Never. TGT is its own thing and I think with the music of TGT, that was our common ground. That was the space where we all agreed upon where everybody could perform at their best. Everybody is not comfortable on uptempo or swag records. I wasn't going to impose that on the guys because there's a soft spot where we all fit comfortably and do our thing. I knew when it was time for me to do my record, it was going to be time to turn up.
YouKnowIGotSoul: You have the new label "R&B Money" and your album is the first release from that situation. How did this all come together?
Tank: I walked in Atlantic Records and I was like "Hey, I think I've done enough work around here to warrant some sort of real situation". We partnered up and did something really cool. They agreed to it and that's a really tough position right now. A lot of people have independent deals and they're rocking that way, but I have a joint venture with a major label. That's what the Puffys and Jay-Zs started and how they made a mark in this business by partnering up with a real strong company that can help take things to the next level. Atlantic has been good to me and I think we're returning the favor for each other. I'm taking so much of the work out of their hands and they're rewarding me for it. I love the position because it is back to the hustle and the grind. I see a different check the more I work. That's inspiring within itself.
YouKnowIGotSoul: Talk about your plans with your label. Do you plan on signing new artists?
Tank: We plan on signing new artists and I want to be the station for developing great acts. When Atlantic has a great act and they're not sure how to develop it, I want them to look to me and R&B Money. I want to be that space like Jimmy Iovine looked at Dre. I want to be that space.
YouKnowIGotSoul: You have the group 12:Til. Talk about them.
Tank: They're just some hungry kids from Texas that came out, they sang, we did some records on them, we loved them and they said that they never wanted to go home. We told them they didn't have to. We've been rocking ever since. With R&B, it's about being creative and establishing those kids. They're going to be opening up for this tour and it's going to be a great way to establish them for people to start seeing them. It's going to be really cool for them and I'm really excited to start building their career.
YouKnowIGotSoul: What else can we expect on this tour you've got?
Tank: You might have a few surprises in terms of the features on the album. Some of them might show up on stage and turn it up on time. It's my tour and it's my first headline tour ever since I've been in the game. It's been 17 years, so that let's you know I'm still making progress and I'm knocking new doors down. I'm excited to get out there and give people an experience from the beginning all the way to now. We're going to go from "Force of Nature" to "Sex, Love & Pain 2" and I get to do it my way.
YouKnowIGotSoul: We hear the term "real R&B" thrown around a lot these days and it means something different to everyone, so what does that term mean to you?
Tank: "Real R&B" is whatever is real to you. Everybody tries to impose their views or understanding of the music onto everyone else. It's not the case. Music is personal. Music is the thing that meets you wherever you are and provides whatever you need at the time. It's tough for me to tell August Alsina that he's not singing real R&B when he's just expressing himself the best way he knows how. He sings the songs the only way he knows how. It doesn't sound like Marvin Gaye or Donny Hathaway, but it's his version and his understanding of what that is. When you ask me what "real R&B" is, I think it's just that individual being real to themselves, emotions, experiences and sharing them on records.