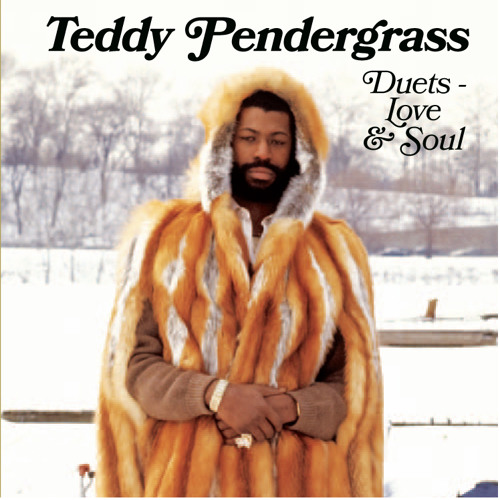 Independent imprint Cleopatra Records has announced the release of Duets – Love & Soul, a duets album by late R&B crooner Teddy Pendergrass. The 12 track album is a collection of new studio recordings of Pendergrass hits that are now featuring guest appearances by an array of R&B/Soul stars, including Angie Stone, Shuggie Otis, Noora Noor, The Ohio Players, Maxi Priest, Jody Watley, Martha Reeves, Eric Gales and more (see full track list below.) Cleopatra founder/CEOBrian Perera hand-selected the artists participating on the project.
"Duets – Love & Soul" will be available in physical format on August 21, 2015 at national retailers Best Buy and Walmart; the digital album will also be available on iTunes, Amazon and other prominent digital stores.
The first single from the album is "Love TKO," which features critically acclaimed, Grammy nominated soul singer Angie Stone. The track premiered on Billboard.com on July 24.
Featured guest stars Angie Stone and Eric Gales will release a new album on Cleopatra Records later this year. The label's growing catalog already includes live in concert releases by Martha Reeves, Shuggie Otis, Marvin Gaye, Chaka Khan and Percy Sledge, as well as studio projects by Sly Stone and Club Nouveau.
Here's the Duets – Love & Soul track list:
1. "Love TKO" with Angie Stone
2. "It Don't Hurt Now" with Shuggie Otis & The Stylistics
3. "Can't We Try" with Noora Noor
4. "Close The Door" with Eric Gales
5. "Come Go With Me" with Martha Reeves
6. "Turn Off The Lights" with Linda Clifford
7. "When Somebody Loves You Back" with The Ohio Players
8. "You're My Latest, My Greatest Inspiration" with The Stylistics
9. "The Whole Town's Laughing At Me" with Maxi Priest
10. "And If I Had" with Rose Royce
11. "Only You" with Bonnie Pointer
12. "I Can't Live Without Your Love" with Jody Watley & Tom Scott