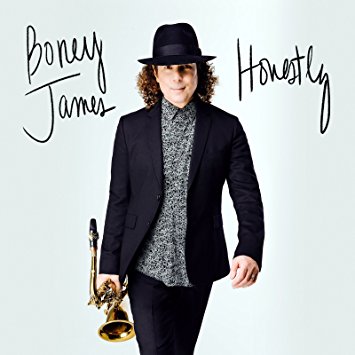 It's been a full quarter-century since a young saxophonist and composer released his debut recording as a leader, Trust. Now, on September 1, 2017 (click here to pre-order), Boney James will release his 16th album, this one titled Honestly. If you sense a direct line between those titles, you've already come a long way toward understanding what motivates the four-time GRAMMY nominee and multi-platinum-selling musician.
"I'm fighting the good fight to be my own artist and not be pigeonholed," says the genre-blurring James. "With a record's title I always try to find something that will communicate the feeling I get when I listen to it. The feeling I get with this music is a sense of sincerity and intimacy. The word "honestly" really reflects how I aspire to live my life and create my music. One of the great things about music is how powerful it is. It can totally transport people. These are interesting times we are living in and the one thing I can do with the skills that I have is make music that evokes a feeling and takes people somewhere… to do what I can to try and make the world a more pleasant place."
Honestly follows futuresoul, James' 2015 release which spent eleven weeks at #1 on the Billboard Contemporary Jazz Chart. The New York Times raved, "Boney James performs with panache…His arc as a soloist is emotional…he can paint a scene."
Honestly, says James, is quite different sounding than the previous record. "It's more exposed," he says of the 10-track collection. "Some of the arrangements are not as dense. A number of the songs have a more buoyant, cheerful, happy quality to them," says James, who produced the record, and co-wrote all but one track, his interpretation of the Johnny Mercer-Hoagy Carmichael standard 'Skylark.'
James recruited collaborators and musicians whose work he admires, including chart-topping vocalists/co-writers Avery*Sunshine (on the title track) and Eric Roberson (on 'If I Can't Hold You').
Each track on the album reflects a different side of James' musical personality. "Songs like 'Kicks' or 'Up All Night' are much more boisterous sounding than the last couple of records," he says. "Then there's 'Skylark.' It's a song I've always loved and it's a standard, which I've never recorded before. The track Honestly (and first Urban Adult single) featuring Avery*Sunshine is straight up R&B." Regarding Avery, James says, "I heard her at a festival we were both playing and then I heard her #1 single 'Call My Name' on the radio. I was instantly a fan and just waiting for the right song for us to collaborate."
First instrumental single 'Tick Tock,' one of four songs co-written and co-produced with Jairus Mozee (Anthony Hamilton, Robin Thicke), is one of several on the album featuring a horn arrangement by Jerry Hey, who worked on Michael Jackson's greatest hits, amongst others. "It's a very funky track with an insistent groove and the arrangement goes places you don't expect it to go," says James.
Although each track has its own definitive feel, James points directly toward some of his greatest influences as having provided inspiration. "I think about Stevie Wonder, Steely Dan and Earth, Wind & Fire," he says, also mentioning such iconic R&B and contemporary jazz artists as the Brothers Johnson, Tower of Power and Grover Washington Jr. as having impacted him. "These are the bands that I grew up loving. And the thing that they had was this method of arranging so the music is a character itself. That's something I aspire to create on my records. The bass line can be a hook, or a horn line or keyboard riff that you sing in your head—that's what I'm trying to create on the record. A tapestry of sounds that puts you in another world."
James plays all of the tenor and soprano saxophone parts on Honestly, and contributes keyboards and drum programming to several of the tracks. But his career might have turned out a lot differently had a music store in his native New Rochelle, New York, had his first choice in stock the day he walked inside. "I wanted to play trumpet but when we went to the store to rent a trumpet all they had were clarinets, so I went home with a clarinet. Two years later I guess I was the best clarinet player in a band full of clarinets and the teacher wanted a sax player so he leaned on me to pick up the saxophone. I didn't want to do it because it was a much heavier case I'd have to carry. But as soon as I switched I loved it and it pretty quickly became my favorite thing to do. It still is!"
With Honestly, as with futuresoul and the GRAMMY-nominated The Beat before it, Boney James is making some of the most stellar, wholly realized music of his career. "I've just grown up, personally and musically," he says. "I'm a lot calmer now when I approach making music and have more confidence. I'm a "give-110 percent" kind of person and I'm enjoying the process more now. I think that comes out in the music. Maybe that's why this new record is so much fun to listen to. There are parts on the record that still make me smile."
Boney James "Honestly" tracklist
1. Kicks
2. Tick Tock
3. On the Prowl
4. Low and Slow
5. Honestly (featuring Avery*Sunshine)
6. We Came to Party
7. Speak Easy
8. Skylark
9. If I Can't Hold You (featuring Eric Roberson)
10. Up All Night