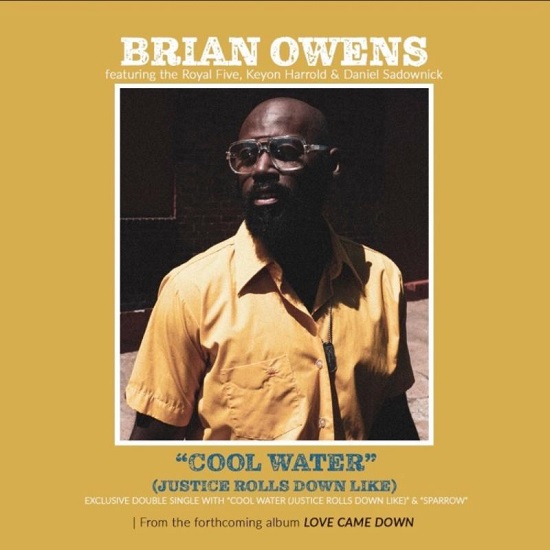 Singer/Songwriter Brian Owens has just released the two new singles "Cool Water (Justice Runs Down Like)" and "Sparrow" from his upcoming album "Love Came Down".
"Cool Water (Justice Runs Down Like)" is an inspiring composition co-written by Owens and "Sparrow" is a loving cover of a rare tune by Marvin Gaye. Both songs feature jazz trumpet virtuoso and fellow St. Louisan Keyon Harrold, percussion ace Daniel Sadownick and an all-star rhythm section comprised of Peter Martin, Jon Cowherd, Steve Potts, Sherrod Barnes and Stephan Crump, affectionately named The Royal Five.
Owens continues his mission to inspire through music on each song, delivering uplifting messages over classic, impeccably arranged grooves reminiscent of some of Marvin Gaye's finest work, Quincy Jones' jazz aesthetic and other touchstones. The singer adds about the songs:
"'Cool Water' and 'Sparrow' are a true reflection of life's beauty and trials. For me, these songs are a constant reminder of what justice and beauty are really all about: GOD."
The upcoming album "Love Came Down" is a joint release by Owens' nonprofit L.I.F.E. Arts and Purpose Music Group through the generous support of Steward Family and Salem United Methodist Church. The album was recorded at the famous Royal Recording Studios in Memphis by Grammy-winning engineers Jay Newland and Boo Mitchell and produced by Grammy-winner Brian Michel Bacchus.