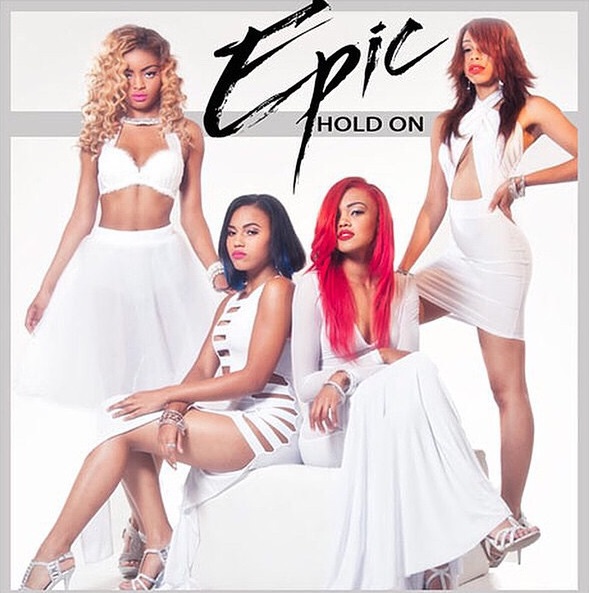 Emerging R&B/Pop group Epic has just released their first single "Hold On," a new-aged rendition of En Vogue's classic '90s hit. This Christmas, the California-native quartet comprised of Monie, Yei, Stixx and Blue introduce a strong vocal performance with a relatable sound to an old school classic.
Produced by Kevin "She'kspere" Briggs, best known for his work with Whitney Houston, Pink, Destiny's Child and TLC, who manages the group along with Dynasty Records' president Doe Henderson, featuring Kentucky artist Simms.
About Epic:
"No one wants to follow someone boring. We're not afraid to take on a challenge. If it's something we love to do, we go for it – but we go above and beyond, it's go hard or go home!"… That's the new movement of 4 young ladies residing in Atlanta, Monie, Yei, Stixx and Blue – also known as EPIC….
They are the 'alpha' of all today's girl bands. Performing together since they were toddlers with a background of church choir, theatrical film, acting, ballet, musical training and modeling, this R&B/Pop girl group has a lot to offer the industry with versatile vocal abilities as well as stunning beauty.
EPIC is a breath of fresh air to those missing originality in entertainment! Not only does each each girl sing, they are all musicians. You have Monie on piano, Yei on lead guitar, Stixx on the drums and keys, and Blue on the bass.
Trained by Dr. Bessie Ludd of Spoken Images, the young ladies have never been strangers to the stage. They have performed in numerous plays and musicals such as I Refuse to Let You Go, Bag Lady, Annie, Young Sherlock Holmes and the Good Ole Days (which was released in 2012 as a film). They have rocked the house at T-Mobile's Summer Jam in Los Angeles, the L.A. Urban Music Conference, the International Beauty Show in New York, Battle of Atlanta World Karate Championship, many fashion shows, as well as a collaborative performance with the legendary Parliament & P-Funk.
In 2014, EPIC joined forces with an elite team that's preparing them for world domination. In the current age of Youtube and Vine singing sensations, Epic was actually discovered singing acapella in Atlanta's Lenox Mall by Co-CEO of Dynasty Records, Doe Henderson: "The girls walked passed me and when I saw them and they didn't look like some regular girls just walking in the mall, I actually said to myself they must sing. So about 10 minutes later, I heard them downstairs singing and they had the whole mall's attention…I went and introduced myself and gave them my card, and the rest is history."
Doe wanted to help define their sound and knew just who to bring them to – Grammy award winning, multiplatinum producer Kevin "She'kspere" Briggs who has produced for two of the biggest girl groups of all time: TLC ("No Scrubs") and Destiny's Child ("Bugaboo", "Bills, Bills Bills") — along with Nsync, Usher, Pink and Mariah Carey, to name a few. Under his development along with multiplatinum songwriter & media consultant Tami LaTrell (Whitney Houston, Keyshia Cole), what these vibrant young ladies possess has only been enhanced and polished to perfection.
"Through our music, we sing about things that really matter to us like love, having fun, being successful and just music that helps you embrace who you are! Just like we believe in our dreams, we would hope that our fans push for their dreams and work hard to make them come true too. There's no other option."
EPIC are not just girls with a pretty face, they are a rare breed bound for inevitable success, leaving a legacy for decades to come.
They are Edgy. People. Impacting. Culture…but you can call them EPIC.