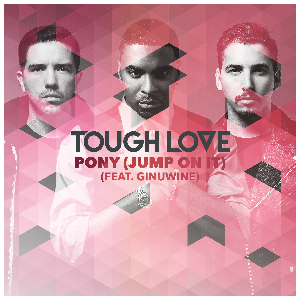 Hot off the back of debut chart smash 'So Freakin' Tight' that jumped high into the official chart earlier this year, UK duo Tough Love are back to present their brand new single alongside R&B legend Ginuwine with the remake of the 1996 classic and chart smash 'Pony' out on 7 August.
 
'Pony (Jump On It)' is a one of a kind release, seeing the R&B legend re-record his vocals on this massive classic, it feels as though this could be even bigger than before. It sees Tough Love bring the original firmly into the contemporary dance arena and features fresh, updated vocals from Ginuwine to boot.
 
With over twenty years in the game as a multi-platinum selling artist with 10 studio albums and multi Grammy nominations, Ginuwine is one of the genres greats. It seems only right that he'd entrust his original record to an act who have solidified their place in the UK's dance scene with their consistent underground releases as well as demonstrating their ability to stand up in the UK charts with their break out hit  'So Freakin Tight'. Using the iconic hook as a precursor for the track's standout crescendo, Ginuwine's vocals feel as fresh as ever too.
 
Tough Love's Alex & Stef have been championed for their remixing ability and their penchant to make fun, '90s inspired house records. Support has already come in from the dance music tastemakers over at BBC Radio 1 – with the likes of Danny Howard and Annie Mac regularly spinning 'So Freakin' Tight' – and both labelling Tough Love as an act to look out for in the coming year.
 
Following on from their sold out Get Twisted label party at Ministry of Sound, the duo also have just been announced as residents for Sankey's new Thursday night party series, Redlight, sharing the bill with the likes of S-man aka Roger Sanchez, DJ EZ, MJ Cole and Matt Jam Lamont. Numerous festival appearances, including stand out dates at High Definition Festival and SW4, are also on the horizon in 2015 too.
 
Watch this space as Tough Love and Ginuwine prepare to top charts with 'Pony (Jump On It)' this August. They are clearly a force to be reckoned with.