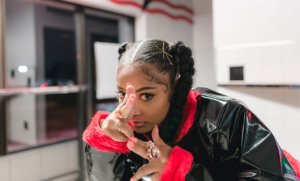 Following her unique cover of Brandy's "I Wanna Be Down," Toronto's emerging R&B star GNA (pronounced Gina) continues to pay homage to the '90s with her vibrant new cover video of Missy's classic hit "Sock It To Me."
She adds about the inspiration for the cover:
"Other than the fact that Missy is one of my favorite artists on this planet, I've always admired her innovation, and the fact that she's unapologetically fly! This is just a way of me paying homage to her greatness."
For years, GNA has flourished as a singer, actor and model, putting her talents to use in theatre productions, independent films, TV commercials, and print ad campaigns. She even spent some time playing Young Nala in The Lion King Broadway Musical. In music, GNA has worked with Tory Lanez, Diamond (formerly of Crime Mobb), Memphis Bleek, and Reggae legend Sizzla.
Since relocating from Toronto to New York, GNA has had the opportunity to perform at BET Music Matters and co-headline a show with Roc Nation's own Justine Skye. GNA's highly anticipated 2015 EP New York Sessions solidified the 6ix Goddess as a force to be reckoned with. As she continues to steal the hearts of music lovers all over the world, GNA is is poised to make noise with her forthcoming debut full-length studio album.