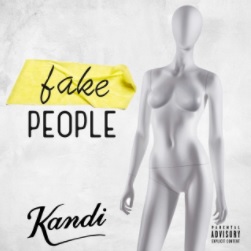 Although Kandi Burress might not be on board with creating new music for the ongoing Xscape reunion, she finds the time to check in with a new single of her own called "Fake People". On the new song, she meshes her buttery soft vocals against explicit lyrics, singing repeatedly "I Don't F*** With You".
It's unclear on if the Real Housewives of Atlanta star is sending a message to someone, or is just getting some things off of her chest. No word yet on if this will lead to an album or more new music.
Kandi did take part in the Xscape reunion and tour last year, but has stated she will not record new music with the group. The remaining three members have rebranded as XSCAP3, and are currently planning for the release of a new EP.