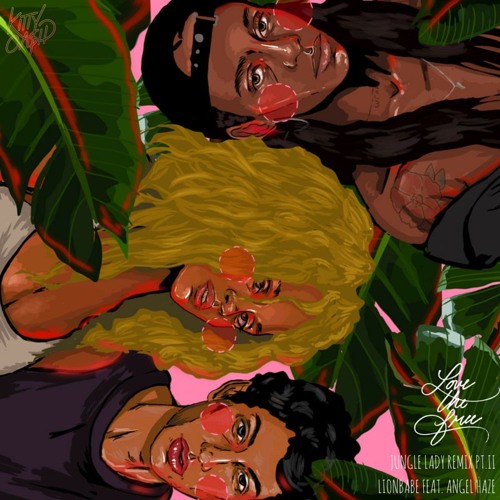 New York based duo Lion Babe have just released a brand new remix to their hit single "Lion Babe" which features rapper Angel Haze. The group, made up of Jillian Hervey and Lucas Goodman, have planed the song on an upcoming Kitty Cash mixtape "Love The Free, Volume 3". Additionally, it will be included on Lion Babe's upcoming new project which they've announced for a Summer release.
The original version of the song was included on the group's debut album "Begin" which released earlier this year. The single came out in 2014 and was included on Lion Babe's self titled EP. That year they also released a video for the song.
In addition to the new remix of "Jungle Lady", Lion babe have also announced their first United States headlining tour this Summer. The tour will span two months and will kick off with their debut appearance at the 2016 Essence Music Festival. Check out all of the planned dates below. Brooklyn, NY-based artist Kamau will join LION BABE on all headlining dates.
Lion Babe Upcoming Tour Dates:
6/11 – Los Angeles Pride – Los Angeles, CA
6/25 – Glastonbury Festival – Glastonbury, UK
7/1 – ESSENCE Festival – New Orleans, LA ^
7/2 – TBD – Atlanta, GA ^
7/4 – Surf Lodge – Long Island, NY ^
7/6 – Sixth & 1 – Washington, DC ^
7/7 – Gramercy Theatre – New York, NY ^
7/8 – Boston Musical Hall – Boston, MA ^
7/9 – Foundry – Philadelphia, PA ^
7/13 – Skral Festival – Norway
7/15 – Super Book Super Rock – Portugal
8/9 – The Independent – San Francisco, CA ^
8/10 – Constellation Room – Santa Ana, CA ^
8/12 – The Echoplex – Los Angeles, CA ^
8/13 – Brooklyn Bowl – Las Vegas, NV ^
8/14 – Pub Rock – Phoenix, AZ ^
8/17 – Fox Theatre – Boulder, CO ^
8/18 – Studio B – Minneapolis, MN ^
8/19 – TBD – Chicago, IL ^