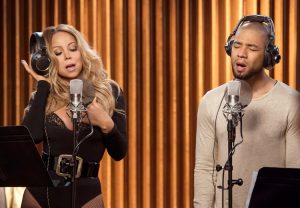 In a prelude to what will be Mariah Carey's upcoming appearance in the FOX hit TV series Empire, a new duet with her and star Jussie Smollett called "Infamous" has just released. She is set to make her first appearance on the show next week in the form of a famous singer named Kitty.
The hit show continues to go strong during Season 3. It's already played host to many famous r&b guests, including the likes of Alicia Keys, Mary J. Blige, and Estelle. We're sure many more will be in store.
Additionally, Jussie continues to show off his talents as a true r&b talent. It's only a matter of time until he releases an album of his own.
The episode is set to air Wednesday, October 5th at 9 PM est.