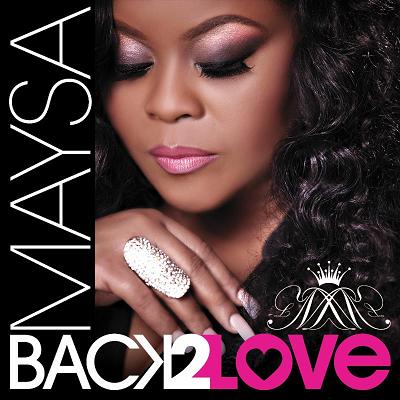 There are very few singers on the contemporary scene who have a unique, instantly identifiable vocal sound; there are even fewer who have the stylistic range to encompass both Jazz and R&B in their performances. Grammy-nominated Soul/Jazz diva Maysa, who celebrates her 20th year as a solo recording artist this year, marks that achievement with her new album
BACK 2 LOVE, a tour-de-force that validates her status as the greatest Soul-Jazz singer of her generation-the latest in a distinguished line of singers that stretches back through Anita Baker, Chaka Khan, Will Downing, Angela Bofill, Marlena Shaw and more recently, Ledisi and Chrisette Michele.
BACK 2 LOVE, which is set for a May 26th release, may be her widest-ranging album yet, incorporating contemporary R&B, jazzy Soul balladry, straight-up dance music, inspirational pop and more. With production from the likes of J.R. Hutson (Jill Scott, Earth, Wind & Fire), Lorenzo Johnson (Ledisi), Stokley Williams (Mint Condition, Kelly Price, Wale'), and Chris "Big Dog" Davis (Kim Burrell, George Clinton), the album coheres around Maysa's peerless vocalizing highlighted by her amazingly rich, evocative vocal tone. That's the sound that led her mentor Stevie Wonder to proclaim "Maysa is WONDERful!" In the wake of her first Grammy nomination and Soul Train Music Award, it seems that the world-at-large is finally recognizing just how special an artist Maysa is.
"BACK 2 LOVE represents the fact that I'm ready to get back to having a personal life with a very special man in my life. I have worked hard on my career so I could take care of us (my son and I). My son is almost 16 and I think he is old enough to have a mom who is going to be dating and possibly married. I am ready to meet Prince Charming. The music is exactly who I am. Being a Shanachie artist, I was always given the freedom to express who I am musically but this time I feel like spiritually we all went to a pure place to get this music. The music represents who I am as a woman and a human being who lives to love people. As a professional singer I should be able to sing anything and my records are just me trying to love everyone. And that's why I am proud to be able to go from Jazz to R&B to Pop, etc."
BACK 2 LOVE kicks off with a classic dance-pulse on the title track. Though Maysa has recorded dance tracks before (mostly notably with Incognito), those often had a Brazilian or more overt Jazz spin but BACK 2 LOVE shows that Maysa has what it takes to be a dance diva if she wanted to.
The opener is followed by the distinctive R&B groove of "Keep It Movin'" produced by Mint Condition's lead vocalist/producer/songwriter Stokley, who also contributes a guest vocal on the track. It is unlike anything Maysa has done previously and the chemistry between her and Stokley is magical. "Stokley is an amazing artist," Maysa says. " I love his writing, his voice and performing style. I think our styles are like smoke and fire together, like a sweet barbecue sauce! I was so happy he joined me on this record." Stokley adds, "Working with Maysa was so familiar even though we've never collaborated before. We have a lot of the same influences. Maysa has such a unique gift. Think if velvet, butter & brown had a sound… weave a few high textures in there, that's her! You feel her soul when she delivers a song. I'm very honored to have worked with Maysa."
The song "Heavenly Voices" is a masterpiece of jazzy Soul, quintessential Maysa, a spiritually-oriented song. Likewise, such tracks as "Last Chance For Love," "Go Away Little Boy," and "Smilin'" all have the hallmarks of Maysa's classic style-rich vocal sound, deeply felt, evocative phrasing, lyrics relating to affairs of the heart, and a song structure that embodies the essence of R&B but adds a Jazz sensibility. "Go Away Little Boy" is inspired by Marlena Shaw's classic hit of the same name. "Big Dog, my producer, came to me with the title and the music and I thought it would be fun to create our own vibes," Maysa relates. "Marlena Shaw's version is perfection and one of the songs I listened to growing up. I would never try to cover it." On "Last Chance For Love," a Seventies-style R&B ballad, Maysa is joined by the incomparable Phil Perry, likewise a singer who is revered by other musicians. "Finally working with Phil was amazing," Maysa says. "He is the falsetto king and my buddy! He is a master vocalist and I learn a lot from him whenever I hear him sing. Years ago before we were Shanachie artists, we had six-hour marathon phone conversations about the industry and here we are! He's a fun and wonderful person."