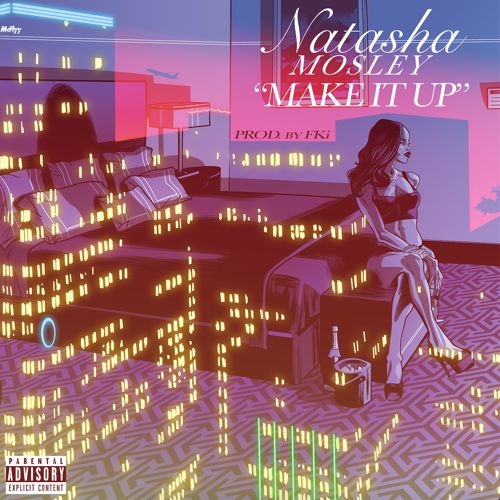 Check out r&b singer Natasha Mosley who even though she stands just 4'11, packs powerful vocals. She can currently be heard cooing on the hook of Jeremih's seductive single "All The Time" featuring Lil Wayne. She also contributed vocals on YG's single "459" from his My Krazy Life album, as well as Tyga's single "Tattoo." After singing on everyone else's projects, she is finally putting out her own with Rose Hall, which is a mix of mid-tempo tracks and ballads with production help from FKI and Grammy winning producers Zaytoven and KE On the Track.
Full Bio
An equally gifted songwriter as she is a singer, R&B artist Natasha Mosley has a naturally seductive yet smooth voice that ranges from powerful and soulful to sweet and soft. Raised in an artistic environment, her childhood was surrounded by music. Not only did her dad require daily singing practice, but her great-grandmother's cousin was legendary blues singer Bessie Smith. Smith was well known to have been Billie Holiday's voice muse.
Born in Atlanta, GA, Mosley spent her early years singing in the church. Her first solo was the musically ambitious hymn "His Eye Is On The Sparrow," which she handled with ease. She began performing regularly in local talent shows, working her way to audition on the nationally televised competition APOLLO. This was a true pivotal point of Mosley's professional career, leading her to gain a reputation as a modern R&B vocalist with fresh yet edgy, raspy textures and flavors.
This powerful combination is what led her to initially ink a deal with music manager and Jermaine Dupri's dad Michael Mauldin at 18. Mauldin added Mosley to a girl group called The Feisty Girl Project but that situation didn't pan out. By then, she attracted the attention of former Xscape member Tameka "Tiny" Cottle, who placed Mosley into her newly formed girl group Juice. The trio appeared on an episode of the BET hit reality show Toya & Tiny, which helped to raise her profile. However the group dissolved shortly thereafter and Mosley decided to become a solo artist. Through these experiences, the young songstress matured into an expressive singer who's able to put the full power of her emotions behind her music while still reflecting a solid urban style. Her harmonious tone, along with her girl-next-door-charm and naturally good looks has earned her instant comparisons to Brandy, Tamia and Beyoncé.
Currently signed to ISO Music Group, Mosley is prepping the release of her first EP titled Rose Hall, which has a dual meaning. It's in part an ode to the namesake of her maternal and paternal grandmothers, as well as symbolic to that of a blossoming rose. In simplistic terms, this 10-song collection is Ms. Mosley's coming out party. The carefully curated playlist draws upon her experiences as a young woman falling in and out of love, an emotional evolution theme that young and older women, as well as men can relate to. Rose Hall is a mix of mid-tempo tracks and ballads with production help from FKI and Grammy winning producers Zaytoven and KE On the Track. In addition to finishing her solo album, Hip-Hop royalty such as YG, Tyga, Lil Wayne, Gucci Mane and Jeremih have all recruited Mosley's soul-tingling hooks for their records.
Whether you're a casual listener or an R&B aficionado, Mosley is a singer's singer. She has high hopes for expanding her brand beyond music by securing beauty endorsements, commercials and acting gigs. With a growing fan base, undeniable songwriting and vocal skills, Mosley is lining herself up to rule the charts, as well as the world.