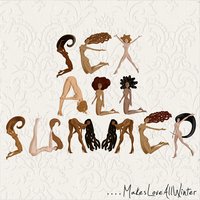 When producer Salaam Remi released his "Do it for the Culture" playlist of music a couple of weeks back, there was a project by an mysterious artist named Sex All Summer included. Further investigation determines it's actually CJ Hilton singing on the new project "Makes Love All Winter". You may remember that CJ Hilton has collaborated with Salaam Remi extensively over the years, so this actually makes sense.
What's interesting about the project is that we haven't quite heard CJ Hilton like this before. His vocal talents have obviously grown, and he sounds really inspired by Marvin Gaye throughout this project. We actually have heard a couple of the songs before though, as they were included on his 2014 mixtape.
It's been a few years since we heard from CJ Hilton. He was previously signed to RCA Records, and now we wait to see how he fully emerges once again.
Listen to Sex All Summer "Makes Love All Winter" below (scroll down to track 28).