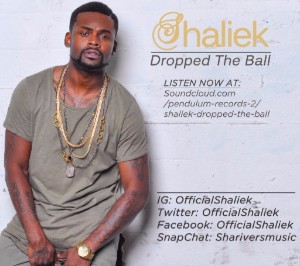 Soul Train nominated r&b artist Shaliek has just released his new single "Dropped the Ball". The song is the first offering from his upcoming Pendulum Records sophomore album which hes currenting putting the finishing touches on.
Shaliek's fans are able to look forward to his refreshed sound during which he'll stay remain true to his soulful roots. He had the following to add:
"I always try to write relatable lyrics and blend it with infectious melodies. I love working with other songwriters like Jaron Hits, Dave Al and Adam Butlet who co-wrote 'Dropped the Ball'. "I hope listeners will feel this song as much as I do. This is only the beginning of a new chapter, musically."
The upcoming project is the follow up to his "Blood, Sweat, Tears" album which released in 2014. That album yielded the singles "Aint Supposed to Cry" and "The Past" which were both Top 10 singles.