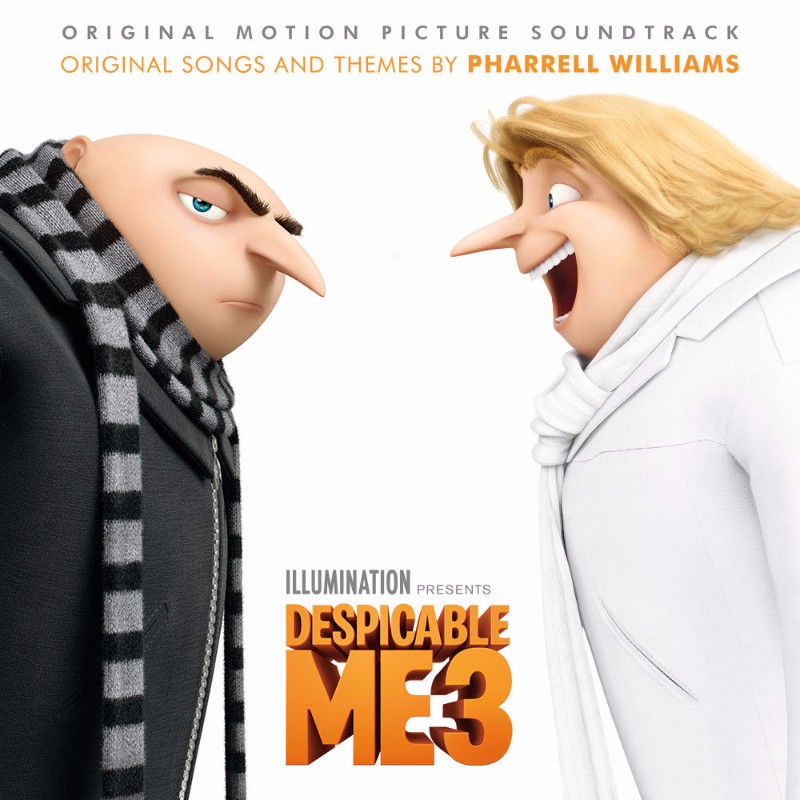 Grammy Award-winning singer/songwriter/producer Pharrell Williams once again returns for Illumination Entertainment's Despicable Me 3 (Original Motion Picture Soundtrack), available everywhere June 23 via i am OTHER Entertainment/Columbia Records. Pre-order the soundtrack today.
Pharrell has just released "Yellow Light," one of five brand new original tracks he wrote and produced for the film. Watch Pharrell and the Minions journey through the streets of Hollywood in a virtual video game in the music video for "Yellow Light" HERE. Another original Pharrell song made for Despicable Me 3, "There's Something Special," captures the tone of the series. Additionally, Pharrell's anthemic "Freedom" serves as the perfect backdrop as the Minions plot their escape from prison in the film.
Pharrell creates a wildly upbeat 16-track summer dance party with Despicable Me 3 (Original Motion Picture Soundtrack). In addition to his five new original songs, the soundtrack gets a healthy dose of nostalgia, thanks to the series' new villain, Balthazar Bratt (Trey Parker), a former child star who's grown up to become obsessed with the character he played in the '80s. Bad never sounded so good, literally, as Michael Jackson's "Bad" makes the perfect theme song for Balthazar Bratt. The soundtrack also features classic hits from the decade including Madonna's "Into The Groove," Nena's "99 Luftballons," and a-ha's "Take On Me." Parker is featured on the infectious new song from Pharrell entitled "Hug Me."
Pharrell has written and produced songs and themes for the entire Despicable Me series. Despicable Me 2 featured the Academy Award®-nominated and Grammy Award-winning global smash hit "Happy." The song inspired a worldwide movement of happiness, with its original music video spawning thousands of self-made videos from fans in dozens of countries. "Happy" has topped countless charts around the globe, with 14 million units sold. It has achieved seven-time-platinum certification in the U.S., making the song the best-selling and most successful single of 2014.
Despicable Me 3 (Original Motion Picture Soundtrack) is available everywhere June 23. Despicable Me 3 opens in theaters June 30.
Despicable Me 3 Tracklisting:
1. Yellow Light – Pharrell Williams
2. Hug Me – Pharrell Williams feat. Trey Parker
3. Bad – Michael Jackson
4. Take On Me – a-ha
5. Papa Mama Loca Pipa – The Minions
6. There's Something Special – Pharrell Williams
7. Tiki Tiki Babeloo – The Minions
8. Freedom – Pharrell Williams
9. Doowit – Pharrell Williams
10. 99 Luftballoons – Nena
11. Into The Groove – Madonna
12. Chuck Berry – Pharrell Williams
13. Fun, Fun, Fun – Pharrell Williams
14. Despicable Me – Pharrell Williams
15. Despicable Me 3 Score Suite – Heitor Pereira
16. Malatikalano Polatina – The Minions