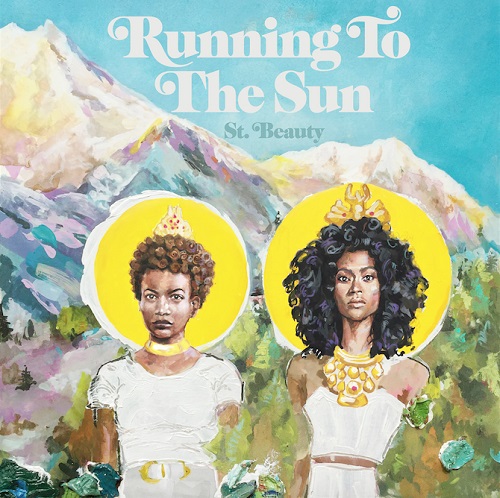 The wait is over for fans of St. Beauty's ethereal confetti sound. Carefully crafting a universe all their own, Alex and Isis invite fans old and new alike to experience their debut EP Running to the Sun. Out via Empire/Wondaland Records, its beloved tracks like "Borders" and "Caught" alongside an array of new music that further expands their vision, featuring production from Wondaland's Nate "Rocket" Wonder and the ladies of St. Beauty themselves.
Reflecting on the release of the project, St. Beauty shares, "This project is just the beginning for us. We have so much more to say, and we're so excited to continue to share our story with the world. Thank you to Janelle Monáe and Wondaland for being such an inspiration and believing in our vision. Thanks to Nate "Rocket" Wonder and Jon Jon Traxx for helping us produce our sound and bring this vision to life."
Along with the release of the EP, St. Beauty are debuting the video for "Not Discuss It", directed by Lacey Duke. Shot recently in Brooklyn, the video's golden tones and shimmering vibes set the mood for a visual feast.
St. Beauty "Running to the Sun" Tracklist
1. For What? (Intro)
Produced by St. Beauty
2. Borders
Produced by Jon Jon Traxx & Nate "Rocket" Wonder
3. Caught
Produced by Jon Jon Traxx and St. Beauty
4. Tides feat. Deanté Hitchcock
Produced by RotoTom and St. Beauty
5. Poor Little Rich Girl (Interlude)
Produced by St. Beauty
6. Stone Mountain
Produced by St. Beauty and Jon Jon Traxx
7. Colors
Produced by St. Beauty and Jon Jon Traxx
8. Not Discuss It
Produced by Jon Jon Traxx
9. Seasons (Interlude)
Produced by St. Beauty
10. Lucid Dreams
Produced by Nate "Rocket" Wonder