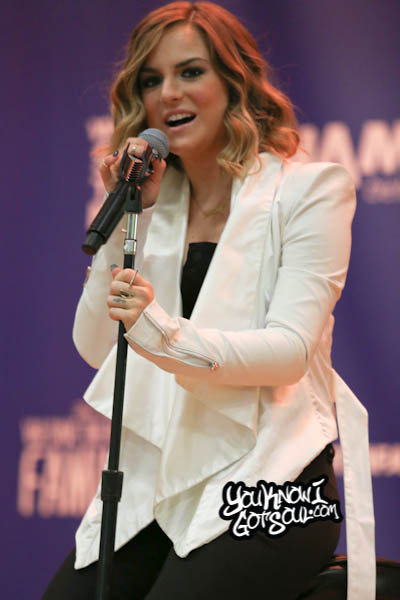 It's no secret that since the release of JoJo's well received sophomore album "The High Road" in 2006, label issues have prevented her from releasing a follow up. Despite pleadings from fans to her current label Interscope to get a project out, it seems she can't escape the 7 album management contract she signed with Blackground back in 2002. These facts were well documented in a NY Post article last year. Today, JoJo took to her Twitter account to vent some frustrations over the lack of an album:
"curious 2know the status of my album? tweet BlackgroundMG. They control the $ & album date. In the meantime, I'm gonna keep working LoveUAll"," stated JoJo.
Over the past year, JoJo has released a few singles including "Disaster", "The Other Chick" and "Sexy to Me", but none really gained any traction in the mainstream. By all indications, her new album "Jumping Trains" has been ready for some time, yet she hasn't had an opportunity to present it to fans.
JoJo rose to stardom at the age of 14 back in 2004 with the release of her self titled debut album. Fans were taken by her youthful innocence and impeccable vocals from the start. As she's grown as an artist over the years, her star has risen and her following has increased. However, things seemed to have come to a standstill for her career, and fans are hopeful of a resolution soon.