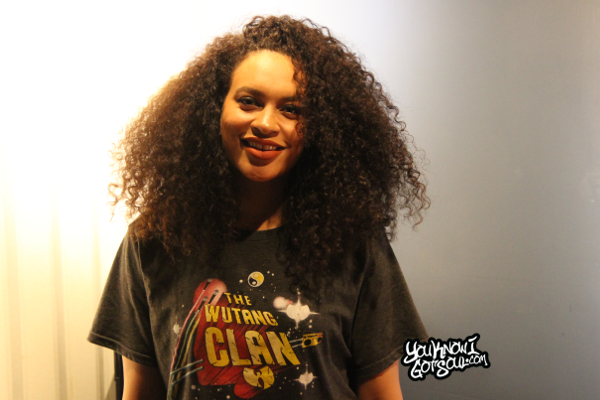 The Dutch singer exploded onto the scene earlier this year with her new single "You". The Wu-Tang sampled record caught the attention of R&B fans as her raspy tone instantly drew comparisons to R&B greats such as Lauryn Hill and Jazmine Sullivan. However her story runs much deeper than that as she's been grinding for long time now overseas. She's finally transitioned into the US market with help from team over at Roc Nation. YouKnowIGotSoul had a chance to speak to the soul singer about the success of her single "You", her label situation over at Roc Nation and her journey from being in the Netherlands to transitioning to the US.
YouKnowIGotSoul: When we first heard your single "You", of course we first heard the Wu-Tang sample but then we heard your voice and we were amazed by your powerful voice. Talk about the creative process with that song.
Nicole Bus: There was a whole group that actually helped me make my album. We made it with eight people in total for four years straight and the process was that We would sit with each other and we would just talk about things that were going on in society or the next sample to flip. Those were the two subjects, so we were deciding what sample we wanted to flip. The songwriter Rocky suggested "C.R.E.A.M." and that was the beginning of it.
YouKnowIGotSoul: You flipped the Wu-Tang record and turned it into an R&B song. Was it a challenge to write to a classic Hip Hop song?
Nicole Bus: The cool thing is that Wu-Tang copied it from The Charmel which is the original. It was cool because that has a huge Soul/R&B feel to it. That's the roots of R&B, so we took the pre-chorus off the original, so it wasn't hard for me at all because we were so madly inspired by the original song.
YouKnowIGotSoul: We saw a lot of people making Lauryn Hill and Jazmine Sullivan comparisons.
Nicole Bus: I ain't mad at that. *Laughs* I mean Lauryn Hill has been an amazing inspiration for me musically. She's actually the reason why I picked up a guitar. Jazmine Sullivan I actually discovered in America, so that was new to me. Back in the day, I used to only listen to Whitney Houston, Alicia Keys, Destiny's Child, Lauryn Hill and Erykah Badu. That was my muse.
YouKnowIGotSoul: You're originally from Netherlands, so talk about R&B over there. Is the love for R&B big over there?
Nicole Bus: Dutch people love R&B. I think that in general the majority don't appreciate it like the Americans do, but there's definitely a huge love for it.
YouKnowIGotSoul: On the record "You", the feeling you brought with your records isn't something we hear in R&B anymore. What was the approach vocally with that song?
Nicole Bus: I've been a vocal coach for eight years, so I had to bring a few flavors to the table. I wanted to spice it up. Of course we started off with the twang and then we had the Lauryn Hill shout out. Then we go into the pre-chorus which is actually the original from the Charmel's song, but I started belting on it. Then I went back to the twang space. That was really fun for me because I was challenging myself to flip the effects vocally the whole time and make it actually interesting to listen to.
YouKnowIGotSoul: Being that you're not from America, your influences might be a little different. Aside from R&B music, what else influenced you growing up?
Nicole Bus: Gospel and Reggae. I think it should go Gospel, Reggae and then R&B.
YouKnowIGotSoul: We've really only heard one record from you so far, so we're not sure what to expect. We saw you on stage with a guitar. Talk about your sound and what we can expect from the new project.
Nicole Bus: My new album is going to be fire! *Laughs* It's going to be really cool. It's actually finished already and we're going to have a tasteful throwback to the good ol' days of Hip Hop when sampling was just it.
YouKnowIGotSoul: Who have you worked with on this project?
Nicole Bus: The whole project has been produced by Needlz,and the two tracks were produced by TL Cross. My sister wrote a song on there. It's a very small intimate group of people and that's what made it very special and personal too.
YouKnowIGotSoul: Before this situation, a lot of people saw you on The Voice of Holland. Looking back at that part in your career since you were a lot younger, what were your expectations going into it?
Nicole Bus: Well I was studying at the Conservatory in Amsterdam. For all that don't know, The Voice was actually made by Dutch people and then they sold it all over the world. It was a huge thing to participate in and it was fun. I wasn't thinking I was going to win, which I didn't, but it was totally fine. I had fun and I learned a lot. I met a lot of cool people. I was actually an artist before that. I've been artist since I was 17 and I've been performing and traveling around the world to Asia and Africa. To come back to study music and participate in a show like that, it's different and it's fun.
YouKnowIGotSoul: After that show and you were developing yourself as an artist. Were there any challenges there? I know for a lot of artists, it's all about instant gratification and getting a hit record.
Nicole Bus: This isn't my first deal. I had two deals with majors before this in my own country. I don't believe in instant gratification. Everything you get fast in life, you will lose even faster. You should go through true trials and hard times. As an artist, nowadays it's even more important to have something to say and give to the next generation. You have to pass down the baton, but if you don't have anything in your backpack then what are you going to give? That's my mindset. I believe you have to have the journey to be who you need to be.
YouKnowIGotSoul: That journey of course led you to a deal with Roc Nation. What were you expectations when you signed with them?
Nicole Bus: Roc Nation is an amazing company. At home next to the Conservatory, I studied music business. For me to come from the legal side of the doing the business, I looked at companies and labels differently. I study their structure and culture. When I studied Roc Nation, first off they're an indie label but they have the power of a major. Obviously it has been established by a great artist in Jay-Z. That already gave me an idea like "If an artist started a company like this, the culture is different because it comes from an art and creative side of the story". That's what drew me in immediately and I was like "I would love to be part of this amazing team".
YouKnowIGotSoul: A lot of artists just focus on the music, but you know the business side of things. Does that make you maneuver your career a little differently?
Nicole Bus: Knowing the business side of music changes a lot. You are more cautious and careful. I think it gives you more fun because a lot of the bad stories you hear in the music industry are because people didn't research or study. Now I am more at ease and have more fun. We have great contact at the label and everyone that works there. It makes it actually fun to be part of something this big.
YouKnowIGotSoul: You've had a couple of remixes to your single from Rick Ross and Ghostface Killah. How have people found your music?
Nicole Bus: It was a such beautiful and organic process. The radio leaked it last year and everyone tried to Shazam but it wasn't available for almost two months. People started calling radio stations all over America. That's something every artist dreams of because if the radio plays it, you know you have more confidence. That's actually how that all came about.
YouKnowIGotSoul: Being that you're not from America and we've spoken to other artists who aren't from America, they feel like they need to move away from home to really make it. But social media being the way it is now, do you think it's possible to blow up without moving to America?
Nicole Bus: I think it has to do with your goals. I think for instance the EDM genre, it doesn't matter where you are. My goal has always been American because I wanted to be in the R&B/Urban scene in America. It was necessary to come here and do whatever I needed to do. But hey, for the same thing you could be making EDM and you could be like "I'm going to say in Amsterdam and be fine by myself". That's cool too because it works.
YouKnowIGotSoul: Anything you'd like to add?
Nicole Bus: Thank you for your time. For everyone at home, you can follow me @TheNicoleBus on social media. Leave a message! Most of the time I will reply.