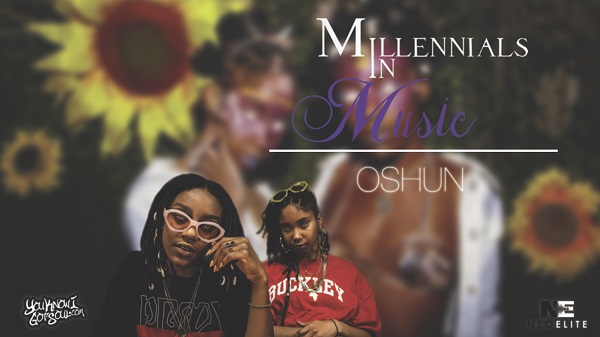 Oshun is a hip-hop duo comprised of Thandiwe and Niambi Sala, who are both from the DMV. The two met at NYU and have evolved from Youtube covers to creating music of their own. Oshun takes influences from soul, jazz and hip-hop to create an original sound and promotes positivity within their music. Their latest album, bittersweet vol. 1 can be found on Apple Music, Spotify, Tidal – – along with their other music.
In this episode of Millennials in Music, Zeplyn talked with Oshun about how they started working together, their creative process when making music, and their transition between making music in school and, after graduation, The two also talked about their journey through self love, which was a main topic on their latest project, and gave insight on how to trust yourself. Oshun is excited for the future and is ready to takeover the music scene. Watch the interview for more on OSHUN and stay tuned for their next project bittersweet vol. 2 coming soon.
– – – – – – – – – – – – – – – – – – – – –
– – – – – – – – – – – – – – – – – – – – –
Produced by the Neo Elite, Millennials in Music is an interview series geared towards millennial fans of Soul, R&B, and rising thoughtful Hip-Hop artists in order to create a deeper level of connection between creatives and their fans. The purpose of the series is to have a candid dialogue with the next generation of superstars that inspires and elevates their fans.
Subscribe to Neo Elite: http://bit.ly/2cNV6nz
Neo Elite on Twitter: https://twitter.com/theneoelite
Neo Elite on Instagram: https://www.instagram.com/theneoelite/
Neo Elite on Facebook: https://facebook.com/theneoelite
https://www.theneoelite.com/
Subscribe to YouKnowIGotSoul: https://bit.ly/2lFi1Vw
YouKnowIGotSoul on Twitter: https://twitter.com/ykigs
YouKnowIGotSoul on Instagram: https://www.instagram.com/youknowigotsoul/
YouKnowIGotSoul on Facebook: https://www.facebook.com/youknowigotsoul
https://youknowigotsoul.com/
Subscribe to Amber Mark: https://bit.ly/2yOGEZt
Amber Mark on Twitter: https://twitter.com/Amb3rMark
Amber Mark on Instagram: https://www.instagram.com/instagramber
Amber Mark on Facebook: https://www.facebook.com/AmberMark/
https://www.ambermarkmusic.com/