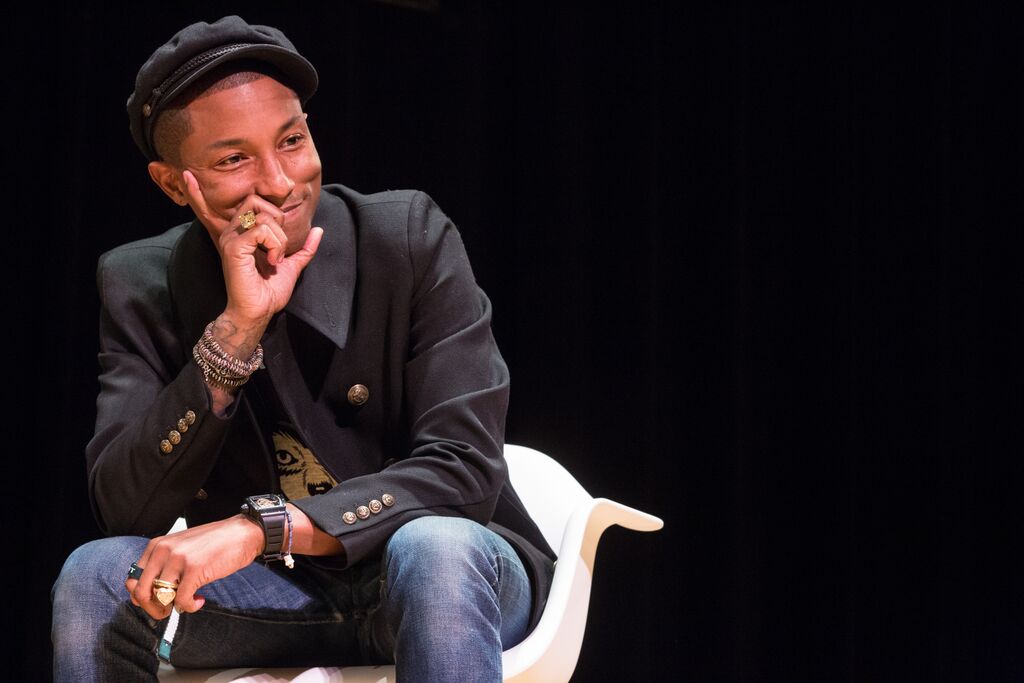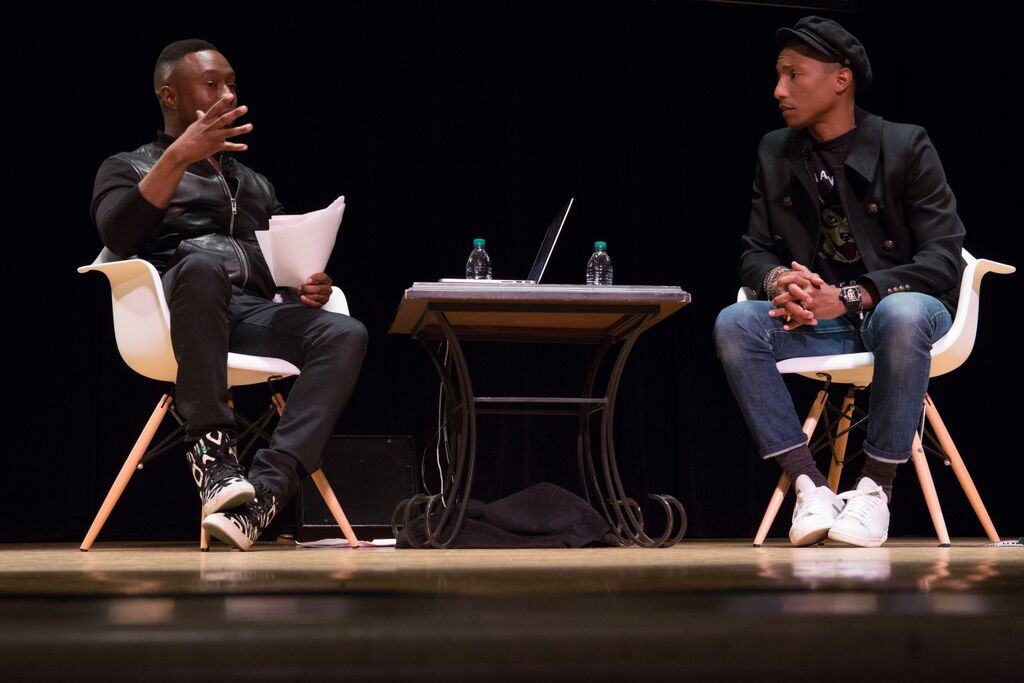 To celebrate the announcement of Pharrell becoming an artist in residence for the 50th anniversary year of NYU's Tisch School of the Arts, NPR hosted a conversation and career retrospect hosted by Jason King. In attendance at Town Hall Theater in Times Square were NYU students, including members of the Clive Davis School of Recorded Music, as well as contest winners through NPR Music.
The night began with the playing of Pharrell's latest video "Freedom", as well as opening remarks from Allyson Green, dean of the Tisch School of the Arts, as well as Jason King who is a professor at the NYU and host of NPR Music's R&B show "I"ll Take You There".
As Pharrell came to the stage, the discussion began on "Freedom" and his social responsibility. Although he enjoys being able to create social change, he remarked that he is not an activist, stating "A song is authored by you, but interpretation is open to others". He went on to tout himself as "Mr. Magoo", which would become a theme of the evening; he's just been having fun and creating music all of these years but getting lucky that it's worked out.
Pharrell's humility really shined the whole evening and it was clear he felt quite awkward when any accolades were cast upon him during the evening. He discussed how he had no blueprint to all of this and didn't set out for it to turn out this way. Simply, he concentrated on the fun and didn't worry too much about the outcome, because when he did, that's when it didn't turn out well.
Next, the discussion on his history began, as Pharrell detailed his childhood growing up in Virgina Beach. He talked about how music was everywhere, it was like air, and so were the exotic aromas that made the music sound even more amazing! Going to church was a magical experience for him because he could feel the undeniable vibration and spirit in the music; something that would live on with him for years to come.
When it came to his influences, nothing compared to the euphoric feeling he got from A Tribe Called Quest's "Bonita Applebum"; noting the whole Native Tongues Posse had a big effect. He felt like a misfit growing up, but these artists gave it context. He noted meeting Chad (his eventual production partner in The Neptunes) in 7th grade, and then reconnecting once they were both admitted into gifted and talented school. All they had was a Casio keyboard, and kept saving up to get bigger and bigger keyboards.
Eventually they'd catch their break when they won a talent show and met Teddy Riley. His studio was only five minutes from their school, and he wanted to give them a shot. He allowed Pharrell to write his verse for "Rump Shaker", and the rest was history. Pharrell discussed how he learned from Teddy's meticulous process and studied in his studio where he had all rooms going at once. After nearly signing to Michael Jackson's label, Pharrell talked about his production, "Tonight's the Night" for Blackstreet. Tammy Lucas wrote the song, and she'd go on to teach him how to write songs, "going by melody and not lyric."
Pharrell went on to talk about how he and Chad parted ways with Teddy and made their way to NYC where he met his manager Rob Walker and a chance meeting with Intern DJ Clue connected them to Diddy. Eventually, the production placement for Noreaga's "Superthug" came and things really started to get crazy. He talked about the creation of Kelis' "Kaleidescope" album and how she helped shape his fashion sense, and how suddenly every artist he worked with wanted the same sound he created for the last artist.
The interview wrapped up as he talked about his recent success with Daft Punk's "Get Lucky" and his smash single "Happy", the message that Pharrell wanted the audience to take away was he never considered himself an artist. Simply, he's just a producer who got a chance to get on the track, and he seized the opportunities. This was a great opportunity to witness one of the biggest names in music take the audience through his whole history in such a humble manner. Pharrell is truly a legend, yet he continues to understand the impact he can have on others.
Photo Credit: Ebru Yildiz for NPR