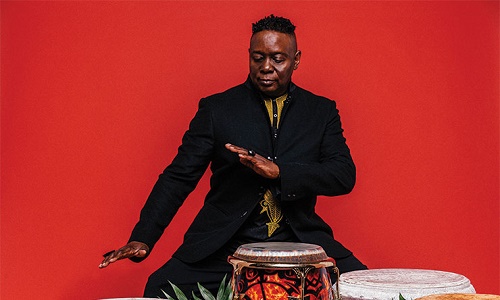 Following the release of his new solo album ""Love Will Find A Way", Philip Bailey from the legendary group Earth, Wind & Fire joined us as a guest on a recent episode of our SoulBack R&B Podcast for an interview. During the appearance, he discussed releasing the new project, the legacy of his group, the changes that he's seen in the music industry as well as memories with Maurice White.
Check out some of what he had to say below, and listen to the full episode for more.
YKIGS: What can listeners find on the new album "Love Will Find A Way"?
Philip Bailey: It's a project that took about two years to do. I have a lot of wonderful, talented people on there. I started it out with Chick Corea and Christian McBride. Then Robert Glasper joined the party and then Kamasi Washington, Christian Scott, Bilal, Casey Benjamin and even will.i.am. This project alludes to the times that we've been experiencing over the last few years and we chose songs that helped the community during the turbulent 1960's. We chose songs from Marvin Gaye, Curtis Mayfield and we wrote some songs in the studio as well.
YKIGS: What gets you excited about creating music in 2019?
Philip Bailey: The motivation was basically that I had something to say. Choosing these songs and knowing that we could re-invent them in a way to speak to listeners today was very exciting. Working with these guest stars was a treat for me and of course really just having the chance to continue to do music at a high level at this time in my life is very exciting.
YKIGS: When we saw that Robert Glasper was involved with this project, we were so excited. What is the requirement to work with someone like yourself? You've made so many hits!
Philip Bailey: *Laughs* For me it's a treat to work with these guys. After we get the past the mutual admiration, we just let the music guide us. We know what we're there for and we just dive into the music and let the music guide us where we're going to go.
YKIGS: Do you feel some sense of responsibility to tie the group sound into your solo projects?
Philip Bailey: Oh I feel totally free, but to a certain extent though because there is a legacy and perception for all these years and what we've done, that has become sacred with our audience. People know what we do. So when I say within limits, obviously I wouldn't want to do anything that would bring some kind of reproach or bad light on the legacy that we have and that we've built for almost 50 years now. It's not like I'm trying to do anything like that, but if someone were to suggest something that I felt wouldn't be keeping up with who I have presented myself to be for so many years, I would have to decline.
YKIGS: In the landscape of music today, a lot of artists try to target only the youth. The thing about Earth, Wind & Fire is that fans of all ages love your music.
Philip Bailey: That's one of those things that is the benefit in terms of the vision that Maurice had. Our band always wanted to render a positive service to humanity. For that reason, we've chosen a certain lane to move in and fortunately the different generations can come with their children to enjoy our music. When you hear it on different animated movies, the message in the music is still very positive and you're still able to relate to several generations of listeners.
YKIGS: As part of Earth, Wind & Fire you've had success in so many eras of music. We've seen so many artists that have come and gone. What do you think is the key to the longevity and success you've had?
Philip Bailey: I really believe it was divine destiny for the group to come along the time that they did and Earth, Wind and Fire has a purpose in humanity. I'm not overexaggerating that either. It's very good to feel and experience our concerts and seeing people jamming to the music because it shines light. The music is light and positivity. The planet needs that and it's something we're thankful and proud about.