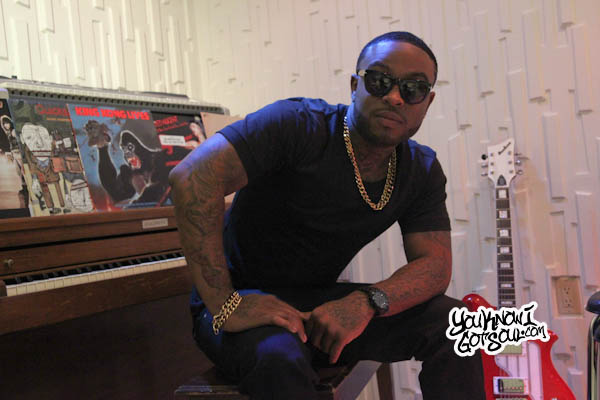 Pleasure P is finally back in a major way with a new solo album, a Pretty Ricky comeback and a role on "Love & Hip Hop: Miami". Most people would assume that he just fell off the face of the earth because of the lack of new music as his debut album "The Introduction Of Marcus Cooper" came out back in 2009, behind closed doors he has been dealing with a lot of issues such as rumors on the internet, transitioning from being on a major label to independent and changes within his team. It looks like he's putting out that behind him now as he gears up for the release of multiple projects. YouKnowIGotSoul had a chance to talk to Pleasure P about his reunion with Pretty Ricky, his new single "For A Long Time" as well his strategy to reintroduce himself to this new generation of R&B fans.
YouKnowIGotSoul: You just released the new single "For A Long Time" which is a dedication to Static Major. How did that song come together?
Pleasure P: Before Static passed, we started recording a lot of his music. He had a producer by the name of Rudy Sandapa, he's from Australia. He produced "On The Hotline" and he's incredibly talented. When we started working on my second album, we went to LA and he had all of those Static sessions and he was like "Let's do it for your second album". The album never came out because of the rumors, me being on Atlantic and going through that transition into eOne. Now I'm independent and I'm able to breathe again, so I was like "Let's put it out". I don't think the music will ever be dated because "For A Long Time" was recorded ten years ago. I knew that song was timeless and it was special because that was the one record that was very dear to Static before he passed. Out of all the songs I could have, he was like "You can't have this one. This is very special".
YouKnowIGotSoul: You can hear Static's version online and I know Johnny Gill also put out a version a few years ago. What was the importance for you to put out the song as well?
Pleasure P: Well because Johnny Gill is a legend and I respect him so much, I never said anything about it. He was signed to my friend Ira at Notifi Records. Me and her were hanging out and I played the record for her because she was a friend. She's also really good friends with Bryan-Michael Cox, so she goes behind my back and goes to him and gets the record off him. They threw the record out and they didn't pay Static's wife or do anything for the family. That pissed me off, but I didn't say anything for years. I just let it die down and now the person who was supposed to sing the song originally, now the record is finally out. People are enjoying it and I think it's refreshing because it's real R&B. Everybody tries to say there's no such thing as real R&B, but the people that know R&B know what real R&B is.
YouKnowIGotSoul: There's a lot of artists going towards that turn up route, so it's refreshing to hear somebody putting out a ballad.
Pleasure P: I'm independent so I have the freedom to drop music whenever I want to. I strategically plan everything. I'm a Capricorn, so I'm a planner. I work very hard, but I'm a planner at the same time. I've just been stock piling all this time waiting for the right opportunity to put out music. With me being locked up to a contract, it took years for everything to pass. It went from the "I Love Girls" record and then I was just on the bench waiting. I would throw out songs every now and then like "Do You" and "Insecure" and throw it out, but it's not my best work. I haven't put out my best work yet. But the work that you guys like so far, that just shows you how ahead of the game I am as far as my plan. Right now I'm doing Love & Hip Hop: Miami. Today is a different era to where you have to reconnect with people in a certain type of way. I'm not always on the internet all the time. I like to keep my life private. I don't post everything I do. That's just not who I am. I'm just from a different era.
YouKnowIGotSoul: You did put out a very personal songs called "Dolla Signs".
Pleasure P: That song is how I've been feeling for so long. You got all the girlfriend and the friends. It's the typical music industry shit. Pretty much my entire career, I didn't know there were so many people that were wishy washy. There are some artists that I'll always be cool with. We'll kick it and we'll check on each other from time to time. It's not always about number one records or gaining something off from being around me. I experienced all of those people that came into my life that vanished as soon as the rumor came out. They didn't even call to ask what was going on. Those that know me know that it's not true. Those people really broke my heart because they treated me differently. Just going from having everything to losing it all. I lost everything because of that. I lost my record deal because of it. When the job goes, then the girl goes. Then eventually the manager goes and they jump ship. When you build a company with someone and that person plays a major part in your operation, now that person is gone so you have to put yourself in overdrive and fix all the mistakes. Meanwhile with my son, I still have to look like I'm still well off. I have to keep that perception because that's what this industry is about. I feel like nobody is real anymore. I'm telling people that it's okay for people to be that. That song was just one of those songs. Money never changes for people, but people will rob their own mother. They would do anything for money. Now fame is more addicting than money, but what happened to be real people loving you and being genuine? When I was number one on the charts, people would say I was stuck up but the people who know me will tell you that I have a heart of gold. I helped so many people.
YouKnowIGotSoul: Whatever happened to your situation at eOne? You dropped "I Love Girls" and then everything just disappeared.
Pleasure P: I saw Tyga at a Rihanna party. Tyga was like "Put out that record I'm on". I was like "I want to put it out. I'm independent at eOne now". This is me coming into a new label situation with a record with Tyga. The thing about Tyga was that we were on tour together. We were on the the "American's Most Wanted" tour when I was in Atlantic. I put him in the "Boyfriend #2" video before he was hot because I'm just a genuine guy. Throughout that time "Rack City" was blowing up and he was starting to feel himself. I was at eOne and I got the clearance from Cash Money and the clearance from Young Money as well. Tyga needed to clear the record to do the video, so we came to Tyga and told him we had $15,000 for him to be in the video. He asked for $25,000 and his manager told us that Tyga didn't want to be in the video. I reached out to Tyga personally because we put money behind the record and I just needed him to do the video. I got on the phone with him and he said "I can't do anymore R&B songs because I have something coming out with Chris Brown". It made me look bad especially because I was new there and they spent money on it. It messed up the whole thing and maybe a couple of months later, I was shooting the video for the song, I was pissed. He was actually at the set of the video shoot that he was supposed to be in, but he was looking at houses in the neighborhood. From then on, I was like "Do I do something to him?". Eventually because I was at eOne and fighting at video sets is unprofessional, I took the loss and moved on. Also Bobby V was on the label at the same time and his album tanked really bad. I was like "I'm going to take my time and create a situation. I'll put out the album when the time is right". I'm on Love & Hip Hop: Miami, so now it's the perfect time to reconnect with people. I don't have the money of a major label, but as long as I have a way to connect with people and put out the music, I'm good. Putting out music is the easy part because I'm just good at that. People can't take that from me. You can't say I don't put out good music.
YouKnowIGotSoul: Are you frustrated that it's taken so long for your album to come out?
Pleasure P: No because I learned so much in this process. You're put into situations because of that. I lost a lot of people that I thought were in my corner. Imagine being successful now and having all of those people in my corner, that's not really for me. I look at a lot of these people in the industry today and I see the same yes men around them. I'm just like "Thank god I dodged a bullet". It's the same thing with women too. It took me some time to get ready, but it's a slow process. If you're a real hustler and you build your thing from the ground up, nobody can ever take that from you because you can always build a new house again. Sometimes it takes time, but when it comes out it's the best feeling ever. I'm feeling really good these days because of that.
YouKnowIGotSoul: Talk about your new album.
Pleasure P: It's definitely going to be more of a Rico Love type of album. I have a few Static songs, but I think that's for a tribute to Static type of EP that I'm working on right now. A lot of the songs are stuff that Rico Love did on the album.
YouKnowIGotSoul: When can we expect it to come out?
Pleasure P: I want to say top of the year, but the thing is we just recorded a whole Pretty Ricky album as well. I have to put my stuff on the back burner to put that out. We just released the new single "Good Girlz" and then we have the follow up single called "Body". That is the crazy one and that's going to give you that feeling. We have a couple of months left in the year. The Pretty Ricky tour kicks off in November in New York at the Highline Ballroom. I'm going to focus on that. We're going to do this "One last album, one last tour" and then Love & Hip Hop: Miami debuts in January. From that, we'll see if the Pretty Ricky album or mine comes first. My album is pretty much complete and I never stop working anyway. It's going to happen.
YouKnowIGotSoul: I always felt Pretty Ricky was underappreciated as a group in terms of the foundation of the records. There's great harmonies and melodies. Do you feel the same way?
Pleasure P: I don't think so. Our fans love us and that's why we're able to sell out venues. You still hear "On The Hotline" in the club and you still hear "Grind On Me". Most people from that era will tell me "You saved our relationship" or "I got so much pussy to your music". I think it served its purpose.
YouKnowIGotSoul: A couple of years ago, we put together an article talking about the last generation of R&B stars such as yourself. It seems like you guys are missing from mainstream radio. Why is that?
Pleasure P: I think with anything, there's strength in numbers. More people should work together, put out music and tour together. That creates demand. I feel like it's coming back anyway because I think people are tired of hearing people sounding the same way. I guess music is like fashion. It's like Jodeci back in the day and then the rap era came in and they had put out "Get On Up". They switched their whole style because rap was in and they didn't stick to who they were. I guess music is like that and through that time, you have to ride that wave. I think a lot of people believe that, but I'm just addicted to my sound because I know what it does for women and relationships, so I'm going to stick to that.
YouKnowIGotSoul: Talk about this "Kings Of Love" tour that you went on with Bobby V and J. Holiday. Did that tour let you know that your music still had a place?
Pleasure P: The "Kings Of Love" tour was a start of R&B artists working together and I hope more artists work together. I called those guys and we put it together. To be honest, I don't think we did it the right way, but we tried it and we started something. We can do it again with more artists, but it's a start. The love from the fans and the people who came out, it was a good feeling.
YouKnowIGotSoul: It seems like with your generation of R&B, you guys are stuck in the middle. You're either forced to make something that's club driven or Urban AC type music.
Pleasure P: That's the thing about my era, we're stuck in the middle. You've got Urban AC now but you still have Keith Sweat and Tank. They're still over there running shit. We're stuck in the middle of nowhere because all of the radio stations feel like our R&B is too slow. Now you're getting more people making what's out now because they don't have any other way. it's cool if they think like that, but I think if we just stick to our sound and enough people come out with it and do enough of it, it'll give people who want that what they're missing. A lot of people are missing that sound.
YouKnowIGotSoul: With the way R&B album sales are going, how are you going to measure success for the Pretty Ricky album as well as your own?
Pleasure P: To be honest, I don't measure my success based on that. If 5000 people bought my record, I would appreciate those 5000 people. I make music for them because music isn't supposed to be so money driven. I didn't get into the music game because I wanted to make money. I sing because that's a God given talent of mine and it's something I love to do. The rest will come and that's how I got here in the first place. I was determined because I wanted more, but it wasn't so money driven. If it's 10,000 or a million people, I'm going to give people the music they like from me. That's what being an artist is. Whoever likes your work, that's who you do it for.
YouKnowIGotSoul: It was cool seeing your song "Rock Bottom" being sampled by Jazmine Sullivan and Bryson Tiller on "Insecure".
Pleasure P: That was super cool. Shout outs to Key Wane. I never met him before he sampled the record, but I think it was dope. I'm still here and I'm coming out with a lot of new music too. It's dope to see the younger generation liking my shit and I'm still young.