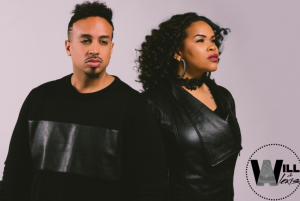 Will and Alexis are a musical dream – a reemergence of the duo performance concept, lending a sonic breath of fresh air to music lovers seeking inspiration worldwide. From hard-hitting dance tracks and bassfilled,
toe-tapping grooves, to intimate and unforgettable worship staples, the combination of their voices and delivery brings an urban inspirational feel, gumbo of sound and energy that not only pleases ears, but fires up souls as well.
Performing under the mantra of representing Christ always, Will and Alexis' audience isn't just the church as their nouveau method of ministry appeals to people of all walks of life. Ever been fired up by something so dynamic that prompted you to dance, shout, jump and run simultaneously? If not, we invite you to press play. Needless to say, I think we'll know the outcome!
Will and Alexis can be seen regularly touring nationally and internationally. Their commitment to community enrichment and youth charitable organizations is never ending.
"Growing up, we never imagined singing together – maybe against but never together. However, when we sing it all connects and just feels so right! We are best friends so we know exact emotions each other experiences during each song and it is just a privilege to share with the world." – Will & Alexis