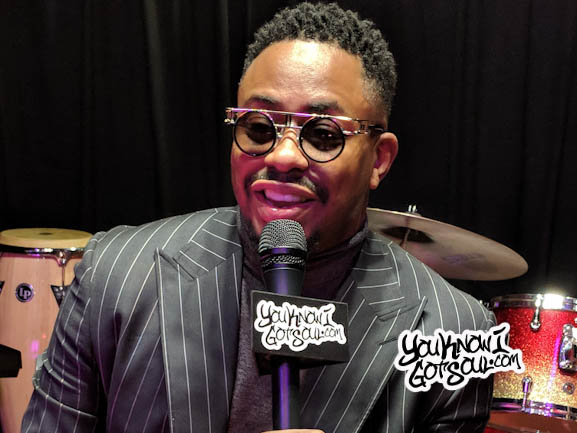 R&B veteran Raheem DeVaughn has just released his sixth solo album "Decade of a Love King", and we had a chance to interview him at a press listening event for the project. Just as we've done in previous interviews with Raheem, we shared our admiration for all he's been able to accomplish with his movement as an independent artist, and got him to speak on how he's achieved that. We also had him discuss his outlook coming into this album, as well as what he hopes you'll experience when listening. heck out what he had to share about all of that and more.
YouKnowIGotSoul: Your new album "Decade of a Love King" is out now. Talk about the creation of the album.
Raheem DeVaughn: My outlook coming into this album was very focused. Although I've had major success in the music business, I feel like I'm still very much a baby in the game. I still feel like I'm a fetus in this. When you think about artists like Roy Ayers, Quincy Jones, James Brown, Ray Charles, 2Pac. They still think he's alive, based on how much music he recorded, and new music coming out. I just strive to be great. This album was not just about this album, it's about he catalog I'm sitting on, and what this album represents and dawn of a new age and a new decade. Not only for me, but music changes constantly, every two or three years. It just goes in different directions. I'm always more concerned about consistency. That's the main focus making this album, being consistent.
YouKnowIGotSoul: When hearing this album, it's obvious you remain very inspired. Unfortunately, that's not always the case with r&b artists these days. What keeps you so inspired after doing it for so long?
Raheem DeVaughn: I remain inspired. When you talk about the music that I make, and how inspired I am, versus what you may encounter with some of the other artists, here it is. I'm not Kanye West crazy, but I am Kanye West crazy about music! If that makes sense! On a serious note, I love the art form, I love everything that comes with the creating of it, the paperwork that we have to do at times, and all of that stuff. The process is the process, the crossing the T's and dotting the I's, calling lawyers, tracking artists down to get the release done, all that comes with it. From the time the song is conceived, being involved in my business directly, I do what most artists don't do. I start the process from beginning to end. So by the time the album comes out, it's a breath of fresh air! Then the pattern starts when you get the Top 5's and the #1's and you can talk to fans directly who are listening to it for the first time. That's the thing I love about social media.
YouKnowIGotSoul: Many of your r&b peers seem afraid of the Urban A/C format, but you seem to embrace it. Why aren't you afraid?
Raheem DeVaughn: I'm not afraid, this is the decade of domination for me musically. I always came into the game with the last man standing mentality. I'm that guy that when we start the race, in my mind, I just want to keep running until everyone runs out of gas!
YouKnowIGotSoul: You are so savvy on the business side of things, so what advice would you give to new artists coming up?
Raheem DeVaughn: Be yourself. Be a student of the culture. Don't be afraid to experiment and collab. Everything isn't about the dollar, sometimes it's about the experience and the relationship. A lot of times I'll tell artists "Let's get together, let's work." I won't cost anything but time. Time is the most valuable thing we have next to relationships and our name and respect and word.
YouKnowIGotSoul: Would you recommend new artists to go independent or aim for a major label deal?
Raheem DeVaughn: It's really based on your circumstance and personal agenda. When I signed with Jive, I always knew that I'd be independent again. I didn't realize it would be that quick, but that was the goal. I could definitely have more fun, and own the masters, and control the art and narrative. That's most important to me.
YouKnowIGotSoul: You're one of the most successful independent r&b artists, but what did you take away from your time at Jive?
Raheem DeVaughn: Just keep pushing myself. There was a person named Jeff Finster, who I recently tracked down. He said something so profound to me, while I was working on the "Love Behind the Melody" album, and he challenged me in a way that nobody had ever challenged me. He said some things that have stuck with me to this day. I go through these albums to see what's missing. It's how to make a record and an album, that's what I learned, and how to have fun doing it too.
YouKnowIGotSoul: What experience are you trying to create for fans who hear this "Decade of a Love King" album?
Raheem DeVaughn: I'm just trying to create that organic connection between human beings. That's it. It's something real, something genuine. If it's dealing with a matter of the heart, fight for it. Make love, not war. You know me, always a modern day hippie. Love life.