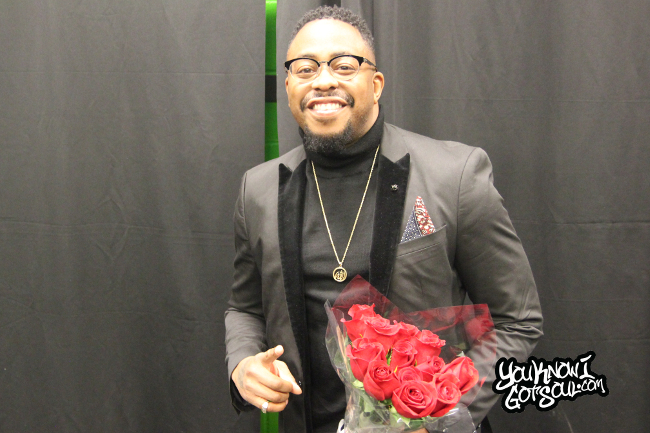 Raheem DeVaughn has been a roll with his solo releases over the last few years as he's kept the integrity of R&B alive with his albums. Recently though, Raheem put his R&B music to the side to focus on his CrossRhodes project with Wes Felton. The socially conscious project has been a major priority for Raheem as they released their project "Footprints On The Moon" not too long ago. We talk to Raheem Devaughn about that project as well his upcoming album "Decade Of A Love King' as well as trends going on in the genre of R&B. We also get his opinion on the Bruno Mars debate that's been going on all over social media for the last month.
YouKnowIGotSoul: Talk about The CrossRhodes movement you have going on along with the latest project "Footprints On The Moon".
Raheem DeVaughn: Me and Wes Felton have something that's magical and universal when it comes to creating art together. It's something we've done for many moons together. The album is really just inspired by the Baltimore and St. Louis uprising. It's really the sign of the times with the Trump administration. A lot of the album was done and completed before Trump went into office. Once he was elected, we realized it was a blessing in disguise for us in terms of the content, the things we're talking about and the things we've seen transpire since he's been in the office pertaining to America and the culture. That's the inspiration from the police brutality that we encounter as individuals in this country along with the lack of jobs and support. We talk about a lot of those things on the album and we also talk about black love. We deal with some of the toughest issues that we have as black men and the culture of Hip Hop and R&B. We really pick it apart. Sometimes we're so quick to point the finger at other individuals and races and blame them for our misfortune, but we definitely on this album pulled out our report card and checked ourselves in terms of how we can be better. I think we really accomplished that with the lyrics and the content on this album.
YouKnowIGotSoul: Selfishly as a fan we wanted to hear another R&B album from you as you've built such tremendous momentum over the last couple of projects. How necessary was it for you to create this ChrossRhodes project instead of making another R&B album?
Raheem DeVaughn: This album was important. As an artist, the fans have to understand that we're messengers. I'm deeper than most. With that being said, I have a catalog of great R&B music that I'm sitting on. I'm putting out my fifth solo album, but it was important to get this message out. It was bigger than me. I hope that people hear this album twenty years from now and it's a time capsule. People can go back and understand our history and what was going on at that time. This album is a soundtrack for that, so that's why it was so important to get the message out.
YouKnowIGotSoul: Let's talk about your upcoming album. What can we expect on the project?
Raheem DeVaughn: The album will be called "Decade Of A Love King". I'm remaining bonafide classic. I got a couple of features on there and it's all people that I have relationships with. It's very homegrown and all my features are people from the DC area such as Phil Ade, Chaz French my artist MayCee as well. I wanted to create this fusion of new millennial soul, what I'm known for and also remind people of what R&B is known for. I think I created the perfect gumbo for that. For all the music lovers out there that have been big supporters of my mixtapes in the past, I think this is the album that they can compare closest to the mixtapes that I put out. I've always heard people say "That could have been an album!". This album has the drive of a mixtape, but it has the depth and the penmanship of an album.
YouKnowIGotSoul: I've noticed that these new millennial soul artists such as Daniel Caesar and Khalid are appearing on Urban AC. What are your thoughts on that?
Raheem DeVaughn: I think it's great. When I think Daniel Caesar, it reminds me of the 90's. Obviously they're students of the culture, so when I hear Daniel Caesar, I can hear elements of Jon B and Musiq Soulchild. It's cool because history repeats itself. We had those comparisons like when people compared me to Marvin Gaye. I could hear it, but when you look at the package, it's something that's very original about it too with the style and the video. That's what makes the difference. The younger artists now, they have the full package. Some of these cats are shooting their own videos and doing the editing. It's cool to watch. I think there's space and opportunity for every great artist whether you're talking about the Urban format and Urban AC format. Sometimes for ourselves that are uber talented, it kind of pigeon holes you.
YouKnowIGotSoul: Is it concerning that the younger artists are moving into the Urban AC format? Where will that leave the core artists such on that format right now such as yourself?
Raheem DeVaughn: Not at all. It leaves ms where I'm at. I'm one of the best at what I do for this generation and culture. It's great. Again, it gives me an opportunity to keep my chops and stay up. I got some wonderful remixes coming as well. But yeah, I think it's great. There's room out there for all genres of music. When you talk about radio, the platform is still very useful but really it's the last place people are getting music from. If people want great music, they're going to find it.
YouKnowIGotSoul: We had mentioned on our social media that there's a lack of live shows going on for R&B. It seems like promoters aren't really interested in paying for band shows these days due to the lack of support. Talk about the life of an R&B artist right now.
Raheem DeVaughn: Like tonight for example, I'm rocking with DJ. Two days from now, I'll be with the band. As an artist, it's what we do. We're real artists and you have to be prepared. Promoters have a budget and they know what they want. I give the, what they request. At the end of the day, I'm going to give the crowd what they want whether it's a banjo and a congo or whatever I have. The ends are going to justify the means with whatever I have access to whether it's a DJ or full band. I want to give them my all. If there's 50 people in the room, I want them feel like there are 5000 in a stadium killing it.
YouKnowIGotSoul: Does it make sense for you to still make albums these days? I know you have enough of a catalog to tour these days.
Raheem DeVaughn: For me and what I'm known for, people tend to like it when I drop an entire body of work. The EP isn't enough for the OGs out there. If you're a two minute brother then you'll probably appreciate the EP. I want to give you a good 12-17 and you're going to hit that hump because it's hump music. The back to back style, I learned that from Jodeci and Devante. It was like on the "Diary of a Mad Band" when they had five slow songs back to back. Same with Boyz II Men. They set the trend for that. EPs are cool and I'll be dropping some in the near future, but it's all really about the concept for me. I like to stretch it out.
YouKnowIGotSoul: There isn't necessarily a recipe for success in R&B these days. Tank is doing more of a trendy sound and that became a hit. Bruno Mars has been doing a throwback sound and it worked on Urban AC as well. And of course artists like you and Tyrese have also done well on Urban AC with the traditional sound. Is there a formula that guarantees a hit?
Raheem DeVaughn: I think everyone has their own formula and it's really your vision and idea of who you are in your head. If you don't know who you are in this culture, the corporations will either dictate it or you'll be misunderstood by your following. You also have to be careful or you'll appear all over the place. I think what's happening for Tank is great for me and the R&B culture. Once you hit a certain age, they want to slide you in a certain lane. I just remixed then "When We" record. That's the homeboy and I was like "Don't put anymore remixes without me on them". He laughed. I'm a fan of the record and a fan of the artist. Hell, if 50,000 download that version then it just boosts the culture of R&B. It is what it is. I think you're responsible for your lane and you dictate what you want to do. People used to say "You're moving too fast", I would say "Nah, you're not moving fast enough, so keep up". There's a lot of things to be involved in. I've worked with everyone from UGK to Boney James. They're two different ends of the world, but that's why we call it music.
YouKnowIGotSoul: Of course there's been debates about Bruno Mars and his role in R&B. What are your thoughts being that you're a student of the game?
Raheem DeVaughn: I think Bruno Mars has always been slept on. Each album is very conceptual. He's had albums where he wanted to be a rock star and another one where he wanted to get inside his 90's time machine to make music that feels good like Babyface. It's really about being an artist. I think too many times we want to take something and say it's ours. At the end of the day, none of this comes from us. I think it's a gift as a creator and we're all inspired by someone. Obviously he has a team and he has a formula that works for him. It's great music and great entertainment. I think the agendas of where they take our culture and kind of strip it, it has nothing to do with him. You can't blame him for wanting to be great and making something dope. It was a great album. Great music is great music.
YouKnowIGotSoul: And I guess the response is to support everything that you do like.
Raheem DeVaughn: Oh yeah, definitely support everything that you do like. Be a student of it. You have a choice and everyday someone discovers music for the first time.