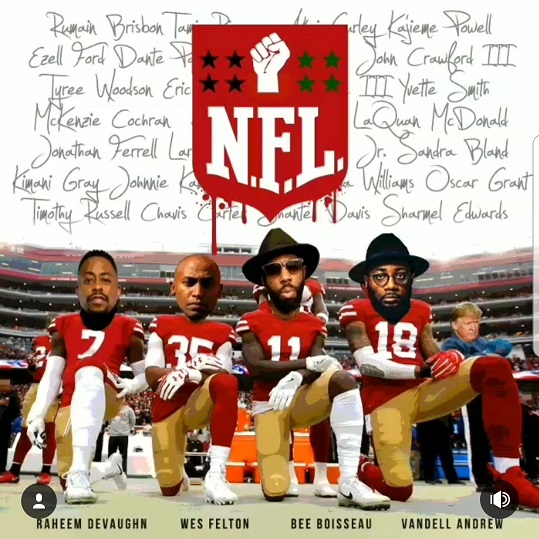 Check out the powerful new single, "NFL" from multi-talented writer/musician/producer/vocalist BEE BOISSEAU (last name pronounced "boy-so") featuring three-time Grammy nominated recording artist Raheem Devaughn, member of the Hip-soul conscious group CrossRhodes – Wes Felton and saxophonist, Vandell Andrew. The thought-provoking song is lifted from Bee Boisseau's debut upcoming project, "Raheem Devaughn Presents – Bee Boisseau's BACK TO LOVE", set to be released via the DMG (Devaughn Multimedia Group) imprint, in the spring of 2019.
"NFL" was written by Raheem Devaughn and Wes Felton and produced by Bee Boisseau, while Vandell Andrew is on saxophone. "As four conscious artists and musicians of black and brown color that celebrate the hashtag #LiveWoke we have created this anthem in solidarity and honor of our brother, Colin Kaepernick," mentions Raheem Devaughn.
Bursting out of the musically-fertile D.C. area, naturally-gifted, multi-talented writer/musician/producer/vocalist BEE BOISSEAU rode the wave of a childhood steeped in musical encouragement into a young adult life of honing his craft and not-so-by-chance encounters (most notably with veteran R&B star Raheem DeVaughn) that placed him squarely where he needed and was destined to be. The culmination of his lifelong musical journey of following his passion all lie within the oh-so-contemporary, musically-rich fusion of modern-day R&B, hip-hop and jazz that comprise his forthcoming DMG (DeVaughn Multimedia Group) debut set, Back To Love.
Having made some firm connections, he soon found himself propositioned with the opportunity to do some shows in Denver, Colorado, where he not only gigged regularly but stayed to live for nearly ten years. "I made good connections [there] on the smooth-jazz circuit," he recounts, "and that's how I got respected on the professional circuit in general. I was playing with the likes of Nick Colionne, Gerald Albright and Jakiem Joyner…just major smooth-jazz artists." Soon thereafter, a cruise ship gig with Eric Roberson resulted in him making the acquaintance of actor/wordsmith Wes Felton (one half of the socio-conscious hip-hop/R&B duo The CrossRhodes, alongside Raheem DeVaughn). "He came and did a show, they called me to play and we just remained in contact. Wes took me to New York City and I did some shows with him. So when the time came for somebody to sub as a keyboard player [for The CrossRhodes], he already had me in mind. It wasn't by chance; it was divine…everything happened in an order I can't explain."
Hence, BEE BOISSEAU's soon-to-be-released Back To Love serves as not only an introduction to his multi-faceted talents and musically-rich "jazz-soul-hop" sound, but those of other fast-rising, soon-to-be-noteworthy talents coming out of the D.C./Maryland/Virginia area. Be it the "Me Too"-friendly hip-hop/soul of the title track (featuring Raheem DeVaughn, Dwele and Eric Roberson); the brisk-paced, jazz/spoken-word/drum 'n bass-fused "Young Bumble Bee" (featuring Roscoe Burnem); the dreamy and atmospheric vibe of the simmering "Potion" (featuring Yahzarah); songstress Carmen Rogers' featured vocals on the neo-soul-reminiscent "Moon;" or Bee's vocoder-laced vocalizing on the chilled funk/R&B groove "Rock With You," Back To Love has got something to titillate the ears of contemporary music listeners of real music. Previewing the set with a most timely message atop a chunky hip-hop/soul beat is "NFL" (featuring lyrical commentary from The CrossRhodes' Wes Felton) which is told from the perspective of a player. "The message is not so much about the National Football League; it's about the injustices and police brutality against people of color. I don't want that message to get lost at all." Meanwhile, core fans of Raheem DeVaughn will no doubt delight in "Stay the Night," an intoxicating, Marvin-esque collabo with BEE which the award-winning R&B star describes as "something special. It's like Gil Scott Heron, Marvin Gaye and modern-day Jill Scott making art together!"
"Everything comes full-circle," says BEE BOISSEAU, while reflecting on his Back To Love debut set. "It encapsulates my experiences before really becoming a professionally-minded musician, and then my experiences with the band as a professionally-minded musician. A lot of the influences from all of the places that I've learned, things like church, were my earliest influence. Then jazz and being a hip-hop head….all of that came full-circle with what you hear on Back To Love. When I listen to this record, it's the first time in a long time I really love my craft.