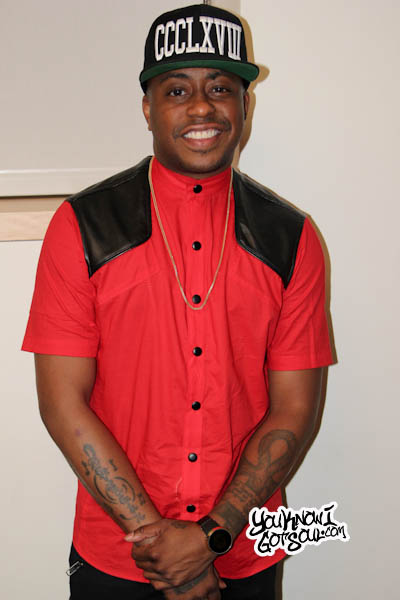 With the way he's championed his own brand since bursting onto the scene in 2005, it seemed like only a matter of time before Raheem DeVaughn decided to go the independent route. And who better to do it than an artist such as him who has mastered the craft of being an innovator and taking hold of his own career? After being one of the first r&b artists to put out mixtapes, he gained plenty of notoriety for his expressive and sometimes infamous viral videos. Now he'll look to innovate once again as he reinvents himself sonically in gearing up for the release of his fourth album "A Place Called Loveland". Things are off to a great start already with the refreshing single "Love Connection". YouKnowIGotSoul caught up with Raheem and discussed his new joint venture with Mass Appeal, his rebirth musically on the new album, succeeding in the viral world, creating a platform for r&b with his radio show, and much more.
YouKnowIGotSoul: Let's start out talking about the new joint venture and partnership you have with Mass Appeal. Being an independent artist, what does this type of move mean for your career?
Raheem DeVaughn: It means making a shit load of money! *Laughs* Nah, it's really about independence and ownership. I've always had creative control, so that was never an issue being on Jive for those years. It's a new situation; a lot of people didn't know that I was out of my previous situation and that I'm now signed to myself with a partnership with Mass Appeal to distribute it. I'm excited about it, It's going to be a lot more work but I've always been a believer in not work just harder, but working smarter.
YouKnowIGotSoul: Yesterday you released the new single "Love Connection" which definitely brings a fresh new sound for you. Talk about the song.
Raheem DeVaughn: The song of course was produced by Carvin & Ivan. I felt like this was the sound I needed right now. I've got a lot of great records on this new album which are a good way to introduce the quote unquote "New Raheem DeVaughn". That's what I'm going for, something a little different sonically. Not to flip the interview on you, but how did you feel about the record?
YouKnowIGotSoul: I'm feeling the record. I saw you mention on Twitter you're looking for a fresh sound and reinvention sonically, and that's what I got from it. I know you've been working with Carvin & Ivan, and I can definitely see this as a progressive step in your career musically.
Raheem DeVaughn: Cool, cool. Yea, that's what we're trying to do. Not too left, not too right, but I think people are getting it and embracing it. We've had some great adds, I got a call this morning as far as stations I thought we had to have, shout out to Radio One, they're going in on it since yesterday. It's an exciting time for me.
YouKnowIGotSoul: Talk some more about the album "A Place Called Loveland" and what we can expect to find on there.
Raheem DeVaughn: First and foremost this album to me I think is definitely some of my best work. It's definitely sonically different. I think I've grown as a songwriter and vocalist, and I want to continue to do that. I just want people to get that, I think people will hear that when they listen to it. I refer to the album as a relationship think tank; I kinda cover it all on here. I'm doing some last minute tweaking on the album, I want to do a couple of interludes and stuff like that. I like interludes and I want to try and bring that back. I think we're going back to that as far as connecting the dots on the story line. I always try to create a body of work that you can listen to from beginning to end without skipping any of the songs. I love when I have an album where you can appreciate every song on the album. Some of the cool producers I've had the opportunity to work with on the album are Mario Winans, who gave me the smash. Shout out to Mario Winans and Ryan Toby, I've got a record coming from them that's incredible. I worked with Harold Lily on this album, phenomenal writer. I worked with J. Phoenix, phenomenal producer. Then of course Carvin & Ivan. Also a lot of dope up and coming producers as well. I'm looking for fresh sound, and sometimes you gotta go out there and dig in the crates. It's a lot of cats doing their thing in the underground, so we really looked in the nooks and crannies to try and find that heat.
YouKnowIGotSoul: Something interesting you mentioned earlier was you've always had creative control, even at Jive. I figured you'd have most creative control on this project now that you're independent. Did your approach change for this project at all?
Raheem DeVaughn: What really lead to my approach to the deal with Mass Appeal was it just clicked. Marcus, who is the owner of the company, I got a good vibe from him. I actually had a few other offers that actually offered more money, but I didn't make this decision solely based on right now money. Of course I think about the money that can be made down the pipeline, but the vibe has to be right. They have to understand the music and the Raheem DeVaughn brand, that was more of a concern of mine. Also having the right avenue for viral components to increase. There's a viral world out there, you don't have to have anyone behind you at this point to be a successful independent artist. You've got independent artists going number one at this point.
YouKnowIGotSoul: Speaking of viral components, you've always been an artist who took control of their own career from mixtapes to promo videos to even having your own radio show now. You've been the biggest part of promoting your own brand. How important has that been for your career?
Raheem DeVaughn: It's great. When you talk about the radio show, I'm not just promoting myself, I'm promoting my peers as well. *Laughs* I've always been that person who feels like you can't always help others, but you can help yourself. I feel like with the radio show, I've helped to create a platform for my peers. They're fighting for mainstream radio, it's a fight every day, but internet radio is the future. It wasn't a move solely about me, it was a move about the preservation of the music and my culture. People always think since the mainstream isn't playing it, they don't know where to find it. I think that's where my music is going and my brand is going. I think I've been underrated in the past, and I tell them I'd rather be underrated than overrated, because that's an opportunity. I feel that I'm definitely in a place musically where timing is a big factor. It could be a perfect time for a certain type of record.
YouKnowIGotSoul: I want to finish by talking about your live shows. I've personally covered hundreds of r&b shows, and you're easily one of the top 5 shows I've seen. It looks like you put so much time and preparation into each show. You're a true entertainer. Talk about the work that goes into it.
Raheem DeVaughn: As far as live shows, I'm big on that. I almost like doing that more than actually recording and I love to record. It's a process man, it's a high that nobody can take away from me; that energy that I get on that stage that you have with the audience and what they get from you. Over the years of performing live, I feel like this is how my music truly stands the test of time because of the effect I've seen it have on people. That's kinda what keeps us going as artists no matter what genre you are. Some artists are a little more stand offish, but I don't look at my fans as fans, I look at them as music lovers and an extended family. I enjoy that exchange we have. I take that into account when I'm going to do a show; I'll be spending time with family for the night. A lot of it is rehearsal, but a lot of it is improvisation on stage. Although there is structure, I feel that the improvisation side of it helps me take my show to the next level. It's connecting with people in the audience and not making them feel like you're just hear to make some money and move onto the next city.
YouKnowIGotSoul: Anything you'd like to add?
Raheem DeVaughn: Just want to say thank you to everybody out there in the viral world. I'm nothing without you guys. The ReTweets, the pushing on Facebook, the Instagram. "Love Connection" is the new single. It will be slow burning grind with that, I'm not trying to put out the single this week and the album next week, we're going to let it grow. "A Place Called Loveland" is coming this Summer. Just help me get the word out, word of mouth is the best method. I feel like I got on a little late, I was a late bloomer, but I love the viral world because I get that instant gratification from the fans who ride with you. That's a beautiful thing.