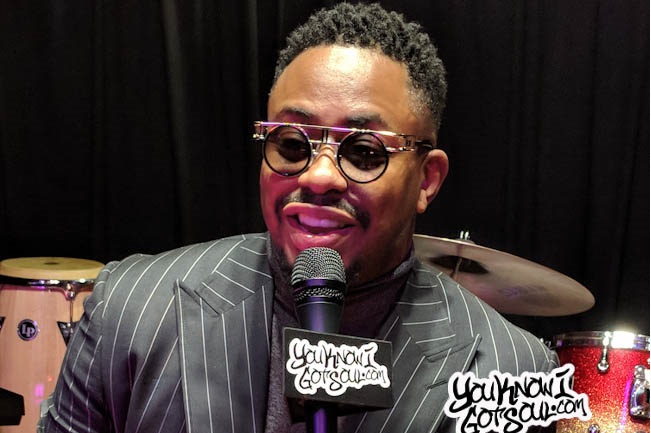 Raheem DeVaughn joined us on a recent episode of our SoulBack R&B Podcast. On the show he discussed his recently released album "The Love Reunion", the keys to his success in remaining relevant, and memories of his time in being on a major label. Check out what he had to say below, and be sure to check out the full podcast episode to hear the whole interview.
YouKnowIGotSoul: What inspired you to release a new album less than a year after your last one?
Raheem DeVaughn: I think since the last time we talked, I had kind of alluded to the fact that I'd be putting out music a lot more consistently. In keeping my word to the fans, and having those different spurts every few years, a lot of that wasn't under my rule of thumb. Now that I own my masters, I can move how I want to move. I want to control how I market and control my projects, and show my work ethic. I'm like an MC in a singer's body. It's always been a thing where I feel like I can make the music faster that I could put it out. But now I don't have that problem anymore. I can put out projects whenever I want.
YouKnowIGotSoul: It always feel like on every album you put out, you evolve your music a bit, but still keep it rooted in your original sound. What will we experience on this album?
Raheem DeVaughn: On this album, I've got afrobeat records, I've got reggaeton and a Caribbean vibe record. I just try different arrangements. My voice over different chord structures and keys, and experimenting with that. There's this new technique I have where the vocals are out front, with the lush harmonies. As I go along and get into album seven, as I create these projects, I'm more hands on. I've become more of a producer in a sense as well. The cool thing about this album is it's the second part in a trilogy series. You can pop in "Decade of a Love King" and let this come right behind it.
YouKnowIGotSoul: A lot of the R&B artists who were big over the past couple of decades have been fading away, while you've still found ways to keep your name relevant. What is the key to maintaining that, and why have so many artists struggled?
Raheem DeVaughn: I wish I could teach a class on this! I could show them how to do it. I've been doing it for years, driving in my own lane. My next move is, I know that I have the talent to write for multiple artists, and I know I have a unique sound, I'm ready to give some of these songs out and write for other artists. If you want to get down, hit me up. Let's change the sound of R&B collectively. Let's band in solidarity for the culture and for the genre. It's a time and a place for everything, and I've said it over the years. Black music is the only music, where there is the conversation about King of R&B. Our music is the only music where it's discarded. It's disposable, but we can change that narrative if we come together. There are certain tools that we can use that would be productive for us.
YouKnowIGotSoul: You've always fully embraced being an independent artist since leaving the major label system. You even operated as an indie artist while signed. Looking back, do you wish you would have gone independent from the start?
Raheem DeVaughn: Nah, because I'm one of those guys. I knew I wasn't going to be in that deal long. I knew where the culture was going, so I had one up on them. They didn't drop me, I dropped them. I never really disclosed this until now, but when I was on Jive in 2010, when it came close to December 31st, they backed me into a corner where I was able to give them an ultimatum, which they knew they weren't going to be able to make good on, and it got me out of my agreement. My only downfall was, I wasn't prepared for that moment. I had records, but my work ethic didn't allow me to have access to the things I have now. Over the years, it's been times I spent my last on going in and creating projects. I'm building catalogs. I'll never be out of work if I have a catalog. I've got enough music for 15 years, and I make it in real time. There is no way I can lose. I don't regret it. Back in 2010, I was going into what is known as my 4th album period, and they would have had to contractually spend millions on me. They would have had to pay a very large advance, with a million dollar budget to make an album. I was able to say "If you can't honor my contract, you have to let me out of it." I knew that time was coming, I started to hear the whispers. When I was able in the label buildings, I'd listen to what they were talking about. I made allies in the building, so I knew where the culture was going. As a result, I was able to get out of the deal. When I put out "She's Single" beat jack and video, that changed my life and my career. But I didn't have any album or marketing plan or strategy. That's where I learned a valuable lesson, and I'll never put myself in that position again.