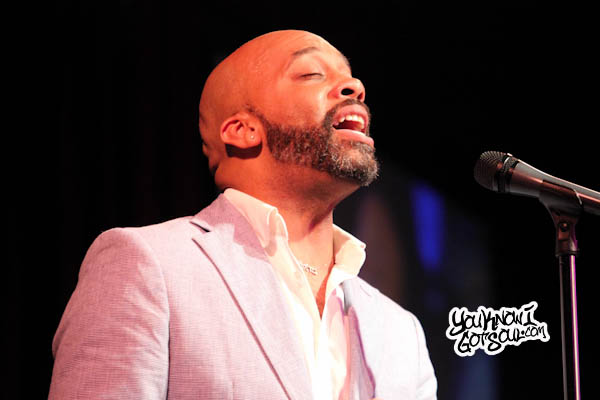 We had Rahsaan Patterson on a recent episode of the SoulBack R&B Podcast and he took the time to discuss his latest single "Heaven Sent", his upcoming album "Heroes & Gods", and the impact that writing the song "Baby" for Brandy had on his career.
Rahsaan touched on much more on the Podcast, so if you missed it, you can listen to that here.
You can also click here to listen to any of our podcasts you may have missed.
YouKnowIGotSoul: Talk about your new single "Heaven Sent".
Rahsaan Patterson: The single was created in L.A. Musicians that have played with me over the last 22 years, we went to the studio. They laid down a few tracks. The drummer, keyboardist, and guitarist/bassist. I co-produced it. I went back in the studio a few days later and sifted through the ideas. On this particular day, I chose what became "Heaven Sent". I wrote the song and sang it and then sent vocals to a cat in Chicago called Sam Trump. He arranged the horns and played the horn solo. He completed the song and made it perfect. Once I heard the horns, it was so beautiful and very much a tribute to the music that I grew up listening to. The artists and caliber of songwriter and producer who have influenced what I've done over the years. As far as the style of song, it was not intentional to record a song that was traditional R&B type music. That was one of the tracks that they laid down, and I just flowed to it. I'm happy to know that it resonates with people.
YouKnowIGotSoul: Tell us about your upcoming album "Heroes & Gods".
Rahsaan Patterson: The album is very much like my previous ones. It's broad in the scope of exploring different genres. Over the course of my career, I have tapped into different vibes. I've never been one to box myself into one genre, even if that genre is where people were introduced to me or fell in love with what I do. Even if that's where people wish I had stayed. I feel that, but I need to go where I need to go. I feel people who have fully supported my craft and have been aware of every album that I have released and the journey, they're aware it's going to be a mixed bag! *Laughs* This album is in the same tradition as those previous records. This album is as my others are always rooted, in love. The growth from experiences with love and relationships with people. The desire that I have always had to be progressive, not only musically, but in my beliefs and articulating through song, what that transformative growth has been for me. In terms of spirituality as well. Really being able to express the importance of owning ones power. Being able to identify the power in others. Understanding that we are all a reflection of one another, particularly when we reach certain levels of transcendence or growth. People come into our lives to mirror that and assist us to grow further. That's what this album is about.
YouKnowIGotSoul: Talk about writing the song "Baby" for Brandy and the impact it had on your career.
Rahsaan Patterson: That song was very instrumental in me attaining my publishing deal back in the day, as well as my record deal. I had been shopping for a record deal around the time that her song was released. Once it came out and became successful, it added to the value of my name as an artist and songwriter. I was 19 when "Baby" was released. It was very unexpected for me. I didn't expect it to be as successful as it's been. I just remember it was a lot of fun at that time to be involved with her record, and watch her be such a great talent at such a young age. To have contributed to such a classic and influential album, it took me years before I got the magnitude of importance of that record. The fact that I was involved in one of her biggest songs of her career. At the time, I was just walking around, I knew I had a song on a record, but I didn't make it that big of a deal. The success of that song helped me get my record deal, and it put more of a spotlight on me as a songwriter. It still does to this day. I was out last night eating with my friend Joy. We were in the spot which is also a bar. They have a jukebox and they played "Baby" twice while we were there. It's always interesting to be present when you're in an atmosphere where people are vibing and enjoying a song that you contributed to and they have no idea that you are there next to them. I do enjoy the anonymity of it, I don't need everybody in the room knowing I wrote that. I'm good observing everybody feeling it and taking it in, and being able to honor myself and know I did that. I allow that to strengthen my view of myself and my esteem.